From a quick breakfast sandwich to a platter piled high with your all-time favorites, these hot eateries will fill your belly and feed your soul as you do brunch in Downtown Napa.

Photo Credit: The Thirsty Reader, Los Juevos Rancheros @ Soscol Cafe
Soscol Café
Soscol Café is a tiny spot with a cozy diner interior and huge flavors. Try the corned beef hash, torpedo-size breakfast burritos, macheca omelette and chilaquiles. This brunch has been described as "life changing" so be sure to arrive on the early side. It's not uncommon to find lines wrapped around the block.

Photo Credit: JAX White Mule Diner
JAX White Mule Diner
With menu categories that read "This," "That" and "The Other," JAX's makes brunch creative in the most delicious ways. Save yourself a trip to the Big Easy and try JAX's signature bignets. Or enjoy delicious breakfast burritos, benny's three ways, chicken and waffles, and something known as Napa JAX Toast (a cinnamon roll dipped in vanilla custard and topped with powdered sugar). JAX will make your day brighter with brunch magic.

Photo Credit: Verisia
Grace's Table
A "global kitchen focusing on France, Italy and The Americas," Grace's Table does brunch with style. Farm-fresh eggs, Kobe hanger steaks, juicy fruits, house-cured salmon gravlax, organic greens and lavender honey butter are just a small sampling of what will grace your brunch table. Looking for delicious buttermilk pancakes? Grace's Table has them too, with griddle bananas and candied pecans.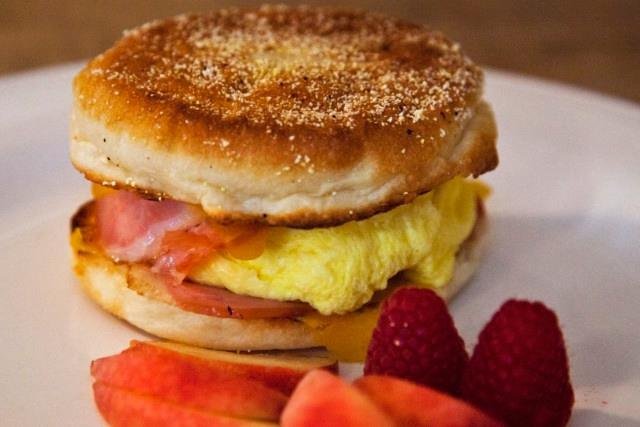 Photo Credit: Model Bakery
Model Bakery
Like a quaint bakery in a small European village, Model Bakery is a community-gathering place with the best English muffins…ever. Start your day with the locals as you enjoy house-made granola parfaits, freshly baked quiche, morning pastries or a made-from-scratch breakfast sandwich on Model's famous English muffin.
Whether your coming to sip Napa Valley wine, enjoy a little rest and relaxation or dinner at one of the Napa Valley's award-winning restaurants, you can find it all in Downtown Napa. Head over to the Where To Stay page on DoNapa.com to book a room and plan an exciting itinerary by hand picking your activities on the What To Do page. See you soon!
YOUR TRIP WILL BE MEASURED BY THE MEASURES WE TAKE
Your safety is our top priority — come here to get away and restore yourself. We have put measures in place to ensure businesses and lodging properties are ready to make your stay and entire Downtown Napa experience extraordinary.
COVID 19 INFO
Safety Videos