To make Downtown Napa the best it can be, we sometimes have to make a few small adjustments. Currently, the city of Napa is experiencing some construction, to be completed by 2020. Please see the below map for information on detours and available traffic conditions. We appreciate your understanding!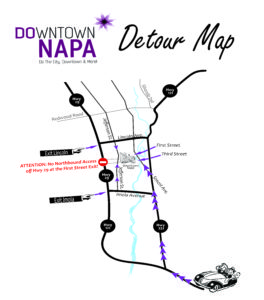 AIR TRANSPORTATION
There is no scheduled air service to the Napa Valley but visitors can fly into one of our area's international airports or visitors with private planes can fly into Napa Valley Airport.
SAN FRANCISCO
INTERNATIONAL AIRPORT
US Highway 101
San Francisco, CA 94128
(650) 821-5000
SFO Website
WINE COUNTRY
HELICOPTERS
(707) 226-8470
Helicopter transportation to/from Bay Area airports, wineries, resorts.
SHUTTLES
EVANS AIRPORTER
(707) 255-1559
Evans Transportation Website
Evans has frequent, regularly scheduled trips to and from both San Francisco and Oakland Airports with a stop at Vallejo
ABC TRANSPORT EXPRESS
(707) 259-0363
Transportation is provided between Napa and Sacramento Airport.
FERRY SERVICE
Enjoy the spectacular scenery of the City's skyline on the hour-long ferry ride from San Francisco to the Vallejo Ferry Terminal. Transportation via The Vine (see bus service) connects visitors with Napa Downtown. Plus, a reservation-only shuttle service is also available through the Napa Winery Shuttle. What a way to go!
BUS SERVICE
Getting to and around Napa Downtown and throughout the Valley, from Calistoga to Vallejo Ferry, is easy via the VINE. The VINE is the region's fixed-route bus system. It provides safe, affordable and accessible transportation for all residents and visitors.
The VINE
(800) 696-6443
(707) 255-7631
(707) 226-9722 (TDD)
1151 Pearl St.
Ride the Vine Website
BICYCLES
Napa Downtown is the perfect place to take a leisurely spin on a bike. Maps of various routes throughout Napa Valley are available for more challenging rides.
LATEST FROM
THE BLOG
Check out what's new in Downtown Napa
March 15, 2023
---
Get Your Senses Ready for Mustard Celebration Weekend in Downtown Napa
February 16, 2023
---
Your Guide to a Sweet Valentine's Day in Downtown Napa
February 9, 2023