This Thanksgiving, join in the fun, excitement and fantastic food with the following specials from some of Downtown Napa's finest establishments. (Advance reservations are required on most of these Thanksgiving offers.)
Choose to dine out at your favorite spot or take the meals to go. For more information on all these specials, head here.
Enjoy the unique taste of Provence with a Thanksgiving feast at Angèle Restaurant & Bar. The intimate French country-style restaurant will be serving a three-course meal, topped off by your choice of warm apple pecan bread pudding, vanilla bean ice cream or pumpkin tart mignardises, for $120.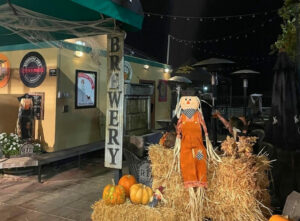 Photo: @DowntownJoes
For a classic Thanksgiving dinner – turkey, stuffing, mashed potatoes and more – Downtown Joe's is the place to be. The fun and friendly staff will serve the delicious meal for $24 per person until 5 p.m., then $28 per person for dinner.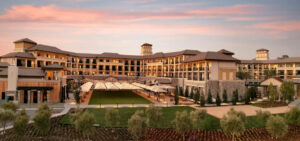 Photo: @MeritageResort
Perhaps the best of both worlds, you can spend the night at a resort and enjoy a special meal on Thanksgiving Day. The Meritage Resort and Spa will serve a brunch buffet from 11 a.m. to 4 p.m. that will include truffle turkey breast, crusted prime rib, a variety of appetizers and extraordinarily decadent desserts. Reserve a room and a seat at the buffet and do Thanksgiving in style this year.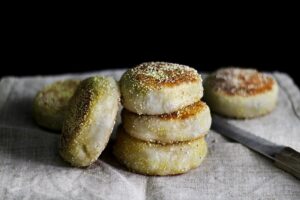 The Model Bakery at Oxbow Public Market is known for more than their English muffins, which were bragged about by Oprah Winfrey on her holiday favorites list. Artisan breads, signature breakfast sandwiches and delicious coffee draw residents and visitors from far away. Model Bakery's Thanksgiving menu includes goodies like pumpkin bread loaf, walnut sage levain batard and pecan pie. Orders must be paid for by Nov. 19 at 4 p.m. and picked up on Nov. 23.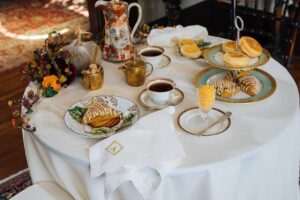 Photo: @AckermanHeritage
Does butterscotch custard pie or pumpkin scones sound scrumptious? If so, order them at Ackerman Heritage House before they disappear. Goodies like bourbon pecan pie and crumpets with housemade pumpkin glaze and pumpkin butter will impress your Thanksgiving guests. Orders can be picked up from 10 a.m. to 2 p.m. on Nov. 23.
You can have a classic Benedetti Farms turkey with Contimo's signature brine, or you can try a modern take with a deboned, stuffed turkey breast that takes less time to cook. A Thanksgiving meal from Contimo can also feature sourdough and sausage stuffing, country pâté, mini buttermilk biscuits and more. Orders can be picked up on Nov. 22 and 23.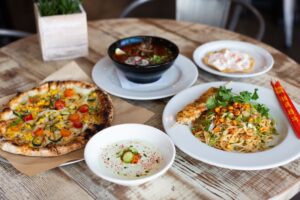 Photo: @KitchenDoorNapa
Turkey gets the most glory on Thanksgiving, but sometimes the side dishes earn the spotlight. That will happen if you pre-order the "Fixins To-Go" by 5 p.m. on Nov. 21 at Kitchen Door. A quart of Chef Todd's famous mushroom soup, a pint of peppercorn gravy and a pint of mustard vinaigrette are just a few of the items you can take credit for during the holiday meal. Pickup is on Nov. 23.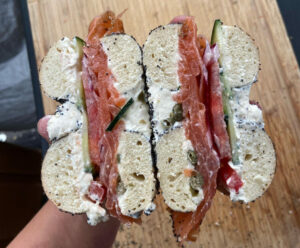 Photo: @ToastedNapa
To impress the friends and family who will be staying with you for a few days, stock up on handmade bagels from Toasted. Order a dozen bagels, chocolate or cinnamon pumpkin babkas or a challah round and your guests will love you. A full bagel spread with lox and veggies, or a veggie platter with cream cheese and bagels, can be ordered by Nov. 21 and delivered on Nov. 22 and 23.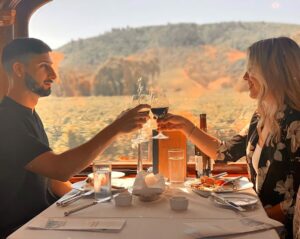 Photo: @WineTrain
For an experience you'll be talking about for years to come, hop aboard the Napa Valley Wine Train for a memorable Thanksgiving lunch. Take a 3½-hour ride through the Napa Valley countryside aboard a vintage Pullman rail car while enjoying a gourmet meal. The special multiple-course meals also include a glass of Napa Valley sparkling wine.
Prefer to gather at home this Thanksgiving holiday but want to leaving the cooking up to the professionals? Check out the menu's at these downtown restaurants to reserve your holiday ready to heat and eat meal kits: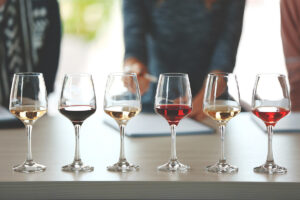 If you're ready to do Thanksgiving a little bit differently this year, plan a trip to Downtown Napa and visit the wineries and vineyards, see the gorgeous landscapes and sights and take the tours, but make sure to experience Thanksgiving Downtown Napa-style.
Extend your holiday by staying and playing at one of the many lodging properties in Downtown Napa. There are also many holiday specials and deals you can take advantage of until the end of the year.
Finally, what pairs well with a great Thanksgiving dinner? A great glass of wine. Learn your wine tasting type with our special quiz here and then get to tasting – we are the Wine Tasting Room Capital of the World after all.
YOUR TRIP WILL BE MEASURED BY THE MEASURES WE TAKE
Your safety is our top priority — come here to get away and restore yourself. We have put measures in place to ensure businesses and lodging properties are ready to make your stay and entire Downtown Napa experience extraordinary.
COVID 19 INFO
Safety Videos