A music festival with a DoNapa twist is something to behold. This is the only place where the lineup of restaurants is as well-curated as the acts themselves.  
Elevated fun awaits you at every door in The Wine Tasting Room Capital of the World. One might wonder if 2022 BottleRock performer Amos Lee thinks of our vibe when he sings, "worry no more, there's an open door for you." 
Insider Tips
BottleRock is the main event, but many businesses in Downtown Napa are getting in on the fun before, during and after the event. Check out some of these insider experiences: 
BottleRock AfterDark Performances: JaM Celllars is providing intimate shows before, during, and after BottleRock weekend. Enjoy the following performances:

 

Sky & Vine's Rooftop Musical Experience with Mama Said – Enjoy an intimate open-air concert on Thursday 5/26 starting at 7:30pm.
Chateau Buena Vista's Pre-Party

which takes place 11:30am – 2pm each performance day.

Andaz: On BottleRock weekend, the Andaz will have music from 9pm – midnight:

Thursday May 26 – Asher Stern
Friday, May 27 – Benny Bassett
Saturday, May 28 – David Ronconi
Sunday, May 29 – Chance McCauley

Be Bubbly "BubbleRock" Performances: Enjoy special performances and bubbly, of course!

Wine Tasting Room Specials

: In the Wine Tasting Room Capital of the World, you'll find special offers all year long, but many are celebrating BottleRock weekend with festival-themed wine and bites pairings, extended hours, and quick-service wines by the glass or bottle in lieu of traditional tastings.  Stroll and sip Downtown Napa to check out more than 50 walkable wine tasting rooms, and don't forget to take the quiz to find the sipping style that best fits your vibe.

Brunch to the Beat

: You'll want to make sure you're well-nourished for the festival, which is why many restaurants, hotels, and B&Bs are offering breakfast specials for BottleRock weekend.

The Meritage Resort

is one of them- you can enjoy brunch on their Village Lawn each morning of the festival. Also check out bountiful brunches at Grace's Table, Monday Bakery, Napa General Store, and the recently expanded C Casa at Oxbow Public Market. 

 
Culinary Spotlight
Many of our beloved Downtown Napa restaurants are representing the culinary portion of the BottleRock Festival. Before you head out to the event, read up on these restaurants so you can perfectly curate your menu while you're there: 
Chef Ken Frank's landmark modern French restaurant, La Toque, has earned a Michelin Star every year that the award has been given in Wine Country. They are also the recipient of Wine Spectator's The Grand Award for their wine list and service excellence. You can get to know Chef Frank and La Toque more in our chef series video.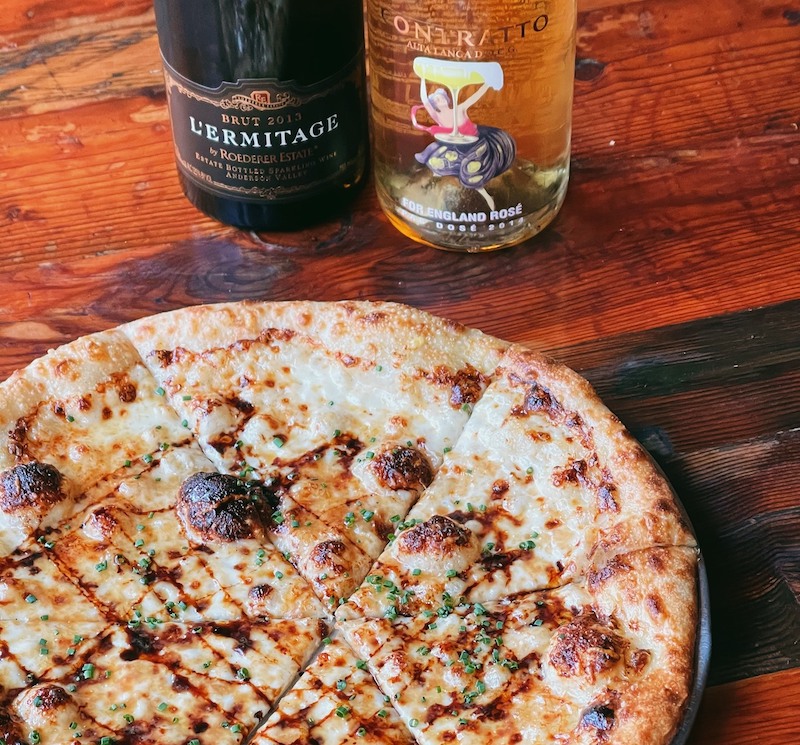 Oenotri's Southern-Italian menu features rustic dishes that change daily according to the freshest local products and produce available. Their menu offers more than 20 different types of house-made salumi, handmade fresh pasta, exclusive olive oil sourced from Napa Valley, bread made in-house daily and a variety of produce sourced from their own farm. 
New to Downtown Napa, Loveski's Deli is modeled after a traditional Jewish deli, but with a subtle Thai flair that comes from one of the owner's backgrounds. They feature handmade sourdough bagels, house-made pickles, and other fermented vegetables from their farm, and the best cured and smoked meats.   
Famed Chef Masaharu Morimoto has been seen on shows like Iron Chef, but his concept hosts and inspires Downtown Napa diners in this raw fish-focused restaurant and dining experience in one. Their contemporary design, yet traditional preparation makes this restaurant desirable on so many levels.   
Located in the 1886 historic Williams-Kyser Building, Cole's Chop House opened its doors in March 2000 and has since been named "100 Best Steakhouses in America" as well as nationally recognized as a "Great Bourbon Bar of America" with a selection of over 175 hand-selected Bourbons. Oh, and they are famous for their "chops" of course. Enjoy veal, lamb, pork, or beef chops on their menu. 
Bounty Hunter is in a beautiful historic home and offers an 18-page wine list that features more than 400 distinguished wines and 40 wines available by the glass. No surprise, but they've been voted "Best Wine Bar in Napa Valley" five years running. They also offer favorites in the form of the famous beer can chicken, pulled pork and ribs.  
Along the coast of California and in old Europe when monks pioneered winegrowing, Compline was the hour that signaled the completion of the working day. Compline restaurant turned this sentiment where new and old friends are invited to come together and break bread. And if you're looking for wine to go, they're on that too. The Compline Wine Shop won Wine Enthusiast: Best Wine Shops in 2021. Their menu items have an Italian flair, but the showstopper is definitely the duck fat fries. 
Local favorite Ristorante Allegria is located in a historic landmark bank building from 1916 that features 35-foot ceilings, a breathtaking ambiance, delicious food, superb service and relaxing Italian music.  The food is equally as breathtaking with delicious pastas, homemade bread, and seafood items. 
Tarla ("field" in Turkish) implies the fertile expanse of earth that can provide for the people around it. Their menu features culturally exciting and delicious eats that originate from Turkey and Greece. Thehummus is extraordinary, and the saganaki dish- cyprus halloumi cheese accompanied with truffle honey, chardonnay poached Turkish apricots, raisins and flamed with brandy, keeps visitors and locals coming back for more.  
ZuZu is a Spanish-inspired restaurant and tapas bar with warm Mediterranean décor, lively atmosphere, and a renowned small-plates menu that draws from the culinary traditions of Spain and South America. The seasonal paellas are the stars of their menu. 
Taqueria Rosita is a family owned and operated Mexican restaurant that has been serving "killer" Mexican food since 1982. They have traditional favorites on their menu, but also fun dishes like their "Sombreros," taco salad in a crispy flour tortilla bowl. 
"White Mule" is a Prohibition term used to order a glass of hooch during the '20s and early '30s. As the story goes, Uncle JAX was a stagecoach robber in these parts during the 1870′s. The menu, like Jax's origin story, has something for everyone to enjoy – including their beignets. 
Kara's Cupcakes is a small-batch bakery where the finest ingredients are sourced from local, sustainable, and whenever possible, organic producers to make quality handmade products every day. They offer cupcakes and cakes that are freshly baked within hours, if not minutes, for your enjoyment. 
At Monday Bakery, they believe every week, every idea, and every community is built one ingredient at a time. They source fresh, seasonal ingredients from local purveyors to produce homestyle desserts and savory favorites baked entirely from scratch. For those seeking savory options, they offer breakfast and lunch meals such as sandwiches, salads and quiche on the go.  
Located in the heart of Downtown Napa, in the historic Napa Mill building, Vintage Sweet Shoppe has a wine tasting bar where you can enjoy perfectly paired wine and handmade chocolates. They have seasonal favorites along with sweet treats to be found all year long. 
Sweetie Pies offers cakes, pies, cookies, breakfast pastries and assorted desserts. Enjoy coffee with morning buns or a panini sandwich and a Whoopie Pie. Their breakfast options in particular, like their Ham & Cheddar Pie-Nini featuring apple butter, are true hits. 
El Porteno Empanadas began selling empanadas at farmers' markets and food trucks before flourishing into their current Downtown Napa brick and mortar. Through their success and growth, family and food are and have always been the two things closest to their heart.  
Off Stage Activities
If you're looking for additional experiences to explore outside of food, wine and festivities, check out activities here under the "Experience" tab. A few of our favorites: 
Soak in visual arts. Take a break from the beats and enjoy a stroll around beautiful Downtown Napa to take in the city's stunning visual art scene – admire 10 sculptures from artists around the world on the Napa ArtWalk, and feast your eyes on RAD Napa's many murals adorning buildings along the Napa Valley Vine Trail. You can also spot artist installations in the form of wrapped utility boxes throughout Downtown.   
Soar over BottleRock. If you're up for an early morning wakeup call, hop aboard a hot air balloon and take in a bird's-eye view of Downtown Napa and the surrounding valley with Balloons Above the Valley. Insider tip: opt for the bubbly breakfast following your balloon ride to fuel up for the festival ahead.  
Get rolling. Give your feet a rest and rent an e-bike from Fat Tire Bike Rentals or Napa Valley Bike Tours to cruise downtown on your festival breaks. The friendly folks at Fat Tire will even deliver bikes straight to your hotel, and BottleRock provides complimentary bicycle parking a short distance from the venue at 301 1st Street.  
YOUR TRIP WILL BE MEASURED BY THE MEASURES WE TAKE
Your safety is our top priority — come here to get away and restore yourself. We have put measures in place to ensure businesses and lodging properties are ready to make your stay and entire Downtown Napa experience extraordinary.
COVID 19 INFO
Safety Videos