It may not be officially documented, but everyone knows that shopping with a best friend is more fun than shopping alone. Lucky for dog-lovers, many Downtown Napa stores—and restaurants—will welcome you and your true-blue bestie.
If you'd like to take your pup with you for a relaxing time, we've got you covered with our roundup of dog-friendly businesses in Downtown Napa.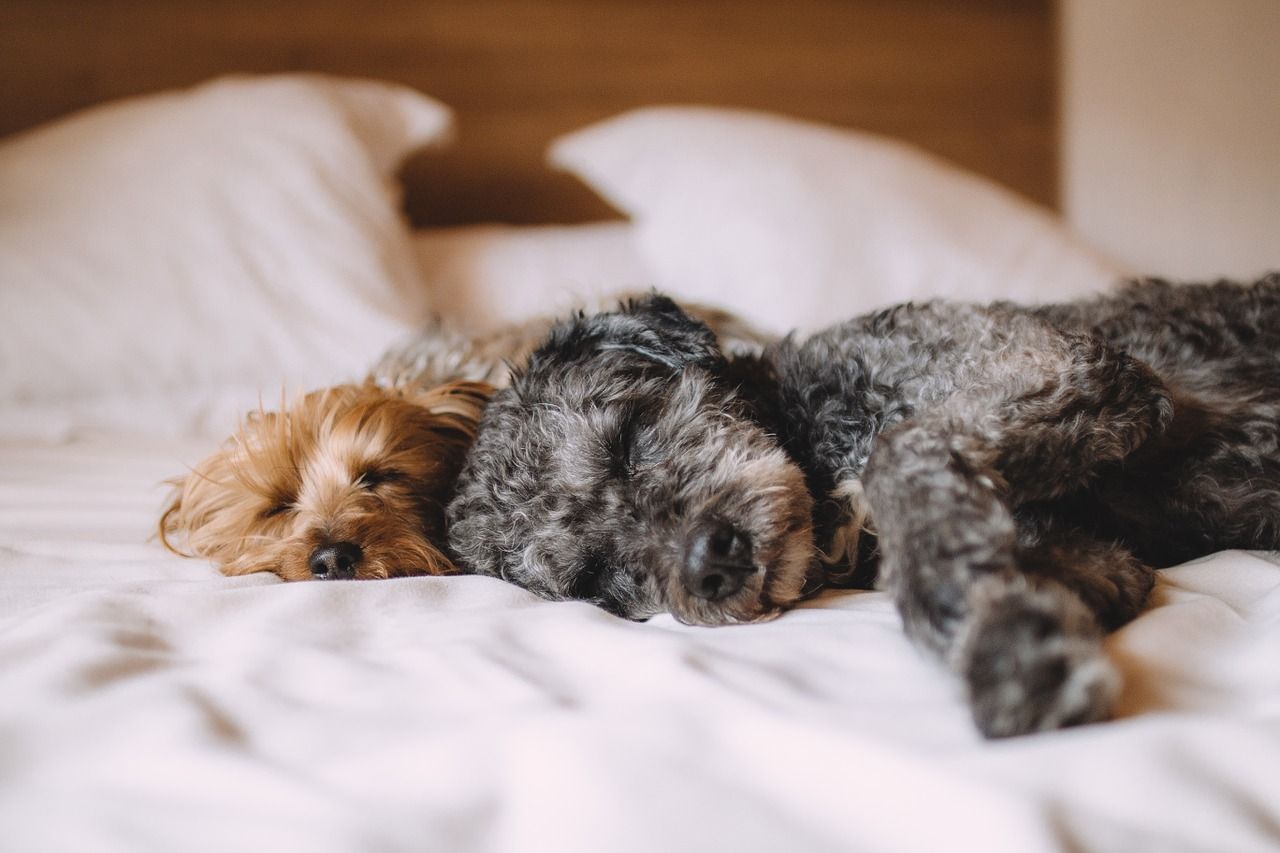 Many lodging properties in Napa are putting the "friendly" in pet-friendly by not only welcoming dogs but greeting them with local treats, offering amenities that make them feel at home and providing open spaces for fun and frolicking. For a list of places to stay where you can pamper your pup, download this quick guide.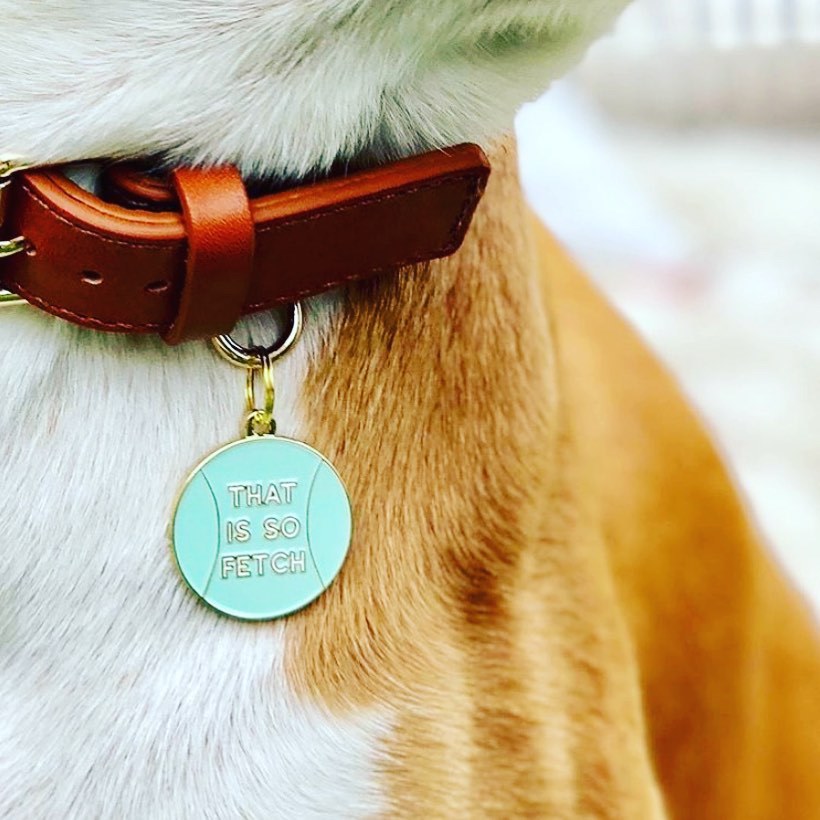 Well-mannered, leashed dogs are welcome in an increasing number of stores—and we don't just mean pet supply shops. Before you hit retail spaces with your buddy, determine if your dog is a good candidate to shop 'til you drop. If you're not sure, visit a local park and practice walking your leashed dog near other people.
Here's a list of Downtown Napa shops that deserve a good belly rub for their dog-friendly policies.
Located in the heart of Downtown Napa, First Street Napa is home to shops and restaurants featuring great wines, unique culinary options, and a stylish set of retail and lifestyle concepts. Make sure to visit Milo and Friends Pet Boutique to shop gourmet pet food, stylish pet bowls, fun leashes and even spa grooming products.
This fashion haven incorporates a playful spirit and great looks. Your pup is sure to agree.
Bring your fur baby to one of Wine Country's favorite children's boutiques featuring all the latest styles by Tea Collection, Kickee Pants, Mayoral and more.
This store provides high quality essential daily needs for humans and dogs alike! They provide water outside and "loves and kisses" inside.
Lemon Drops Children's Boutique
This children's boutique and toy store offers an array of high-end baby and children's clothing, as well as a wide selection of unique and classic toys. Just make sure to keep your pooch on a leash, as there are fun toys scattered on the floor.
From dreamy bohemian clothing to edgy showstopper pieces, this stylish and diverse boutique has a variety of options for each woman's unique fit.
Since the 1970s, this boutique has provided experts on style, fit, fabric and color to the community.
C'est La Paire is a destination for chic, high-quality shoes, boots and handbags. As their name suggests, they love a good pair, including you and your dog.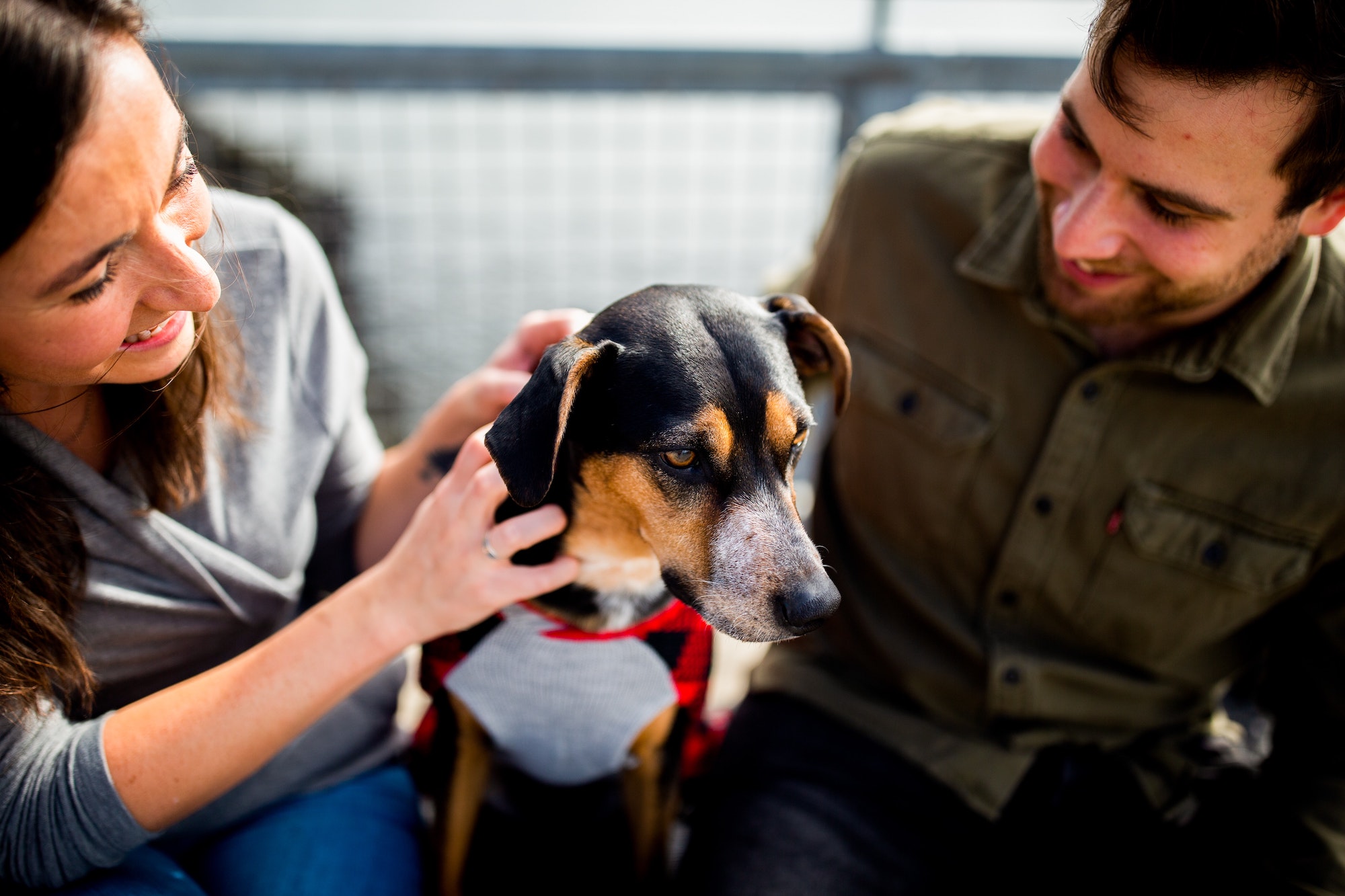 If all that shopping at hot spots named Cupcake, Honey Whiskey and Lemon Drops has you hungry for a bite to eat, we completely understand! These restaurants also understand your needs to bring your pup along for the fun.
Ready for a gourmet dinner for one, two or more? Head to the patio at this global kitchen and "Michelin Bib Gourmand" restaurant that serves dishes from France, Italy and the Americas.
Tarla Mediterranean Bar + Grill
Tarla, meaning "field" in Turkish, implies the fertile expanse of earth that can provide for the people around it. True to its namesake, the Tarla Grill aims to yield nourishing, creative, and culturally exciting eats originating from Turkey and Greece.
The dog-friendly attitudes that prevail at Napa Valley wineries extend to many of the region's famous restaurants as well. No complaints here. Compline is a wine bar, restaurant and wine retail shop with outdoor seating that is completely pet-friendly.
Casually drop by for a bite at this airy, low-key American diner providing burgers, salads and all-day breakfast, including beignets.
Since 1999, the party has been at this casual eatery that serves local-sourced roadside classics, like the California Burger, and seasonal specials that use locally sourced ingredients and purveyors such as Niman Ranch beef, Zoe's bacon, Panorama Bakery breads and Osprey Seafood. You and your pup will feel right at home among the many outdoor benches and tables.
Bounty Hunter Wine Bar & Smokin' BBQ
Bounty Hunter Wine Bar & Smokin' BBQ has been voted "Best Wine Bar in Napa Valley" for five years running — and it's open late on the weekends.
Well-behaved pooches are welcome to snack on treats you as you enjoy breakfast, brunch or lunch on a riverfront patio. Stop by the store afterward to shop wine barrel furniture and other local goods.
The Dutch Door claims that "all fried chicken is not created equally," and we agree after trying their locally sourced, sustainable fare.
Angèle brings the simple cuisine and warm hospitality of the French countryside to the historic Hatt Building along the Napa River, the restaurant offers an interior dining room—as well as outdoor for you and your pet.
You and your pup will likely find the patio to be hog heaven and the same with the food. Their menu offers an assortment of raw oysters on the half-shell, a traditional oyster stew, steamed clams and clam chowder—along with beer, win and cocktails.
C Casa, at Oxbow Public Market, is a great stop for anyone that has a dog in tow and is craving Mexican food. Many of their dishes begin with their handmade white corn tortillas and ending with fresh wholesome ingredients and flavorful sauces.
Eiko's Modern Japanese Cuisine
Eiko's is a full-service seafood marketplace and sushi bar with Japanese beer and sake selections.
Things are always looking up at Downtown Napa's only pet-friendly, rooftop oasis which offers shareable plates, craft cocktails, draft beers and a vast array of spirits that are sure to raise your spirit as well.
The delicious and approachable menu at Live Fire Pizza features artisan pizzas, salads, sandwiches and plenty of wine country-inspired small plates. Plus, the beer and wine bar is steps away from a pet-friendly patio that overlooks the scenic vistas facing the Alta Heights hills on the eastern border of Napa.
First and Franklin Marketplace
First and Franklin Marketplace in Downtown Napa is a full-service deli and a specialty grocery store that offers local wine, craft beer and outdoor seating.
Park your pooch and yourself at this Asian Pacific Rim-style restaurant that fuses the delicious taste of Asian noodles with Napa Valley cuisine. Additionally,  their patio space is oodles of fun.
Gran Eléctrica is an authentic Mexican restaurant with a large outdoor backyard and unique "picnic beds." Perfect for your furry pal.
This steakhouse at Archer Hotel Napa is known for its generous portions and robust flavors of straightforward classic cooking. However, it may not be known for its outdoor, pet-friendly dining. Until now of course.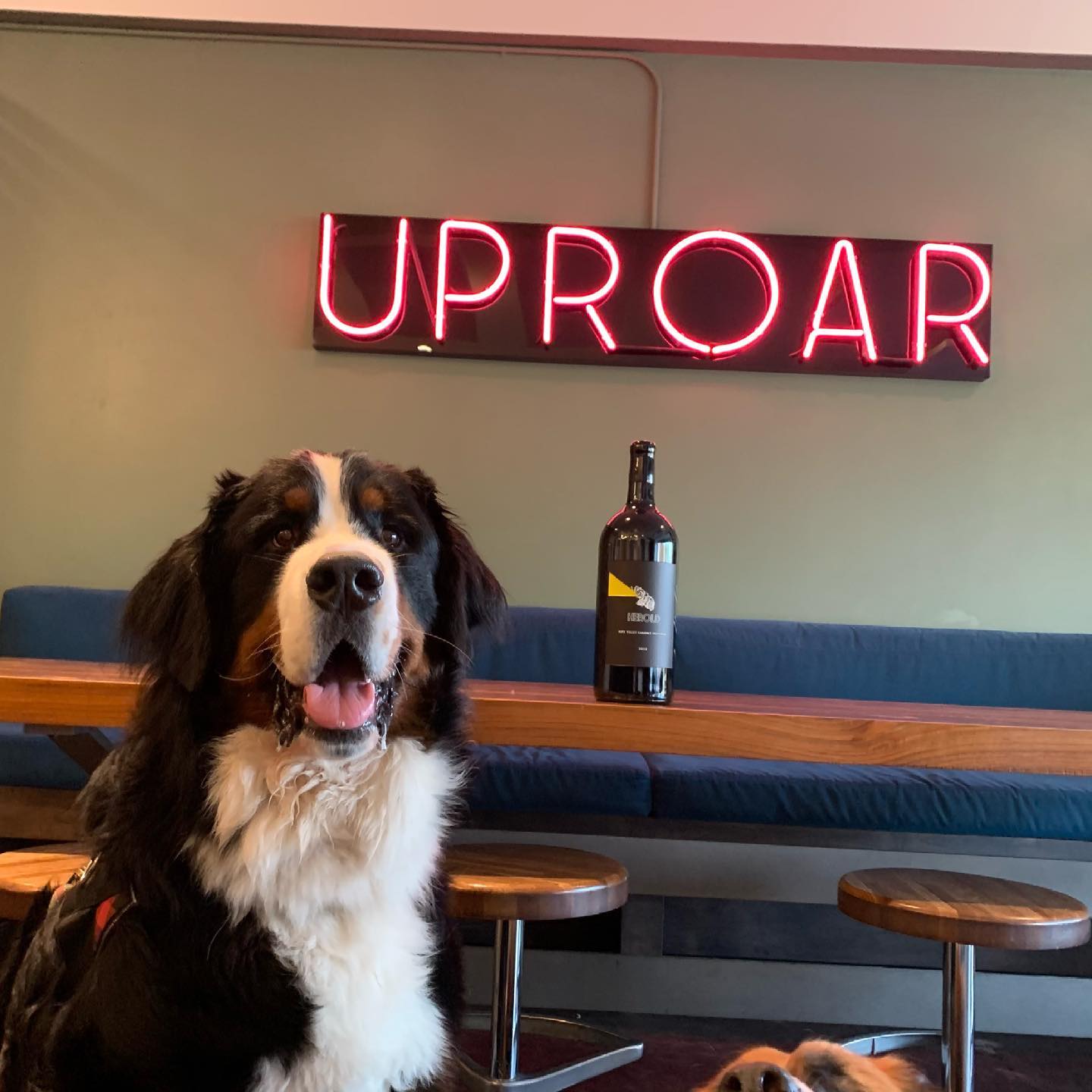 Winemakers love dogs too. Many Downtown Napa tasting rooms offer outdoor areas where you can bring your dog. In fact, the wineries in Downtown Napa are famous for their welcoming dog-friendly environments.
Here are a few tasting rooms paired with outdoor spaces that you and your dog can enjoy.
Mayacamas stands as one of the most storied vineyards and winery operations in Napa Valley. With prior reservation, you can visit the Mayacamas Vineyards Estate.
This cozy, stylish tasting room offering wine flights and chocolate pairings in eclectic surroundings.
Vermeil Wines offers personalized tastings of current releases and wines by the glass or bottle. Cozy up and enjoy scenic Downtown Napa on their quaint patio.
Shadowbox offers wildly unique tasting experiences for their guests. The outdoor Parklet Experience Tasting guides visitors through four limited production wines in the atmosphere of historic Downtown Napa.
Choose from more than their 40 different wines with the help of wine expert Alex. No appointments necessary, and pets are always welcome.
Trahan Winery is a small, family winery dedicated to creating incredible wines from only the highest quality grapes.
Bring your pup to experience the experiential showroom featuring a sunny, two-level patio and a multi-winery tasting room.
The WALT Napa Oxbow tasting room has been freshly remodeled and features a beautiful tasting bar and private tasting spaces.
Local favorite CRU Tasting Lounge has expanded to offer visitors another location to taste wines by the flight, glass or bottle from CRU and Vineyard 29 Estate portfolios, perfectly paired with popcorn.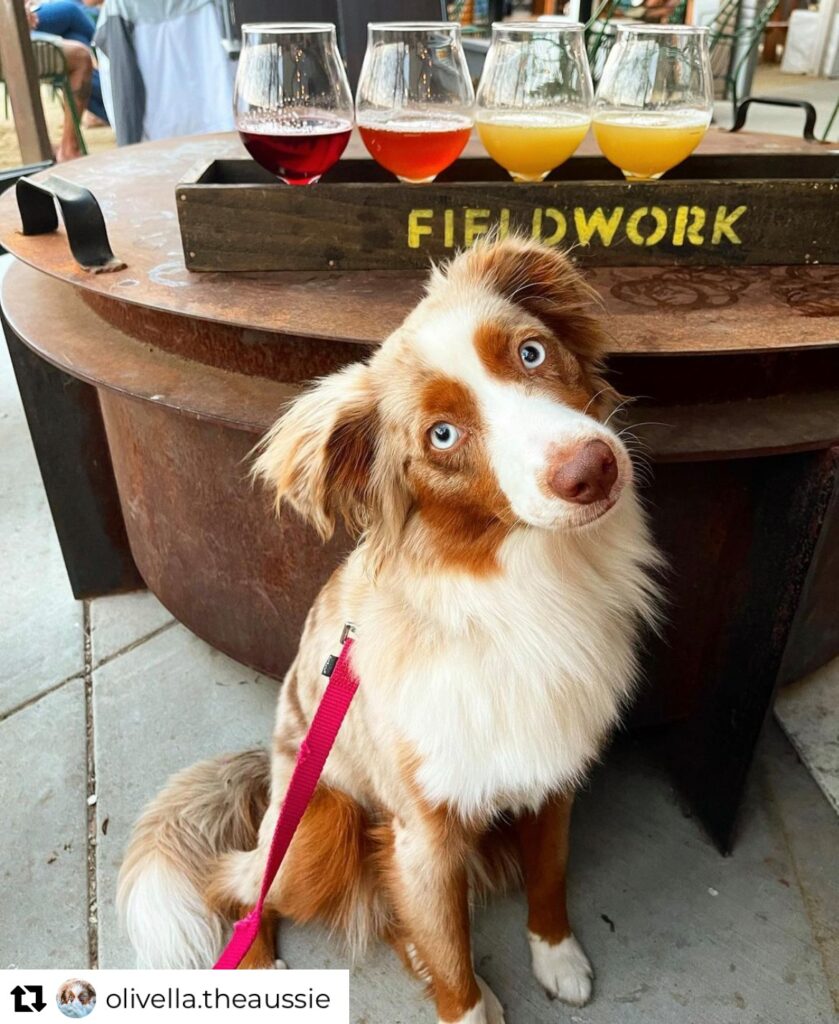 Lastly, the craft breweries in Downtown Napa are cozy places to relax, enjoy the outdoors and meet other dogs and dog lovers doing the same
Fieldwork's Napa Taproom is located within the pet-friendly, bustling Oxbow Public Market.
On a sunny day, you and your pup can enjoy the outdoor good vibes at Trade Brewing. Vibrant Foods has recently taken over the kitchen to serve Jamaican cuisine. Stop by and enjoy a pint with some Jerk baby back ribs, sliders and daily specials.
We can't wait to host you and your best friend.
YOUR TRIP WILL BE MEASURED BY THE MEASURES WE TAKE
Your safety is our top priority — come here to get away and restore yourself. We have put measures in place to ensure businesses and lodging properties are ready to make your stay and entire Downtown Napa experience extraordinary.
COVID 19 INFO
Safety Videos