The City of Napa is home to more than a dozen boutique hotels, all featuring unique highlights, amenities or locations. We've provided a quick look at some of the area's boutique hotels below – from small, more intimate establishments to larger hotels with more rooms. You can also see all the different types of lodging here.
SMALL AND PERSONAL
The Bel Abri Valley Inn offers 15 contemporary and charming rooms with king-size presidential beds, luxury surroundings and a friendly and knowledgeable staff. After enjoying a night's sleep, visit nearby Oxbow Public Market, a local gathering spot for food, drinks and fun, or take a class at The CIA at Copia, the Culinary Institute's Institute of America's food and beverage hub.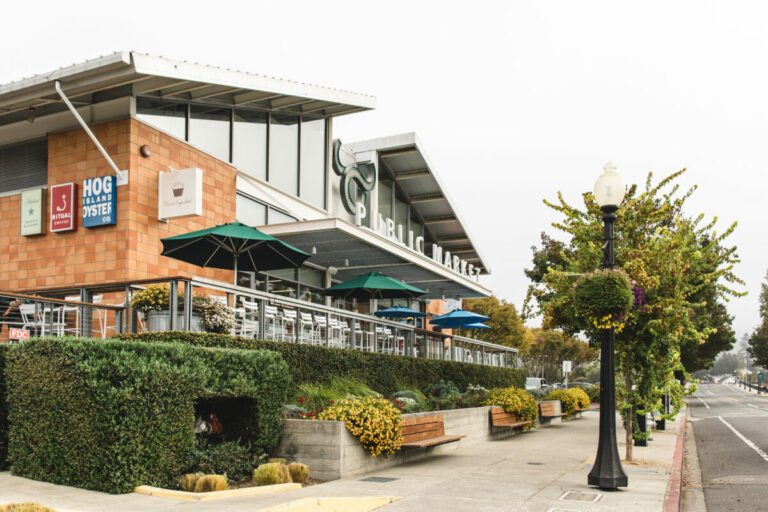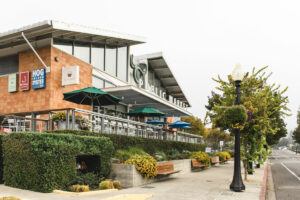 The 19-room Chardonnay Lodge provides a truly visually appealing atmosphere with a lovely English Rose Tea garden, rose bush-lined paths and its own private vineyard. Each guest room, designed by the hotel's owner, includes a special bit of poetry that describes the inspiration for the room's design. There are a variety of incentives available, including special-touch and pop-a-cork packages.
In addition to well-appointed guest rooms with fine linens, fireplaces, rain shower heads and private decks with beautiful views of the Napa River, the Milliken Creek Inn & Spa has the advantage of having only 11 rooms, so guests receive extremely personalized service. Recently redesigned, the inn offers the opportunity for guests to be pampered with a variety of on-site massage treatments.
Located in the center of Downtown Napa, the Napa Valley Hotel & Suites is near practically everything. Tasting rooms, restaurants, nightlife, the Napa ArtWalk and more are within a short distance. Each of the 47 comfortable rooms offers a flat-screen TV, plush bedding and more, and if you book your room early enough, you can receive special discounts.
If unwinding and relaxing are your goals on a Napa vacation, Senza Hotel is the place to stay. The 40-plus modern luxury rooms include premium bedding, organic bath products and spacious patios with garden and vineyard views. A nightly artisan wine and cheese hour offers the opportunity to make new friends or celebrate with old ones. Romance packages and gondola offers are just two of the special extra treats you may want to book.
If you've popped the question – and the answer was yes – make your wedding day even more special by reserving the White House Napa Valley Inn for your wedding venue. All 17 rooms of this historic boutique hotel can be yours, including amenities, public spaces, the lovely grounds and more. If you're celebrating an anniversary, check out the couples' getaway package.
MIDSIZE ACCOMMODATIONS
Located along the banks of the Napa River and a short walk from the historic area of downtown, the 60-room Hawthorne Suites by Wyndham Napa Valley offers proximity to many of the area's excellent shops, restaurants and adventures. The wine-country-inspired rooms are modern and comfortable, with suites featuring an in-room hot tub. Take advantage of Hawthorne's Napa wine tour package or other specials and make this getaway one for the memory album.
The Napa River Inn at the Historic Napa Mill is truly a one-of-a-kind hotel. With roots back to 1884, the 66-room inn is situated in Downtown Napa's Riverfront District and has received a Historic Hotel of America designation. Guest rooms vary from the luxurious Captain Hatt's Suite to Plaza and Embarcadero Standard rooms, many with fireplaces, river views and balconies. The historic mill offers the convenience of world-class restaurants and specialty shops.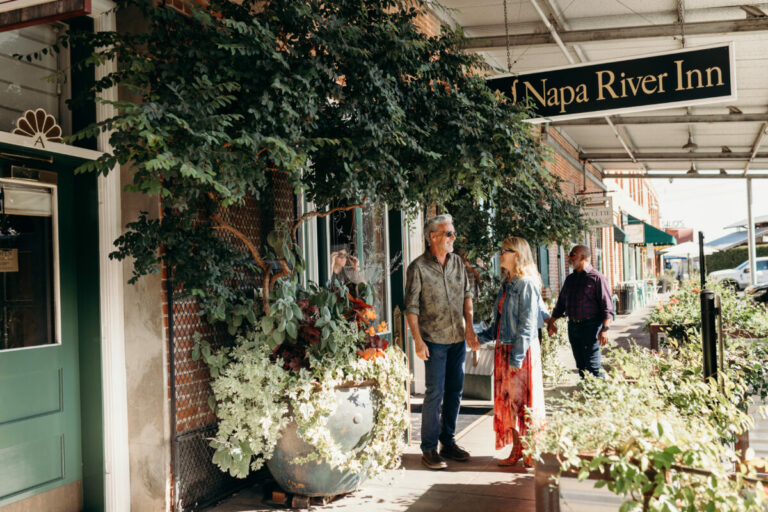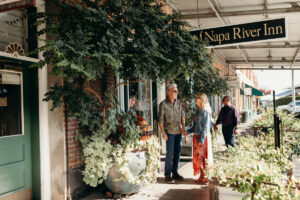 The "Modern Agrarian" design of the Cambria Hotel Napa Valley was inspired by the Napa Valley region's way of life. A short distance from the Oxbow Public Market and situated at the start of the Silverado Trail that leads to numerous world-class vineyards and wineries, the brand new hotel is centrally located so everything is nearby. Rooms boast modern looks, such as spa-inspired bathrooms with Bluetooth mirrors, sleek décor and modern artwork.
MORE ROOMS AVAILABLE
Sophisticated and stylish are two ways to describe the 141-room Andaz Napa, located on First Street in Downtown Napa. Hickory hardwood floors, white marble bathrooms and comfortably large spaces can be found in each room, making it difficult to leave such luxury. You'll want to check out the live music and happy hours at the hotel's Mercantile Social and the Terrace, as well as the fine seasonal cuisine. Then step out and see all that Downtown Napa has to offer.
First Street Napa in the downtown area offers a wide variety of restaurants, wine tasting rooms and shops, and the 183-room Archer Hotel Napa is right in the heart of it. The hotel's urban boutique style fits right in with downtown's casually elegant atmosphere. The wine-country chic rooms and suites, as well as the rooftop bar and new whiskey bar, makes for a truly relaxing retreat and a lot of fun, especially during the holidays.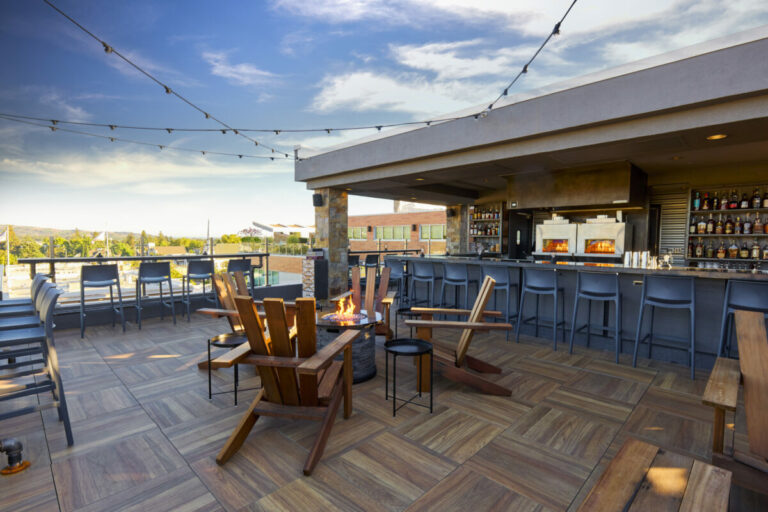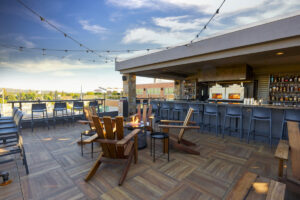 You can spend time in the Hotel Indigo Napa Valley's contemporary-style guest rooms, check out the heated outdoor pool with a hot tub or visit the many attractions nearby. Each of the 115 hotel rooms offers a spa-like bath as well as a Keurig machine so you can enjoy your morning coffee or tea. Even better, your dog can enjoy the amenities, as the hotel is pet-friendly and even offers a pet getaway package, along with several other offers sure to please the whole family.
The River Terrace Inn is your hotel holiday headquarters, as you can enjoy the flavors of Christmas and the fun of New Year's Eve and New Year's Day. The 106-room getaway – which is also pet-friendly – is perfect if you like personalized services, a riverfront setting and well-appointed guest rooms. You can enjoy happy hour at the hotel's Alba restaurant outdoor riverside terrace and listen to weekly live music.
STAY AND PLAY
Downtown Napa is famous for its incredible wine tasting rooms (in fact, we have a personalized quiz to find your tasting style here), first-class restaurants and the close proximity to all that Napa Valley has to offer. Perhaps it's time to plan a vacation and see what everyone is talking about.
YOUR TRIP WILL BE MEASURED BY THE MEASURES WE TAKE
Your safety is our top priority — come here to get away and restore yourself. We have put measures in place to ensure businesses and lodging properties are ready to make your stay and entire Downtown Napa experience extraordinary.
COVID 19 INFO
Safety Videos