Wine and wellness pair perfectly in Downtown Napa. One naturally accompanies the other in the Wine Tasting Room Capital of the World. Here, you'll discover an inspiring blend of world-class wine tasting rooms, rejuvenating spa experiences, farm-to-table dining, and inviting nature no matter the season.
Come be well in Downtown Napa. Read on for our insider tips.
Sipping Well
There's nothing quite like a little downtime sipping world-class wine to wash the stresses of the world away.  Enjoy a toast to your wellbeing in Downtown Napa at a wide variety of tasting rooms, each with their own special vibe and all within easy walking distance. Take our wine sipping style quiz to see which spots suit your palette best, or check out a few local faves:
Alpha Omega Collective
As their name suggests, the Alpha Omega Collective has a particularly broad selection of excellent wines. You can dive into the nitty gritty of wine production and explore flavor profiles to your heart's content in this beautifully charming historic building.
Slip into sipping in the Victorian era at the Ackerman Heritage House. It's a tasting and historic tour all in one, set in an 1888 Queen Anne Victorian home. If a cup of tea is more your cup of tea, enjoy their afternoon tea service complete with expertly curated bites from a former French Laundry chef.
Settle into an ultra-chill wine experience at Gamling & McDuck. This tasting room is all about the flavor and focuses on wines produced in the Loire region of France. The boutique winery only produces two lesser-known varietals – chenin blanc and cabernet franc, often poured by the winemakers themselves. The resident tasting room cat, Thedosia Purr, is also always up for stress-reducing pets.
At JaM Cellars, you'll find your vibe with a taste of great music and incredible wine. The comfortable tasting room is leather-clad with vintage Rolling Stones magazines at the ready. We think you'll dig their mix of music and wine.
Dining Well
Whole, farm-fresh food is something Downtown Napa is passionate about. As a culinary mecca surrounded by fertile farmland (and arguably the best soil in the world), many restaurants source ingredients from their own gardens or nearby farms. Here are a few of our favorites:
This local gathering spot is a rewarding way to spend an afternoon.  Hudson's Greens & Goods has deliciously nourishing salads and fresh juices, while the newly expanded C Casa has you covered with ultra-fresh Mexican cuisine and hand-squeezed cocktails and margaritas. We'll let you in on a few of our other favorites here.
Experience a mix of Spanish, Portuguese and Mediterranean cuisines at this unique restaurant. They're most known for their fresh, Californian take on tapas with an emphasis on organic and sustainable produce, seafood and meats, while the daily paellas keep locals coming back on the regular.
If fresh sushi pleases your palate, then cruise over to one of Napa's best. Being so close to the coast gives Eiko's a culinary advantage that's evident in their elegant dishes full of fresh flavors straight from the sea.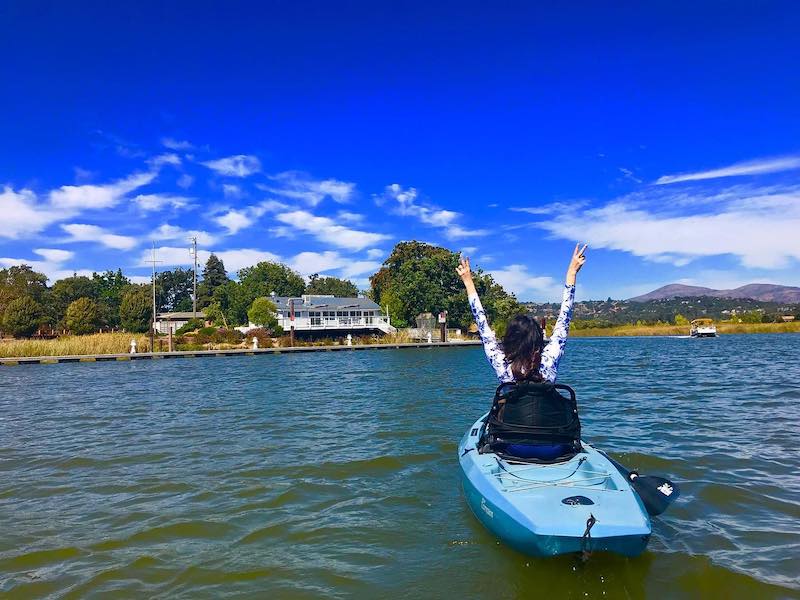 Take in Nature
Few things recharge the body and soul as well as being surrounded by nature. Here are our picks for the best spots for a rewarding, natural refresh right here in Downtown Napa.
Take an authentic Venetian gondola ride along the Napa River. Peaceful, beautiful and so relaxing, you can bring your own wine or simply let your senses take in some of Napa's best scenery and soothing music. It's ideal for couples, but they can accommodate up to six in each boat.
Slow and relaxing or brisk and energizing, Napa Kayak Tours can accommodate all fitness and experience levels. The tour includes kayaks, life jackets, paddles and breathtaking views of the Napa River with an experienced guide.
A leisurely bike ride on the Napa Valley Vine Trail is another rewarding way to immerse yourself in nature. More than a bike shop, Napa River Velo is a full-service cycling center offering bikes, parts, accessories and rentals. Meet here before a group ride, fuel up with a fresh cup of coffee before your ride, or even grab a hot shower (yes, they have a private one for use).
Retreat to the Spa
Let the pampering begin with refreshing spa services meant to soothe your mind, body and soul. There are endless ways to treat yourself in Downtown Napa, but here are a few of our favorites:
Slip in for a little radiance at this Napa Valley spa. They only use superior products made with the purest essential oils and herbs. Consider a hydrating facial, a rejuvenating body treatment, a massage, an organic mani/pedi or any combination that suits you.
While of course many of Napa's full-service hotels and resorts offer decadent spa experiences, the spa at White House Inn bed & breakfast takes wellness to a whole new level. Choose from a variety of onsite spa treatments, from couples' massages and aromatherapy treatments to CBD therapy, in a cozy setting tucked away from the bustle of downtown. Afterwards, relax the day away in lush gardens or sip wine poolside.
Total Wellness at Stanly Ranch
The newly opened Stanly Ranch in Napa is a luxury wellness destination all its own, featuring the Halehouse, Springhouse, and Fieldhouse each focused on different aspects of integrated wellness for total mind and body therapy. Insider tip: Even if you are staying elsewhere, you can choose from several different day pass options to experience the spa as a guest for the day.
YOUR TRIP WILL BE MEASURED BY THE MEASURES WE TAKE
Your safety is our top priority — come here to get away and restore yourself. We have put measures in place to ensure businesses and lodging properties are ready to make your stay and entire Downtown Napa experience extraordinary.
COVID 19 INFO
Safety Videos