ALBA's Holiday Brunch
Sunday, December 25th and Sunday, January 1st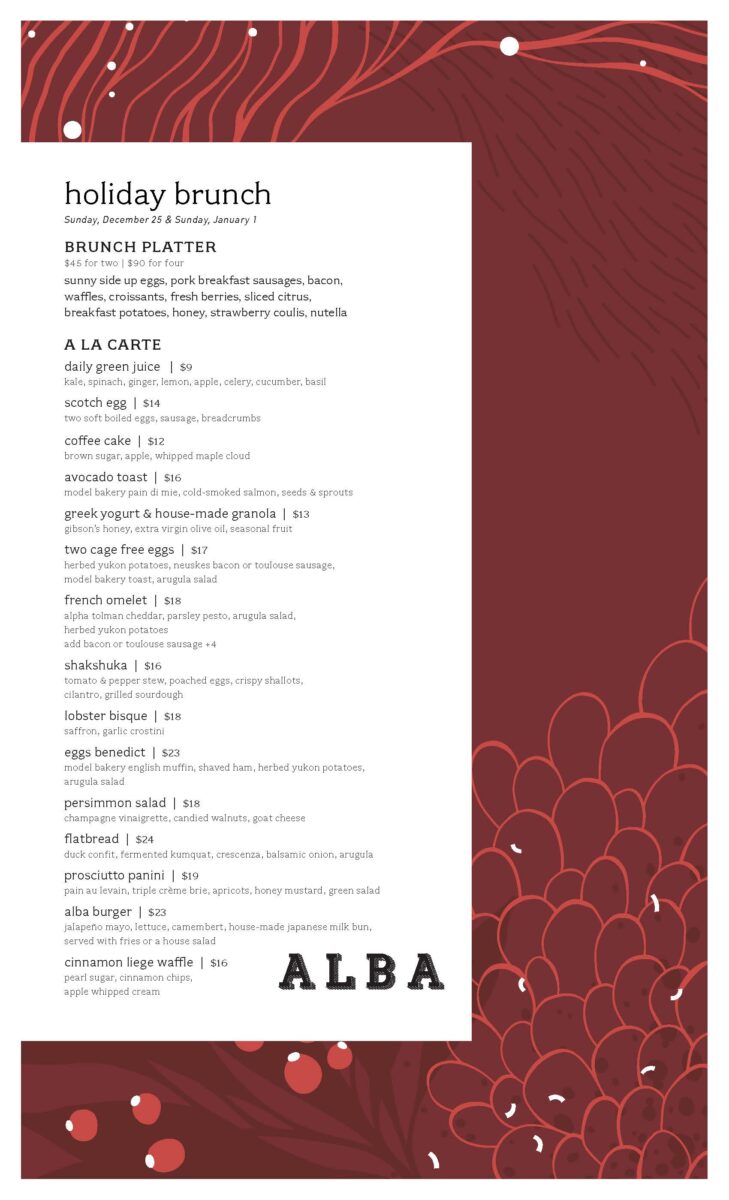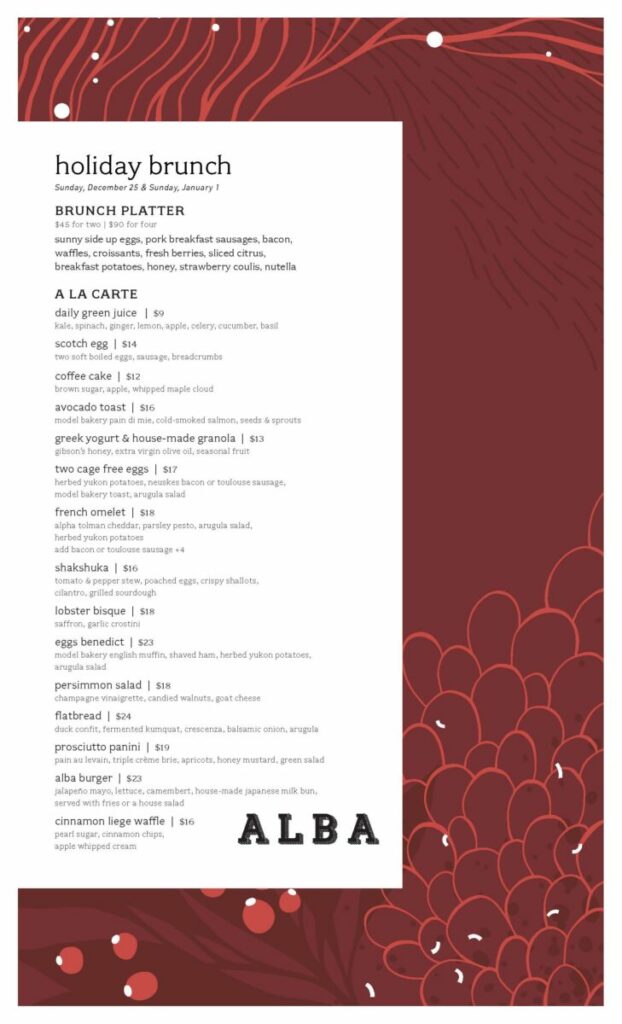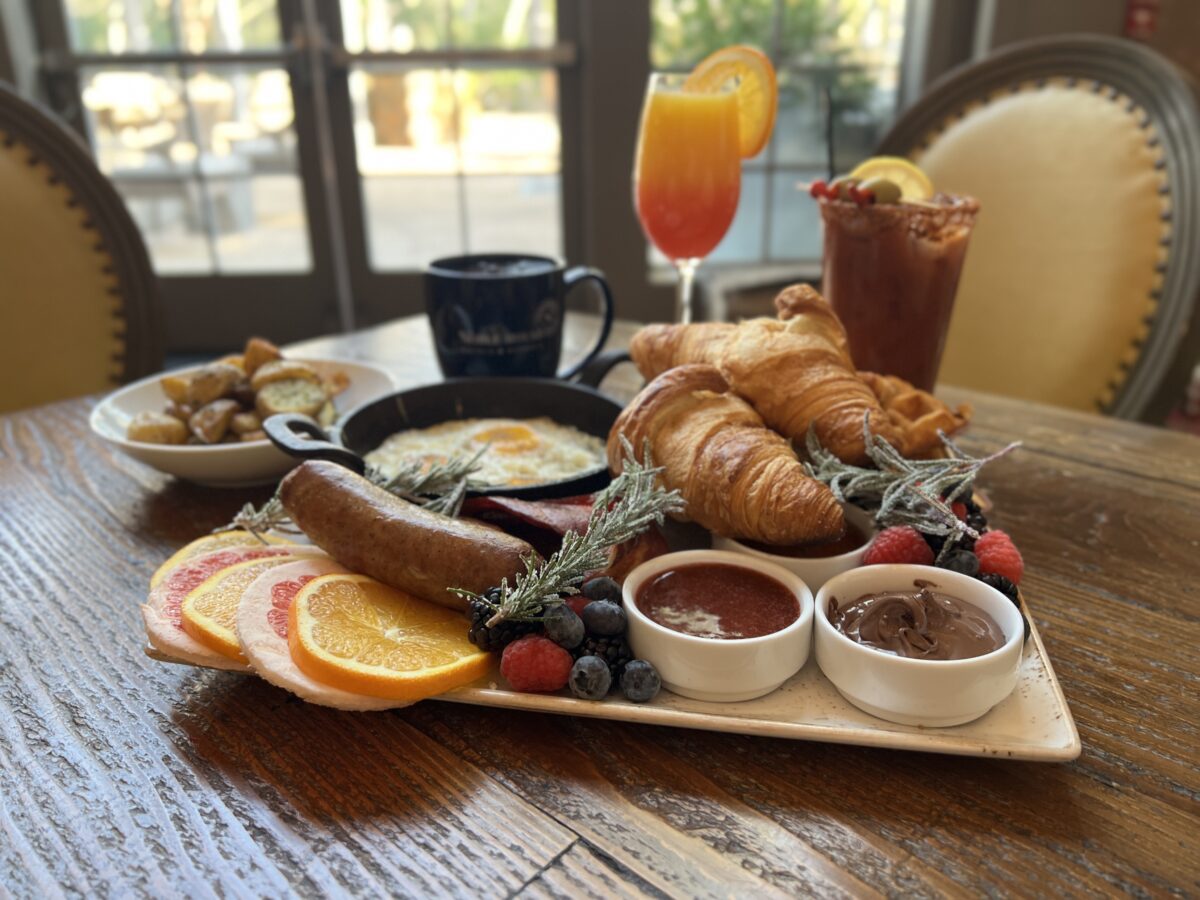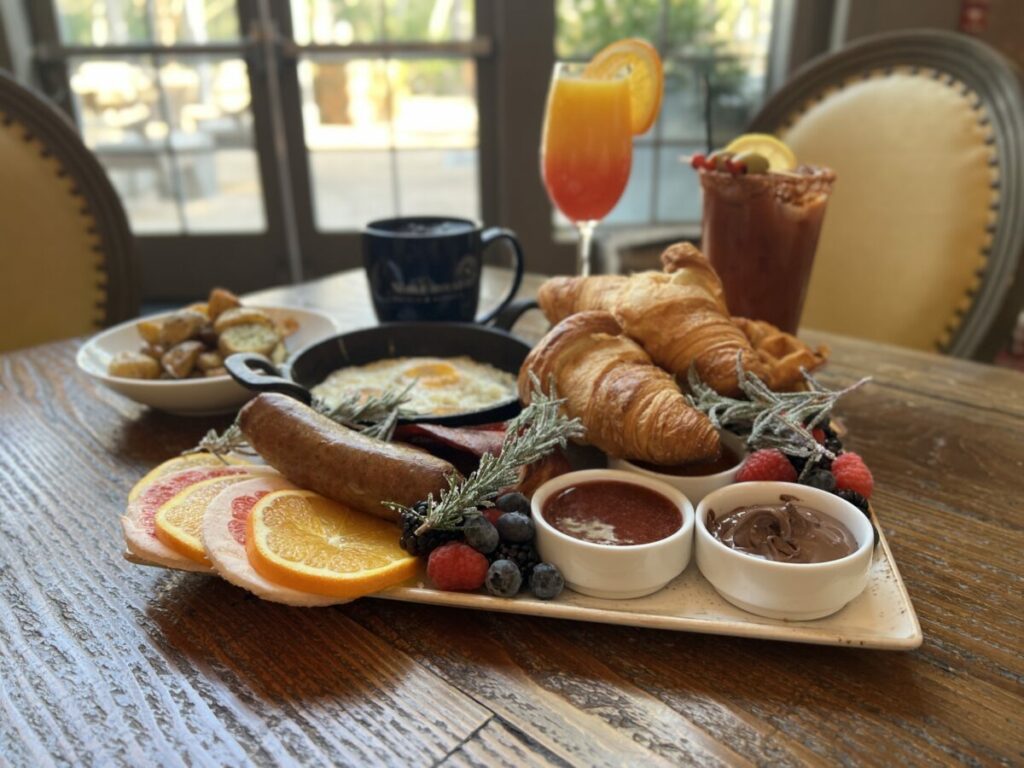 Ackerman Heritage House Christmas Bakeshop 
 Invite Ackerman Heritage House into your Christmas traditions with its prepared baked goods. 
Yule Log: This light and rich French dessert features a chocolate cake roll filled with a chocolate whipped cream filling laced with caramel. A luscious chocolate frosting and edible poinsettia decoration adorn this festive yule log.
This dessert centerpiece can feed up to 10 of your friends/family members. In place of the tradition of burning the yule log on Christmas Eve, you and your loved ones can indulge this scrumptious yule log cake. ($75 plus tax per baked good item). www.exploretock.com 
Christmas Tea Takeaway: Enjoy treats with loved ones on Christmas morning or gift them to a family member who would like to have the Ackerman tea experience at home. Enjoy gingerbread scones and Ackerman crumpets with house-made eggnog glaze and candied cranberry butter. The gift set serves three and costs $45 plus tax per gift set.
 Includes: 
• 3 crumpets

 

• 3 scones

 

• Glaze

 

• 1 butter

 

• 1 Lady Lauren Tea Tin

 
Order by Dec. 16. Pick-up order on Dec. 23 from 10 a.m. to 2 p.m. at the Ackerman Heritage House. 
Email inquiries and questions to Alexia at Alexia@ackermanfamilyvineyards.com 
Ackerman Heritage House, 608 Randolph St., Napa, www.ackermanfamilyvineyards.com, 855-238-9463 
The Model Bakery 
The Model Bakery will be preparing traditional favorites and special treats to take the pressure off holiday chef, allowing more time to visit with family. 
Start the day with a pan of cinnamon rolls or sticky buns hot out of the oven, pumpkin bread or cranberry orange nut loaf, Model Bakery's famous morning pastries and, of course, Oprah's favorite English muffins. 
Turkey and gravy will taste even better with Model Bakery's professionally crafted breads and rolls. Their signature pain au levain boule and walnut sage levain batard are available, along with pain de mie dinner rolls. 
Desserts include traditional pumpkin and pecan pies, apple pie with streusel topping and pear nut tart with hazelnuts and pistachios and festive holiday iced sugar cookies. 
Wondering what to get that special someone? Oprah's Favorite Things Gift Set (12 English Muffins with a jar of Model Bakery preserves) or The Model Bakery Cookbook is a great way to share the gift of home baked treats as a Christmas, host or hostess gift. 
For a complete menu, visit either location or www.themodelbakery.com. Place orders by phone: Napa 707-259-1128 or the St. Helena store at 707.963.8192. 
All holiday orders must be placed and paid by 4 p.m. Monday, Dec. 19. Pickup time is Saturday, Dec. 24 from 9 a.m. to 3 p.m. at the St. Helena and Oxbow locations. 
The Model Bakery will be closed Christmas Day, Sunday, Dec. 25, and Monday, Dec. 26. 
The Model Bakery in St. Helena at 1357 Main St. and at the Oxbow Public Market at 644 First St. in Napa 
Copia
The Grove at Copia will serve a special holiday dinner on Christmas Eve, Saturday, Dec. 24. It will offer an indulgent, multi-course, prix-fixe menu featuring caviar and truffles in addition to the regular menu. The cost is $95 per person. Reserve at www.opentable.com
The CIA at Copia, 500 First St., Napa
Napa Valley Bistro
Napa Valley Bistro will be open Christmas Eve 1noon to 9 p.m. with its regular menu and specials will be San Francisco-style Cioppino and oven-roasted prime rib.
Napa Valley Bistro, 975 Clinton St., Napa, napavalleybistro.com, 707-666-2383
Stanly Ranch
This year, on Christmas Eve, Stanly Ranch will be celebrating with a special dinner at signature restaurant Bear. Enjoy classics like sourdough, crispy rice and short rib alongside holiday specials. An optional wine pairing is available separately. Make reservations here.
Stanly Ranch, Auberge Resorts Collection, 200 Stanly Crossroad, Napa
Waterfront Seafood Grill
The Waterfront Seafood Grill will be open for lunch and dinner its regular hours on Christmas Eve, lunch 11:30 a.m.to 2:30 p.m. and dinner 5 to 9 p.m. Waterfront Seafood Grill, 720 Main St, Napa, waterfrontseafoodgrill.com, 707-699-2452
Restaurants open on Christmas Eve Day
Alba at River Terrace Inn 7-10:30 a.m., 4-8:30 p.m.
Allegria
Anette's (both locations) 10 a.m. to 4 p.m.
Bank Cafe & Bar at The Westin Verasa
Barnhouse Napa Brews open until 2 p.m.
Bear at Stanly Ranch
Charlie Palmer
Compline Restaurant Lunch only
Contimo Eats 8 a.m. to 2 p.m. lunch only
Crush Lounge at The Meritage Resort
Hog Island Oyster 11 a.m. – 3 p.m.
Kitchen Door close at 3 p.m.
Meritage Napa Coffee Valley Roaster 6:30 a.m. – 1 p.m.
Napa General Store
Napa Palisades Saloon closing early
Napa Valley Bistro noon to 9 p.m.
Napkins Bar & Grill
Oxbow Public Market closes at 5 p.m.
Pasta Prego
Sky & Vine Stanly Ranch
Sweetie Pies 6:30 a.m. – 2 p.m.
Tarla Grill
Trade Brewing 12-6 p.m.
The Waterfront Seafood Grill 11:30 a.m.-2:30; 5-9:30 p.m.
Restaurants Open on Christmas Day
Alba at River Terrace Inn 8 to 12:30 p.m.
Bank Cafe & Bar at The Westin Verasa
Bear at Stanly Ranch
Charlie Palmer
Crush Lounge at The Meritage Resort
Meritage Resort
Sky & Vine
EVENT DETAILS
December 24 - Dec 25