Many states around the U.S. boast of displays of flowers that can mesmerize those that come to see them, but few locations celebrate the season quite like Napa Valley.
WILD MUSTARD SEASON 101
From late January to March, the regional vineyards spring to life with brilliant displays of yellow, orange and gold as wild mustard blooms carpet rows of vineyards, ushering in a new growing season. Known as Wild Mustard Season, the late winter explosion of floral beauty isn't just a visual feast.
The blooms also have a practical use. In March, the mustard blooms are turned into mulch – known as "bud break" – which enriches the soil with nutrients, an essential factor in creating an abundant grape harvest and top-quality wine.
No matter how many times one sees the fields of color, it still offers feelings of awe, and yet more proof of the power of Mother Nature. Wild Mustard Season in Napa Valley provides the opportunity to enjoy this beginning-of-spring scenery, and a great deal more.
SPECIAL OFFERS, EVENTS & MORE
Grab your selfie stick, get ready for your jaw to drop and enjoy the many activities offered by Downtown Napa and Visit Napa Valley.
You can download a Wild Mustard Season map, which will provide the best spots to get that perfect photo to mount on your living room wall (and you can enter it in the #WildMustardDaysContest for a chance to win a great Napa Valley giveaway). Make sure to pull safely off public roads and be careful of the grapevines, as they're still in hibernation mode.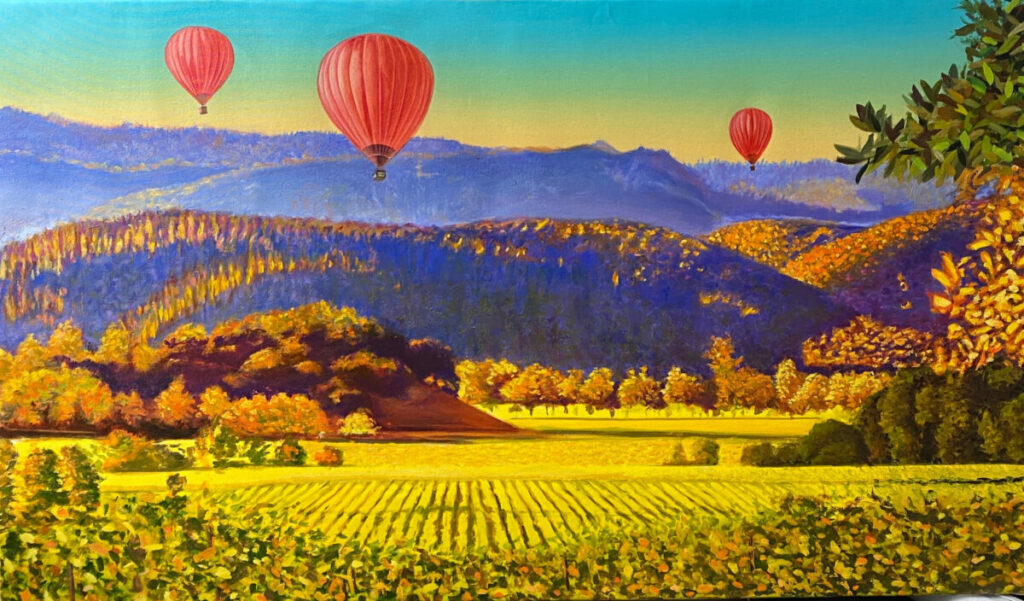 JESSEL GALLERY
The Jessel Gallery in Napa – and Bougetz Cellars, located behind the gallery – will kick off the annual celebration of the "season between the seasons" on Feb. 19 and 20. The Jessel Gallery Napa Valley Mustard Celebration will feature some of the most talented area artists and photographers showcasing works honoring the season. There will also be artist demonstrations, pop-up shops, food trucks and more. Jessel Miller will hold mustard-themed acrylic art classes on Wednesdays and Fridays through March.
NAPA VALLEY WINE TRAIN
It's all aboard the Napa Valley Wine Train, where you can enjoy award-winning wines, a gourmet meal and more while taking in the stunning views of the Napa Valley vineyards and bright mustard blooms. Traveling on exquisitely restored vintage early 20th-century Pullman cars, it's the perfect way to sit back, relax and savor the moment.
ALBA AT THE RIVER TERRACE INN
Various Downtown Napa restaurants, wine establishments and retail stores are offering discounts or specials to celebrate Wild Mustard Season. ALBA, the River Terrace Inn's fine restaurant, is offering a Bavarian pretzel with two house-made mustards through the end of March. Enjoy indoor or outdoor dining along with some of the locally brewed beers that ALBA carries.
BE BUBBLY
Be Bubbly, the first dedicated champagne and sparkling wine lounge in Napa Valley, is featuring a seasonal offer of mini pretzel dogs with Champagne Dijon mustard and a glass of Cremant d'Alsace for $20.
GAMLING & MCDUCK
Gamling & McDuck, a popular fixture in Downtown Napa with their variety of Cabernet Franc and Chenin Blanc wines, has decorated their Parklet art display specially in mustard plants design.
BOHO LIFESTYLE
Whether you're visiting or living in the Napa Valley area, it's always important to look good (which makes you feel good!). Boho Lifestyle features budget-friendly styles for a casual and cozy look, and through Feb. 28, you'll get a 10% discount (on non-sale items) if you mention the word "mustard" at checkout.
STAY FOR MORE
While in the area for the Wild Mustard Season celebration, make sure to enjoy the many activities Downtown Napa has to offer, such as the 2022 Napa Lighted Art Festival, a free outdoor event showcasing sculptures and installations of technology and lights, through March 13. Kayak and gondola tours, hot air balloon adventures, world-class cuisine and numerous wine-tasting establishments are just a small sampling of the good times you can escape to when visiting Downtown Napa.
There are also a number of lodging specials highlighting the end of winter, beginning of spring season. See them here and make your stay even sweeter.
YOUR TRIP WILL BE MEASURED BY THE MEASURES WE TAKE
Your safety is our top priority — come here to get away and restore yourself. We have put measures in place to ensure businesses and lodging properties are ready to make your stay and entire Downtown Napa experience extraordinary.
COVID 19 INFO
Safety Videos