Any trip to Napa is a treat, but when you add dessert to your plate, your getaway turns into a real indulgence. Make sure to check out these sweet spots next time you're in Downtown Napa:
The best thing that goes with wine is chocolate! Born-and-bred in Downtown Napa, Anette's Chocolate & Ice Cream Factory creates exquisite truffles, house-made ice-creams, roasted beer brittles and decadent chocolate wine sauces from recipes that have been perfected over the past 70 years. Stop by their location at the iconic Oxbow Public Market or visit the newly redesigned shop on First Street where you can also catch a class or a tasting event.
You may have heard of Model Bakery before if you've heard of Oprah (their English Muffins were previously named one of Oprah's Favorite Things!) This quaint bakery is a community-gathering place and will make you feel like you've been transported to a charming European village. Mingle with the locals while you enjoy freshly-baked pastries, cookies and desserts.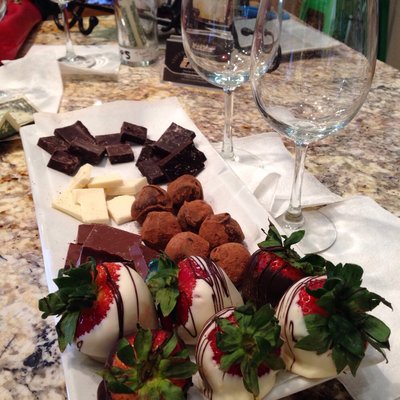 This local gem has been around since 1978 and is most famous for their chocolate covered wine bottles (yes, you read this correctly!) Grab a small cabernet truffle, a piece of salted caramel dipped in chocolate, a sea salt peanut brittle or go for a big pairing of chocolates and local wines.
Monday Bakery is the newest addition to DoNapa's baked goods scene! This bakery is a happy marriage of classic desserts and creativity, local ingredients and unique flavor pairings. Bonus points for the vegan, flourless and gluten-free options. This sweet place sure makes Mondays delightful!
Nestled in the historic Napa Mill, Sweetie Pies Bakery made Bloomberg's list of the best mail-order pies in America, and is also home to some of the best breakfast pastries, cakes and cookies around. Come check it out for yourself, grab a coffee and dessert, and enjoy the view.
Ready for the ultimate unique sweets culinary adventure in Downtown Napa? Book your stay today!
YOUR TRIP WILL BE MEASURED BY THE MEASURES WE TAKE
Your safety is our top priority — come here to get away and restore yourself. We have put measures in place to ensure businesses and lodging properties are ready to make your stay and entire Downtown Napa experience extraordinary.
COVID 19 INFO
Safety Videos