A free-spirited celebration of music, wine, food and brews, BottleRock rolls into Napa May 27-29 for three days of world-class music paired with Wine Country at its finest. Give yourself the rock star treatment and book your accommodations now at one of the many Downtown Napa lodgings spots, where there's something for every traveling style and budget. Here's the short list of what's available to you as you Do BottleRock in Napa!
For a cozy cottage experience, check out RiverPointe Napa Valley Resort, a selective community with a village feel. Roomy cottages feature living rooms, kitchens, and decks with views. After an exciting day of music and celebrating at BottleRock, relax in the hot tub or take a dip in the pool. Laundry facilities included.

Just five blocks from the fairground, The Westin Verasa Napa blends a relaxing resort with an urban setting. Ideally located in the heart of Downtown Napa, the Westin Verasa is strolling distance to the Oxbow Public Market, restaurants and wineries. Relax in the heated saltwater pool and unwind in the hot tub after a day of music and festivities.

Kick back like a true rock star at The Meritage Resort and Spa, a luxury resort set amidst hillside vineyards with on-site restaurants, bowling lanes, an Estate Cave and the Spa Terra, a lavish underground spa with steam grottoes, whirlpools, and water walls in the heart of the earth.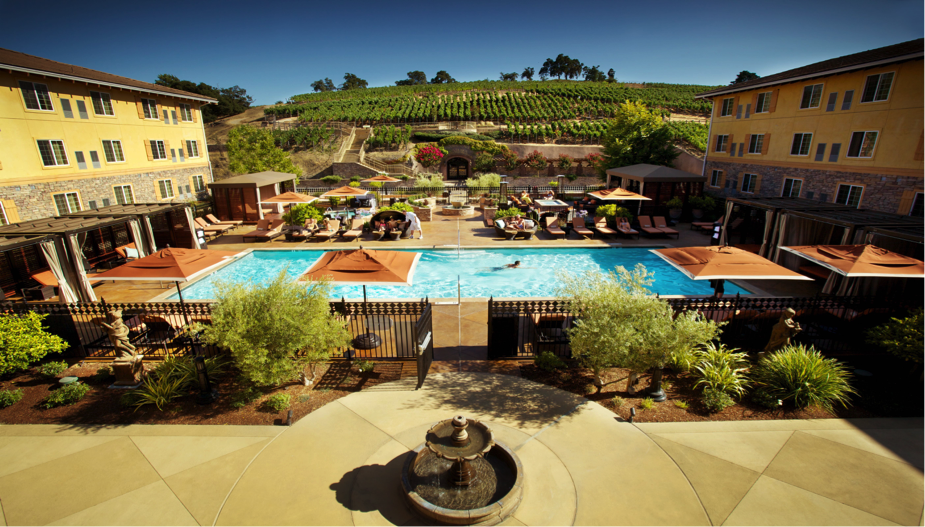 Locally owned and dripping with elegant antiques and styled with vintage design, the Napa River Inn transports you to a different time and place. Channel your inner Jim and Janis as you experience historic charm (the property dates back to 1884) with the convenience of modern amenities (and a claw-foot tub or two). Plus, it's only a half-mile from BottleRock!

Relax, dine, sip wine and just unwind at the Napa Valley Marriott Hotel & Spa, with its indoor-outdoor lobby concept, lightning fast complimentary internet and flat panel LCD screens with readerboard that allows guests to find info on local wineries, attractions, weather, news and driving directions. Treat yourself to on-site cuisine that serves locally and sustainable grown produce before retiring to your beautifully appointed room or suite.

Check out more of Downtown Napa's rockin' array of accommodations and lodging, from luxury hotels to quaint bed & breakfasts here.
YOUR TRIP WILL BE MEASURED BY THE MEASURES WE TAKE
Your safety is our top priority — come here to get away and restore yourself. We have put measures in place to ensure businesses and lodging properties are ready to make your stay and entire Downtown Napa experience extraordinary.
COVID 19 INFO
Safety Videos