The Napa Valley Wine Train is celebrating its silver anniversary and wants you to join in the fun! Since 1989, Napa Valley Wine Train has been taking visitors on a relaxing three-hour, 36 mile journey from historic Downtown Napa to beautiful St. Helena and back. Sept. 16 marks the 25th anniversary of the train chugging through Napa, and to commemorate the milestone, they are giving back 25 pairs of tickets to lucky contest winners throughout September.
Image source: http://bit.ly/1Bq4QrW
Get those duck faces ready: the first way to win is by participating in the Selfie Scavenger Hunt at various Napa Valley spots. To enter this contest, you first have to register online. There is a list of selfies you must take worth 10, 20 or 30 points and contestants will post their selfies on either Instagram or Twitter. Each "like" (Instagram) or "favorite"/"retweet" (Twitter) a selfie receives earns it one additional point. Up to 25 pictures are allowed per participant, and each post will need to tag the Wine Train's account, the special hashtag #WineTrainSelfie, and a unique hashtag that corresponds with the task they are doing. Download yourself the list and start capturing those pictures!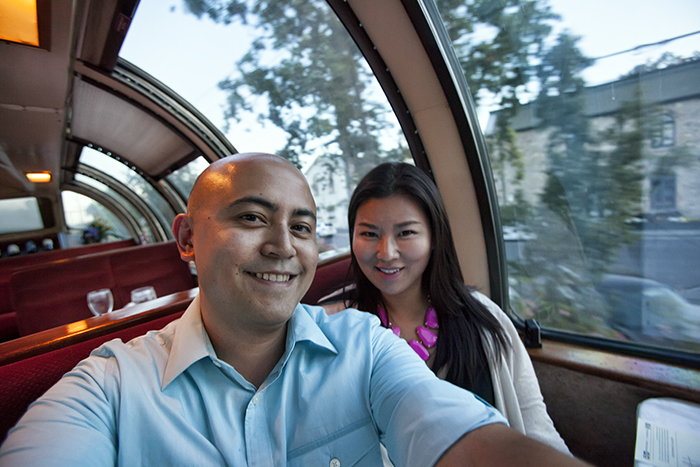 Image source: http://bit.ly/1op3BBl
If you are too far from Napa at the moment, don't fret. There is also a Selfie Scavenger Hunt for international participants. Whether you are in San Diego or Hong Kong, there is a list of selfies for you to take too. The rules are the same, but you won't have to travel across the world to the Napa Valley to win. Grab some friends and start work your ways down the selfie list. Make it a friendly competition and maybe you'll both get to go on the Napa Valley Wine Train together.
Not a big selfie taker? The third contest is the Ultimate Wine Train Photo Contest. Anyone can submit their best photo depicting the Wine Train, and the images will be posted to a special album on the Wine Train Facebook page. The five images with the most likes on Sept. 30, 2014 will receive a pair of tickets in the Champagne Vista Dome, the ultimate in luxury on the Napa Valley Wine Train.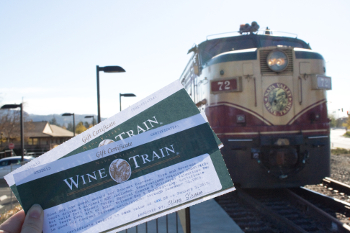 Five pairs of tickets will be given to the winners of the Ultimate Wine Train Photo Contest, 10 pairs for the International Selfie Scavenger Hunt and 10 pairs for the Napa Area totaling 25 pairs for the Wine Train's 25th anniversary. If you want to win your way onto the Napa Valley Wine Train, you'd better get your cameras out and start snapping!
YOUR TRIP WILL BE MEASURED BY THE MEASURES WE TAKE
Your safety is our top priority — come here to get away and restore yourself. We have put measures in place to ensure businesses and lodging properties are ready to make your stay and entire Downtown Napa experience extraordinary.
COVID 19 INFO
Safety Videos