One of Napa's favorite events is just around the corner. Come to the Riverfront on April 6 to kick-off Arts in April with the second-annual Napa's Riverfront Chalk Festival. The Chalk Festival is a great event that anyone can enjoy. Stroll the Riverfront and watch artists and youth transform the sidewalk into works of art from 10 a.m. to 4 p.m.
The festival is fun and FREE for the whole community; bring your friends, your family and your neighbors to the Riverfront. There are so many reasons to come out and enjoy the great event. Come enjoy a stroll along the beautiful Riverfront while checking out the remarkable local artwork! The talented local Artist Amy Gallagher Hall will be creating her work of art which is sure to be a hit.
Visitors love being able to watch the sidewalk transform throughout the day into a city sidewalk gallery. The kid's area encourages children to contribute in a fun and rewarding community event. All of the children's art-booth proceeds will go to Nimbus Arts; and one youth entry will have the chance to a win $150 prize.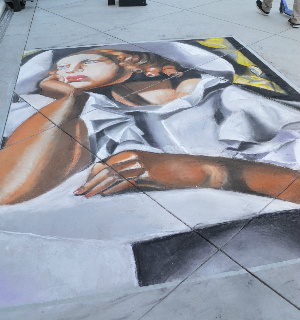 Napa has great shopping and on Saturday and Sunday, April 5 and 6, it will get even better at the exclusive Riverfront sidewalk sale from 10 a.m. to 6 p.m. Support your local artists and business owners and shop and enjoy the Chalk Festival at the same time. Who said multi-tasking had to be stressful? Get outside, enjoy the fresh air, good energy, beautiful art and interact with the locals.
Don't miss this artsy and creative annual event, and spend the day enjoying an artistic Sunday with your friends and family in Napa. Come to Napa's Riverfront Chalk Festival 2014 and enjoy local art, culture and fun for all in Napa.
YOUR TRIP WILL BE MEASURED BY THE MEASURES WE TAKE
Your safety is our top priority — come here to get away and restore yourself. We have put measures in place to ensure businesses and lodging properties are ready to make your stay and entire Downtown Napa experience extraordinary.
COVID 19 INFO
Safety Videos