Napa natives know all about the amazing variety of restaurants and bars in Downtown Napa that host happy hours, and those visiting for a few days or weeks can get in on the fun, too.
These happiness-inducing bites and refreshing beverages are best paired with a mid-week stay to truly experience Napa like a local. The best part? Downtown Napa is totally walkable, so drinking responsibly is a snap.
Enjoy discounted draft beer, wine and cocktails from 4 to 7 p.m. daily while taking in the restaurant's modern atmosphere or sitting outside in the space situated on the banks of the Napa River.
Our pro tip: "Yappy Hours" for you and your four-legged friend are scheduled throughout the year if you're vacationing with your pup.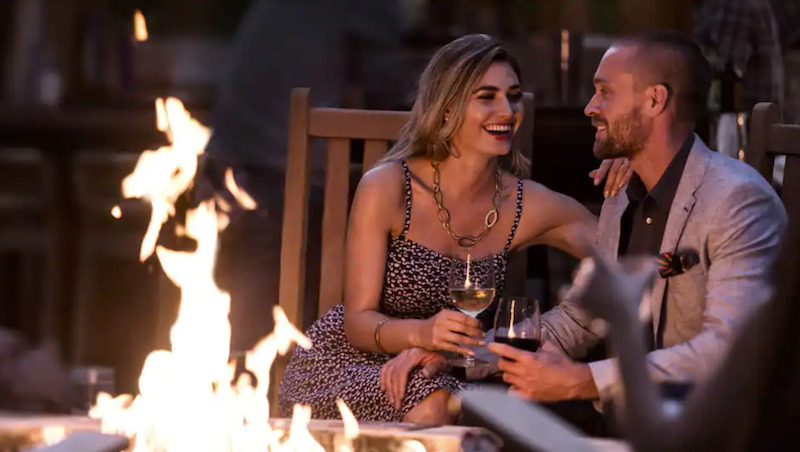 This sophisticated hotel offers a daily happy hour times two. From 6 to 8 p.m., specials are offered in the lobby bar; from 9 p.m. to midnight, the happiness moves up to the hotel's terrace.
Our pro tip: When temperatures are cooler, you can kick back and cozy up with firepits. And on Wednesdays and Fridays, enjoy live music on the Andaz Terrace.
White and red wine by the glass and beer are available at discounted prices from 4 to 6 p.m. Monday through Thursday, but the specials don't stop there.
Our pro tip: Mouth-watering pizza, meatballs and arancini are also available at special prices.
The truly wonderful smell of wood-fired barbecue greets visitors to this wine bar and restaurant, located in a historic 1880s building. Partake in 2-for-1 Bounty Hunter brand glasses, $3 off beer and barbecue tasters from 3 to 6 p.m. Monday through Friday.
Our pro tip: Order the BBQ sampler plate to enjoy a little of everything, including their famous beer can chicken.
Explore the world of wines and beers at this warm and inviting neighborhood bar. The Power Hour – in which wine by the glass and beers are half-price – takes place every day of the week except Wednesday.
Our pro tip: Cadet also offers Wine Wednesdays, where you can explore different varietals from wineries.
The wine and food menu may change with the season, but the daily happy hour specials remain the same. Seize the day and enjoy delicious wine and bubbly for only $7 from 4 to 6 p.m.
Our pro tip: The wine is amazing of course, but you can also enjoy fun craft cocktails like "Seize the Bourbon".
Known for his signature progressive American style, Palmer designed this neo-traditional steakhouse with a contemporary rustic-luxe setting. Take in the comfortable surroundings while you peruse the happy hour specials, available from 4 to 7 p.m. Thursday through Monday.
Our pro tip: Charlie Palmer offers a day dedicated to your favorite side dish: Friday Night Fries.
Located in the historic Williams-Kyser building in Downtown Napa, Cole's Chop House is considered by some to be "Napa Valley's Favorite Steak House."
Our pro tip: The spot showcases Tito's and Hangar 1 vodka at the bar only for just $6 during the Sunday-through-Thursday Happy Hour.
Whether you sit in the restaurant or on the outside patio, this Mexican restaurant will be a relaxing stop for you during happy hour. Enjoy $7 margaritas and $5 beers from 11 a.m. to 6 p.m. It's also a perfect time to enjoy the restaurant's delicious Mexican cuisine.
Our pro tip: Check out the giant "wet burritos" topped with melted cheese and sauce.
This regional micro-brewery and American grill really puts the "special" in happy hour specials. From 4 to 6 p.m. Monday through Friday, try Downtown Joe's half-priced appetizers, house beer and Napa Valley wine by the glass. Wednesday is even better, as Happy Hour is extended to 7 p.m.
Our pro tip: Want more? Check out Taco Tuesdays or Wednesday-burgers-and-fries-for-$10 from 11 a.m. to 4 p.m.
You can go to Eiko's for the modern and authentic traditional Japanese cuisine, as well as the social hour and snacks, but make sure to look around at the sophisticated atmosphere, including a Japanese inscription screen hand-painted by a Buddhist monk.
Our pro tip: Enjoy Japanese "tapas" including their "Tacos Japonais."
You'll find oysters, oysters and more oysters at Hog Island. The oysters are raised on farms in nearby Tomales Bay, California, and Discovery Bay, Washington. During happy hour, held from 5 to 7 p.m., try the chef's choice oyster on the half shell at half-price, as well as beer, wine and small-plate specials.
Our pro tip: We're not shucking around. Try the oyster bar mix so you can try each of their amazing freshly-shucked oyster options.
The story of how this establishment came up with their name will delight you, but if it doesn't, the happy hour specials certainly will. From 3 to 6 p.m. Wednesday through Monday, you can go for $5 draft beers, $6 well drinks and mimosas, as well as a variety of snacks.
Our pro tip: Try the signature $8 Jax mules, you won't regret it.
Local residents have waited a year for this widely acclaimed restaurant to open in its new location on First Street in Downtown Napa. Now that it's open, you can enjoy handmade multi-ethnic food and wine that pairs perfectly during their happy hour offered daily 4:30pm – 5:30pm.
Our pro tip: Their happy hour menu is eclectic including Duck Mousse with Crostini to Rib Bahn Mi Sliders.
Located in the luxury Meritage Resort and Spa, Crush Lounge offers the best of all worlds. While enjoying special menu items and prices on select drinks and appetizers from 4 to 7 p.m. Monday through Thursday during "Crush Hour," you can relax in the laidback lounge atmosphere or have fun knocking down the pins on one of Crush's six bowling lanes.
Our pro tip: Kick back with a good ol' smashed cheeseburger. You can "crush it" by adding caramelized onions.
This newly expanded gastropub's happy hour takes place on the perfect days of the week, from 3 to 6 p.m. on – quoting The Godfather movie – "Monday, Tuesday, Thursday, Wednesday, Friday."
Our pro tip: Small bites such as Reuben croquettes and fried chicken sliders are available at special prices, along with $5 house beers and discounts on wine and select cocktails.
Happy hour at Napa Valley Bistro will leave you … well, happy and with a truly satisfied tummy. From 3:30 to 6 p.m. on Wednesday and Thursday, and from 3:30 to 5 p.m. on Friday, chow down on $7 bites, while washing it all down with $5 beer and $7 wine.
Our pro tip: Enjoy their BBQ pork sliders and beer battered fish tacos.
Using local farm-fresh ingredients, Napkins Bar & Grill is the perfect place for all your dining needs. Happy hour at Napkins – held from 3 to 6 p.m. at the bar and patio – also won't disappoint.
Our pro tip: Order the signature wings which has a citrus habanero glaze, creamy blue cheese and chopped scallions.
During Sky & Vine's reverse happy hour, held from 8 p.m. to close Sunday through Thursday, try some delicious fare like $8 loaded cheese dip and roasted artichoke plates, as well as $6 cans and $10 cocktails. Better yet, you'll be seated at the only 360-degree restaurant and bar with views of Napa Valley.
Our pro tip: With cocktails like Prickly Panther, Garden in the Sky, and Pinky & the Brain, you surely can't go wrong.
Try the best bites from Greece and Turkey during Tarla Mediterranean Bar + Grill's happy hour, held from 3 to 6 p.m. Monday through Thursday at the bar only.
Our pro tip: Calamari fritto misto, Turkish roasted pistachios and hummus and pita are just a few of the specials, along with discounted beer, wine and cocktails.
This casual dining location seems like a place "where everybody knows your name." During The Q's happy hour, held at the bar, select cocktails, beers, wines and American heritage appetizers at discounted prices are there for your enjoyment.
Our pro tip: When in need of a hearty meal to accompany your libations, try the "Taste of the Q for Two" which features baby back ribs, chicken, brisket, pulled pork and spicy beer sausage.
You'll want to make your way to the bar for this high-energy American restaurant with global flair and great music. They have a daily 4 to 6 p.m. happy hour.
Our pro tip: Try some $5 bites like Bengali sweet potato pakora or herb-roasted almonds, along with $6 wine-by-the-glass, $4 and $5 beer, $6 specialty cocktails and $7 classic cocktails.
The Waterfront Seafood Grill has a "Between the Tides" promotion at the outdoor bar. Conundrum red or white wines by the glass are $7, and beers on tap for $6. Between the Tides is Tuesday – Saturday at the outdoor bar and lounge from 3 to 5 p.m.
Our pro tip: All Reyka Vodka, Hendricks Gin, Milagro Tequila and Tullamore Dew Irish whiskey drinks are $8.
KEEP THE HAPPY GOING
Once happy hour has concluded, you may want to hang around until you're ready for dinner. Fortunately, a number of locations have fun events at during the week until you're ready for dinner.
Impress or surprise friends and family with your great voice during karaoke nights from 8 to 11 p.m. on Monday and Tuesday at Downtown Joe's, and from 6 to 9 p.m. on Wednesday at Be Bubbly, a champagne and sparkling wine lounge. Test your trivia smarts on Monday at Be Bubbly, from 7 to 8 p.m. on Tuesday at Napa Barrel Project, and starting at 7 p.m. on Wednesday at Napa Cigars. And if Bingo is your game, Monday at Be Bubbly and Barnhouse Napa Brews (starting at 5:30 p.m.) is where you'll want to be.
STAY HAPPY
The range of lodging choices in Downtown Napa varies widely, from cozy bed-and-breakfasts and boutique hotels to top resorts with fully equipped rooms and plentiful amenities. Some even offer special packages, discounted rates and more. And the best part is all of Downtown Napa lodging is within easy strolling distance to happy hour, so book a trip to Downtown Napa, be happy and enjoy all this wonderful part of California has to offer.
YOUR TRIP WILL BE MEASURED BY THE MEASURES WE TAKE
Your safety is our top priority — come here to get away and restore yourself. We have put measures in place to ensure businesses and lodging properties are ready to make your stay and entire Downtown Napa experience extraordinary.
COVID 19 INFO
Safety Videos