It may be a well-known secret by now, but Downtown Napa is the place where outdoors, art and wine stops come together.
Locals and visitors can get their art fix by visiting Downtown Napa for a one-of-a-kind cultural experience, the ARTWalk. Since its introduction, this unique cultural experience is a biannual, rotating exhibition of juried sculptures created by artists from the Western U.S.
"Play" is the current theme on exhibition, now newly launched and on display until 2023. Using kinetic art, movement and/or light to define dimensions and interaction in space, the featured "Play" art contains symbolic movement or requires motion for its effects.
Ten sculptures were selected by a jury of professionals. As a bonus, all of the sculptures in this are for sale with ten percent of all sales made during the exhibition supporting future Napa Art Walk exhibitions. Here's a quick snapshot of the artists of Downtown Napa ARTWalk's "Play."
*Photo Credit For All ARTWalk Photos: Chris Sithi
Catherine is a sculptor, photographer and painter whose work has been on exhibition at the Luther Burbank Center for the Arts Sculpture Garden and the Sonoma County Museum among others.
Her sculptural works range from large installations to small and delicate pieces while materials range from bronze, aluminum, steel, corten, wood, granite, charcoal, paint, canvas and even photographic elements. "I am inspired by the environment, by people and by concepts, and from these sources of inspiration, my artworks usually come to me in fragmented dreams," says Catherine.
Featured "Play" Pieces: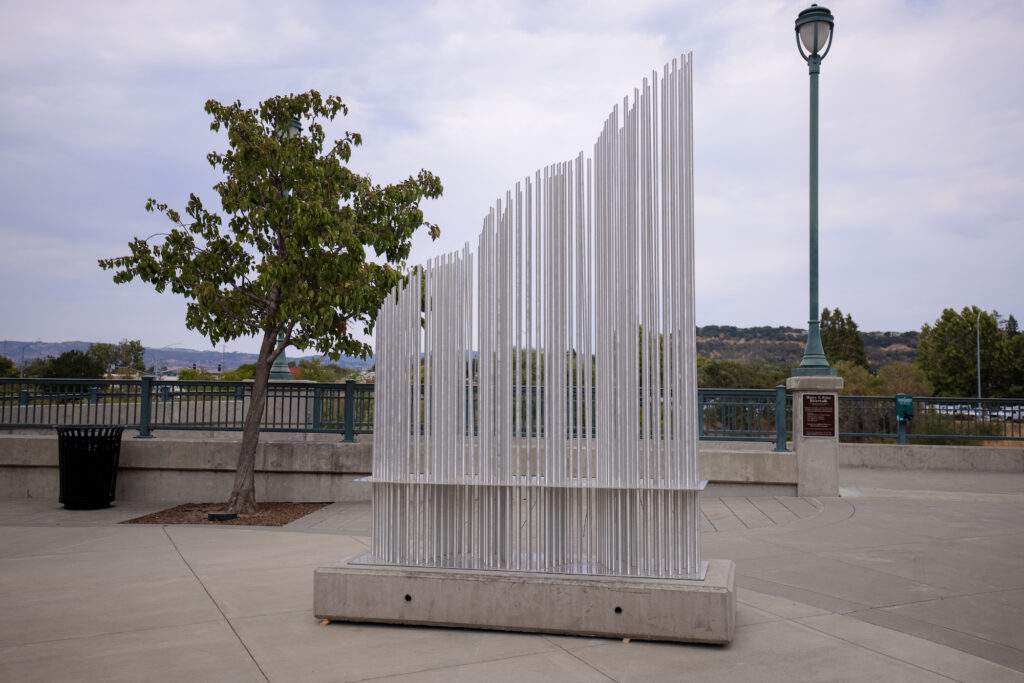 Confluence #102
Location: Fifth Street Plaza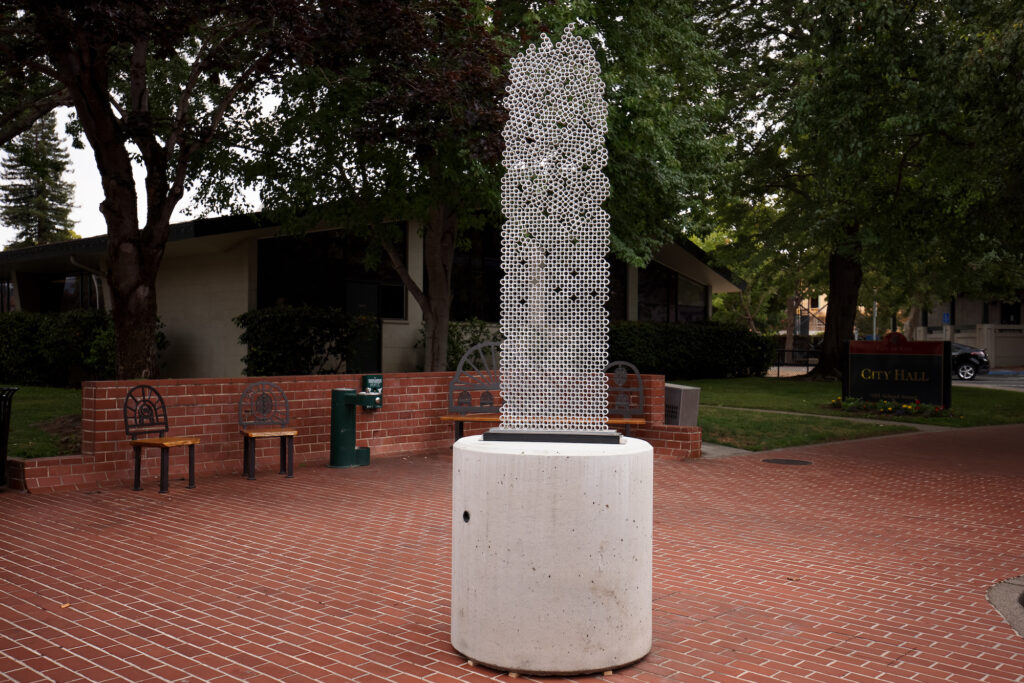 Lacunae
Location: First and School Street
Sculptor Jane Nunn's work is best described as a draw-you-in kind of beautiful with a strong physical presence. For the ARTWalk's "Play," Jane created an enthusiastic, perhaps a tad tipsy, sculpture made of 1200 welded stainless steel rods. Its shimmering deep red powder-coated surface invites viewers to contemplate a swirl of full-bodied red wine.
Featured "Play" Piece: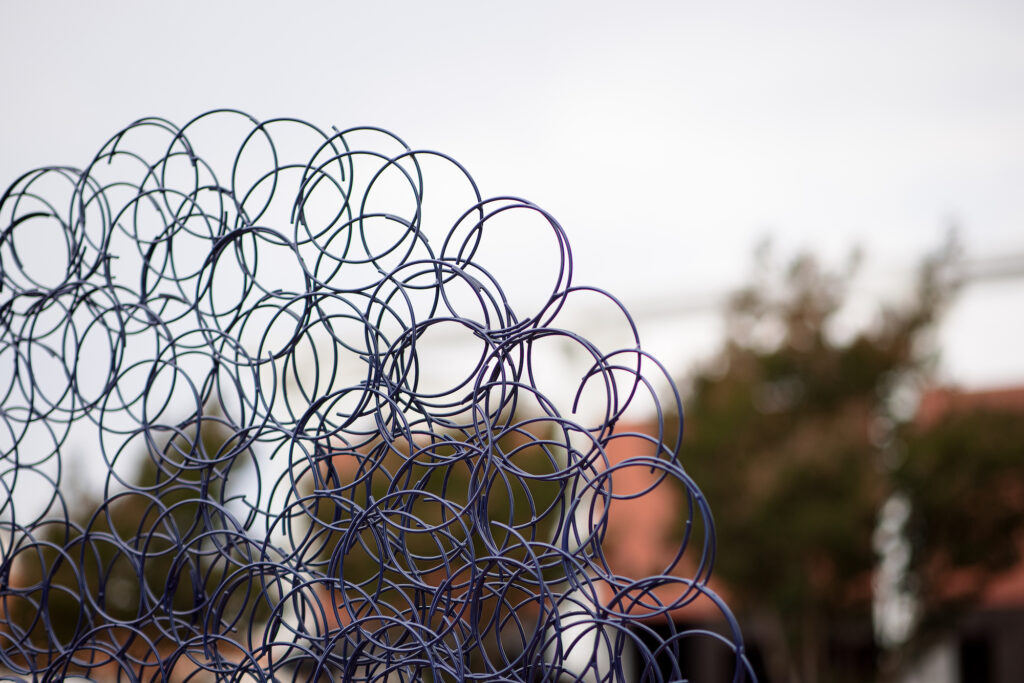 Meditate
Location: Dwight Murray Plaza
California metal sculpture and wind artist Patricia Vader specializes in kinetic public art showcasing bicycle parts. Her public artworks command attention with bright colors and inventive kinetics. Perfectly suited for the theme of "Play," her work engages people of all ages and backgrounds in a joyful manner and speaks to their imagination.
Featured "Play" Pieces: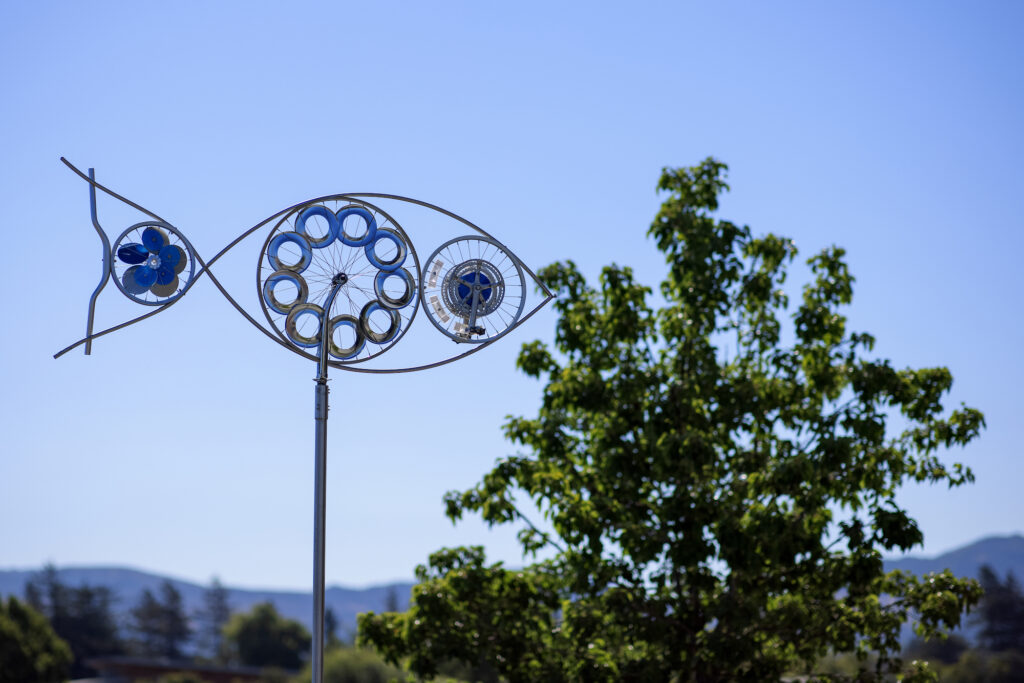 Jumping the Waves
Location: Main and Third, at the Riverfront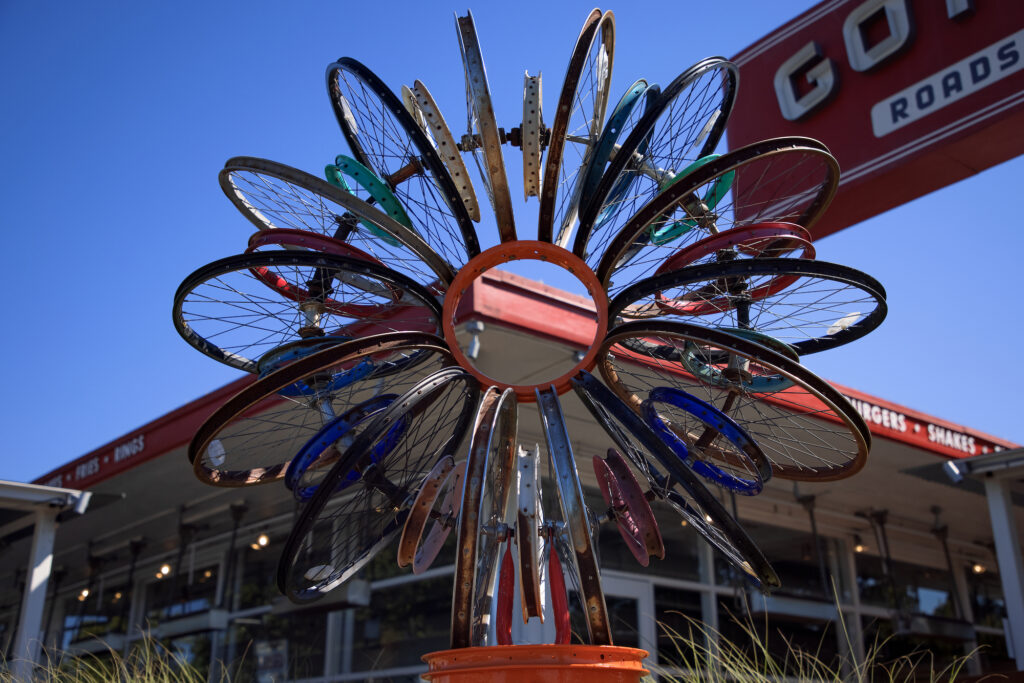 Wild Flower
Location: In Front of Gott's Roadside, Oxbow Market – First & McKinstry Street
MacRae is a metal sculptor who lives in Hood River, Oregon.  He takes on many different topics, ranging from fun to the environment to truth and perspective.  He is a rising sculptor with an increasing number of public installations throughout the U.S. and winner of sculpture show awards.
Featured "Play" Pieces: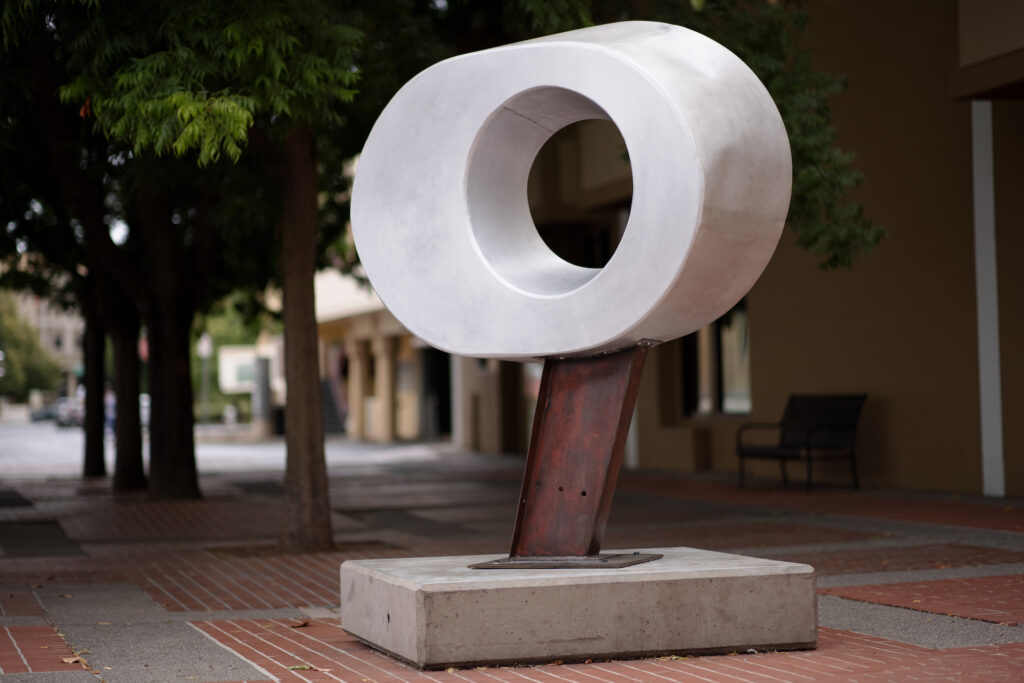 Inside Out 11
Location: Brown Street Corridor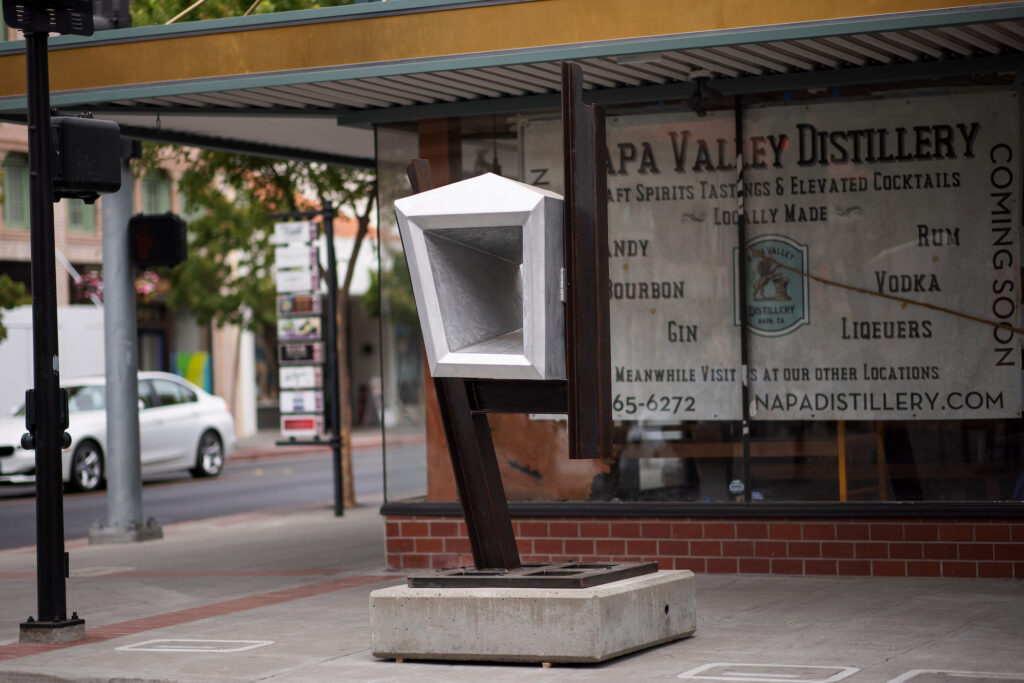 Inside Out 6
Location: First and Coombs Street
Yoshikawa Wright is a national award-winning sculptor. The Japanese-American stone sculptor is renowned for his site-specific stone sculptures, sculptural waterfalls and fountains. His abstract, contemporary work has been described as art with Japanese Zen simplicity that is pervaded by calm, centered mindfulness.
Featured "Play" Piece: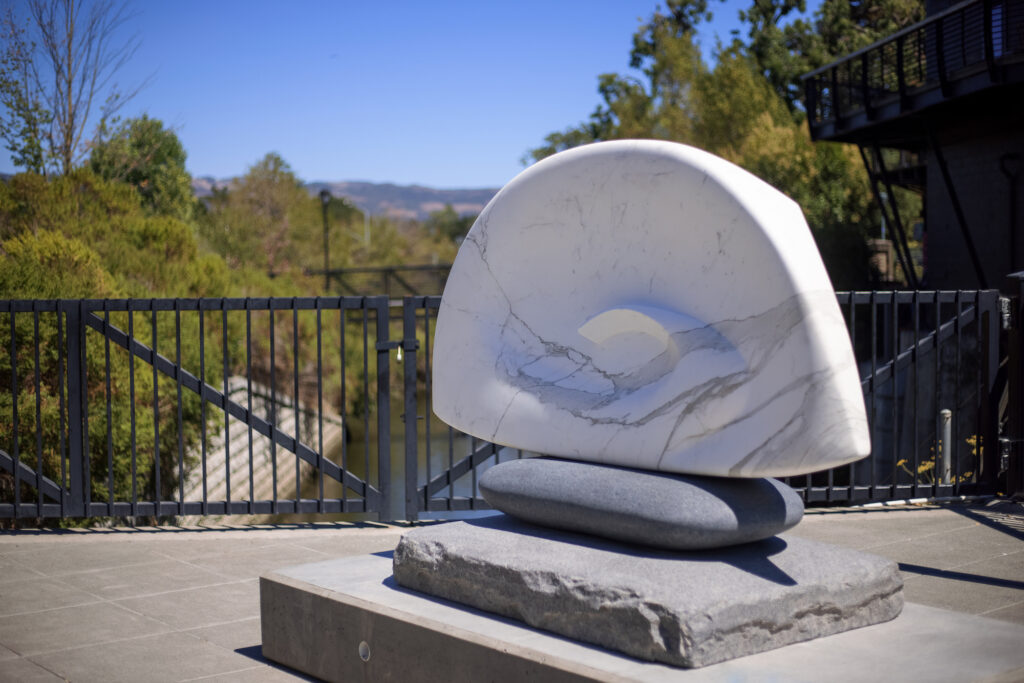 Time and Awareness
Location: Across from Cole's Chop House (Main Street)
Tyson Ayers is an Oakland-based musical instrument inventor, immersive theatre producer, large scale installation artist and project director/lead artist of the Sound Cave Road Show. He creates immersive sound art installations through harnessing the profound natural phenomenon of sympathetic resonance. With an exhibit titled "Play," this sounds like a must-see.
Featured "Play" Piece: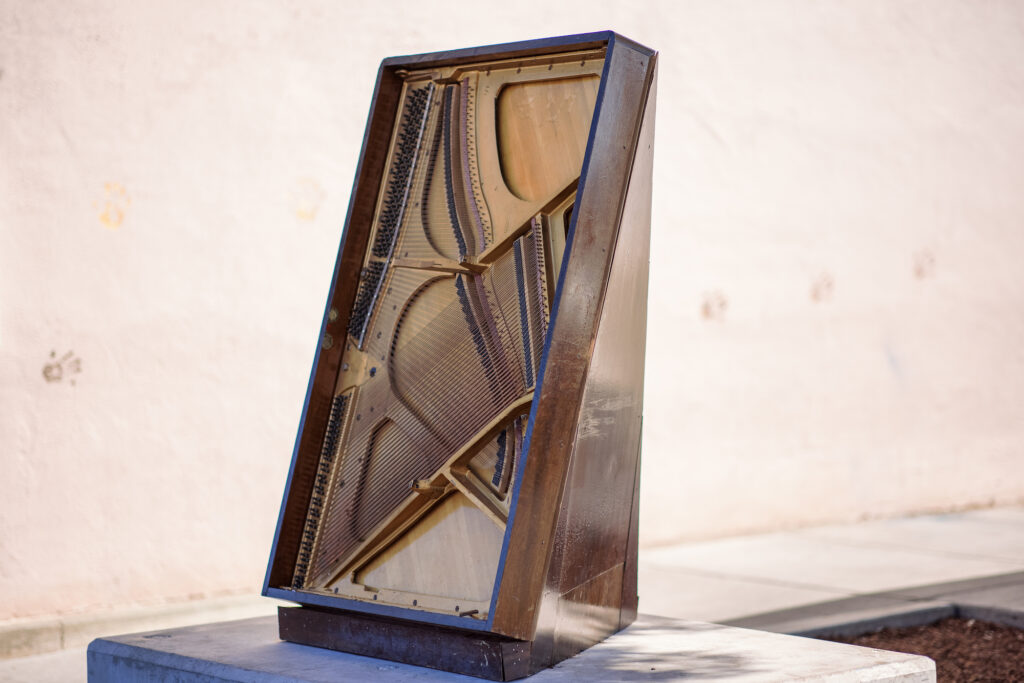 Sound Harp #1
Location: Main Street, Between First and Second Street
Reven Swanson is fascinated by how the human figure creates a powerful expression, using lines that capture negative space and energy. With Reven, each figure is autobiographical, depicting a facet of women's psychological make-up. Within each figure, she seeks to develop flowing lines that capture negative space and energy. Through these figures, she wishes to share and understand the rapidly evolving relationship of women to their everyday life in our modern society.
Featured "Play" Piece: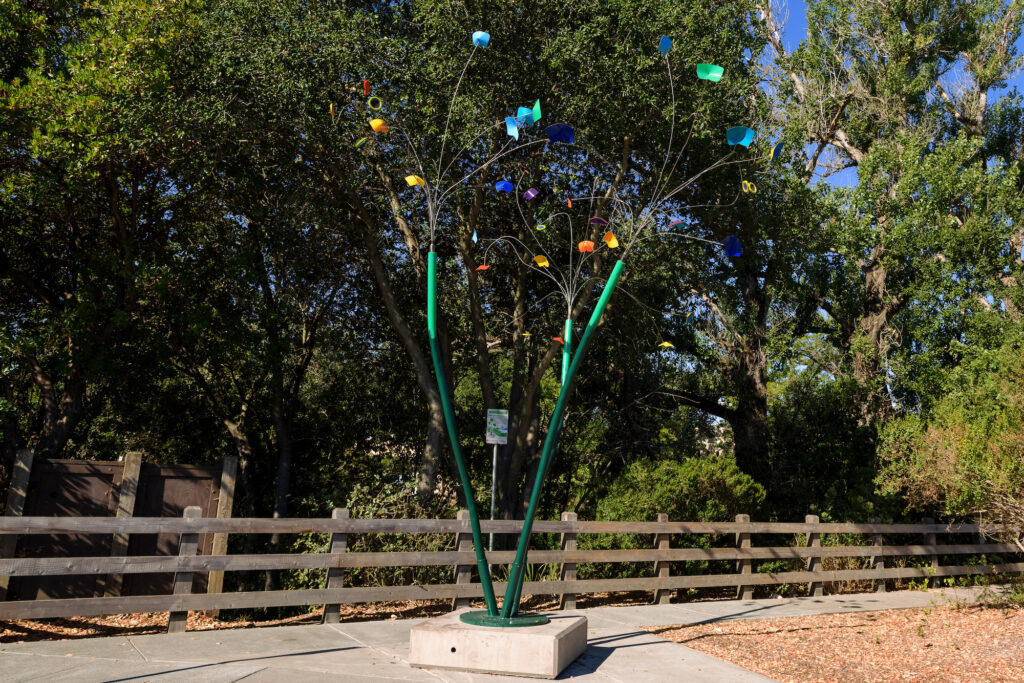 Dancing Aspens
Location: Main Street Between First and Pearl
How Great Thou ARTWalk
Visitors and community members are encouraged to vote to select one artwork for a People's Choice Award. The annual winner of the People's Choice Award receives a complimentary two-night getaway in Napa. You can vote for your favorite sculpture online at www.napaartwalk.org
For an inspiring, art-filled days of "Play," make sure to book your stay in Downtown Napa to see the latest exhibit. Free printed map guides are available at the Napa Valley Welcome Center.
YOUR TRIP WILL BE MEASURED BY THE MEASURES WE TAKE
Your safety is our top priority — come here to get away and restore yourself. We have put measures in place to ensure businesses and lodging properties are ready to make your stay and entire Downtown Napa experience extraordinary.
COVID 19 INFO
Safety Videos