Touring Downtown Napa with the travel experts at Expedia.com
The great thing about wine is that it can be enjoyed year-round—just like the picturesque city of Napa, California. The iconic Napa Valley produces only 4% of the Golden State's wine and just .04% internationally, but there's always a place at the table and a glass to be filled in this neck of the woods. Gather your squad of friends, steal away with your sweetheart or explore the city solo. If you're not sure where to order your first tasting flight or stay nearby, don't worry! The wine enthusiasts and travel experts at Expedia.com have matched your favorite regional varietals with a fabulous Napa hotel and local tasting rooms and wine bars. Now, that's a perfect pairing.
Cabernet Sauvignon – dry, woodsy and dark
Raise your hand if sipping a glass of dark, dry Napa cab is on your wine bucket list. You're not alone. Cabernet Sauvignon accounts for 40% of Napa's wine production, and for good reason. The temperate climate, soil quality and the universal love of tannins makes Napa's cabs covet-worthy. Plus, the dark fruit notes, hints of cassis and soft woodsy vanilla come with the added benefit of antioxidants, so have a glass or two for your health!
Dark wood furnishings and uniquely decorated guest rooms are just some of the reasons Napa River Inn and Spa at the Historic Napa Mill is a great place to stay for any cab connoisseur. More than a hotel, it's a landmark and has earned the National Trust for Historic Preservation's title as one of America's Dozen Distinctive Destinations. From this location on Main Street, you'll be within easy walking distance to several tasting venues, including Vermeil Wines a few blocks away and Square One Tasting Bar on First Street. Wanna take a couple of bottles home? Back Room Wines is close by and well stocked with hard-to-find favorites.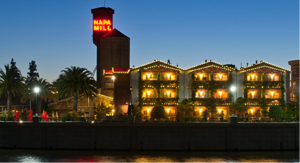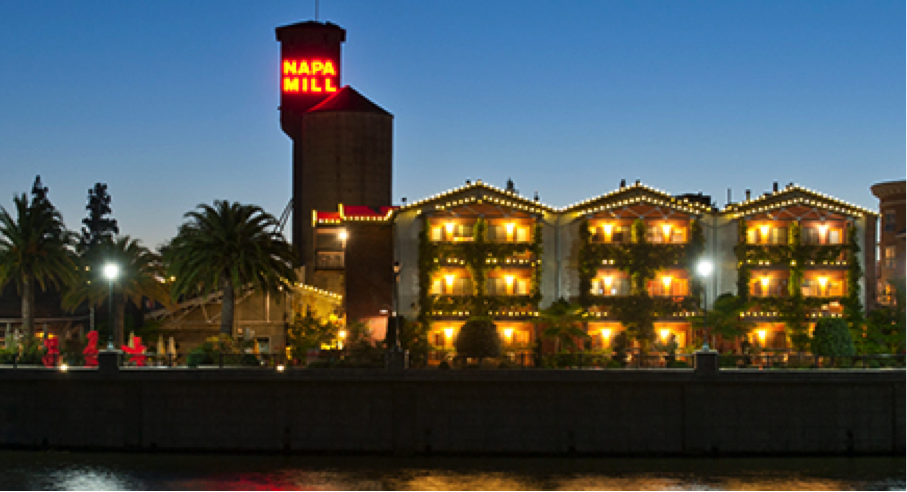 Chardonnay – from crisp and bright to round and buttery
Pouring a cold, golden glass of Chardonnay is synonymous with evenings in Northern California. This varietal tends to be buttery and smooth and infused with the flavor of oak barrels, which makes it a go-to for relaxing after a long day exploring vineyards and the nearby San Pablo Bay. Not to be outshined by its richer big sister, Cabernet Sauvignon, Chardonnay is the leading white wine in Napa, and you don't even have to leave downtown to taste one of the best in the business—visit Capp Heritage Vineyards on First Street.
For a hotel as classic and sumptuous as your favorite Chardonnay, stay at Milliken Creek Inn & Spa. Warm woodwork accents crisp linens and soft leather furnishings, giving each guestroom an atmosphere of understated luxury. Start your morning with a made-to-order breakfast and treat yourself to a day at the spa before your customized wine and cheese pairing in the afternoon. Tough gig, right?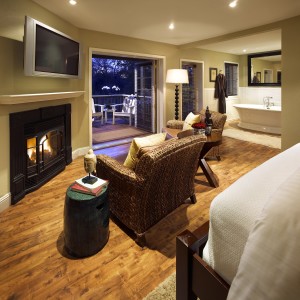 Syrah – rich, spicy and complex
Just when you think Syrah is all about spice on the tip of your tongue, the juicy notes of berries and Provencal herbs come through. Syrah is complex but not complicated, which makes it a fabulous dinner drink and an intriguing addition to your tasting tour. The Hess Collection Winery and Darioush produce a couple of standout Syrahs in the valley, so look for them on each wine list.
To surround yourself in a setting as multifaceted as this flavorful varietal, stay at the The Meritage Resort & Spa, where natural light and lavish furnishings add texture and character to the rustic, Tuscan-inspired space. The Meritage boasts a few of its own wine bars and the award-winning Siena restaurant serves locally sourced California cuisine with plenty of coastal specialties.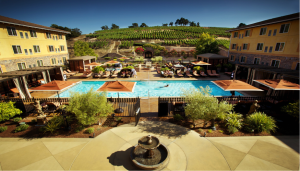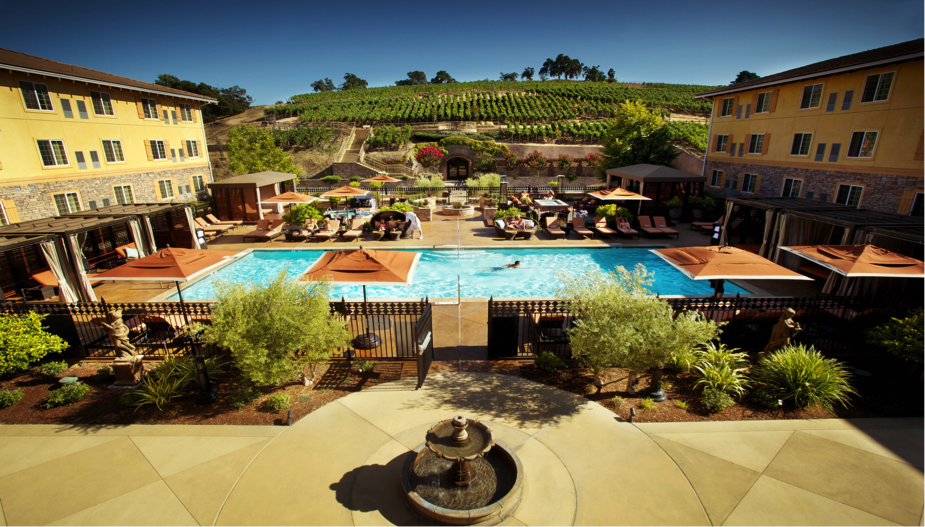 Sauvignon Blanc – luscious, refreshing and playful
Admit it, you're the first person to turn a summer barbecue into a pool party. You love the hints of tangy citrus and berry and the brisk acidity of Sauvignon Blanc, because it's fruity but not too sweet. Napa's take on this tantalizing white features plenty of peach and grapefruit notes that may make you want to visit the many farms and orchards in California for a farm-to-mouth foodie tour. But no need to hit the road just yet—you can taste the Golden State in a glass.
You need a hotel as buoyant as your Sauvignon Blanc, and SENZA—located on the north side of Napa—fits the description to a tee. Built in 1870 as the Parker Mansion, this boutique hotel has been renovated to a contemporary oasis with old world charm and a state-of-the-art spa. Sit on your private patio or balcony for an evening sip or wander over to the heated pool and cabanas for a relaxing dip. Bottoms up!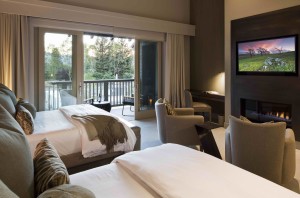 Whether you're new to the world of vino or a seasoned sommelier, make Napa your next tasting destination. Here you'll find world-famous wines, understated luxuries, and the undeniable presence of our signature California cool.
Written By: Kohleun Adamson
YOUR TRIP WILL BE MEASURED BY THE MEASURES WE TAKE
Your safety is our top priority — come here to get away and restore yourself. We have put measures in place to ensure businesses and lodging properties are ready to make your stay and entire Downtown Napa experience extraordinary.
COVID 19 INFO
Safety Videos