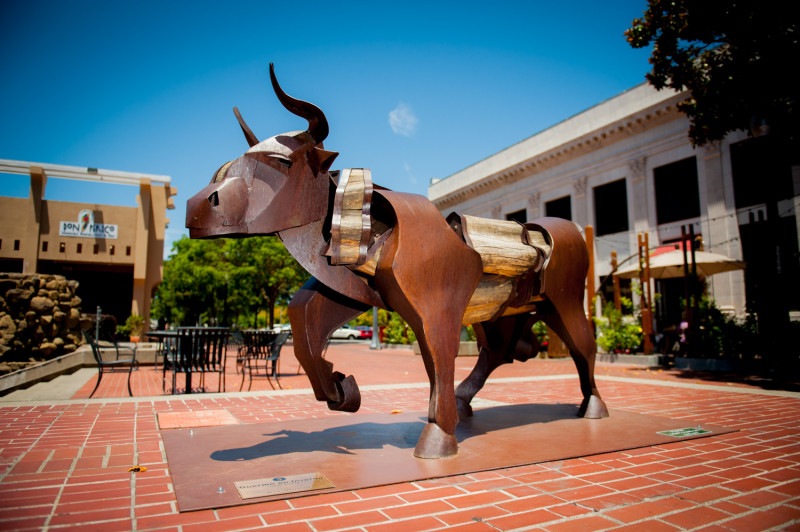 Guermo en Inverno – James Burnes
Image Credit: Israel Valencia
As if Downtown Napa didn't already have it all, the popular Napa ARTwalk is back and more exciting than ever. The 2015-2017 Napa ARTwalk – the fourth exhibition since the program began – takes a unique turn in that it's the first to not follow a particular theme. The 14 participating artists, who are from six different western states, are showcasing a diverse collection of eye-catching pieces.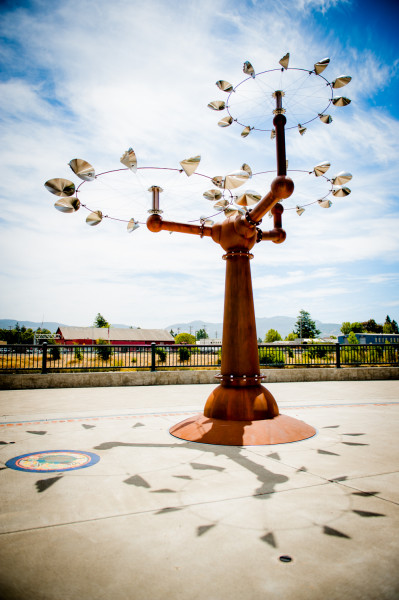 Getting Your Bearings – David Boyer
Image Credit: Israel Valencia
Among the very talented artists is David Boyer, who was inspired by antique industrial artifacts he found in deserts, mountains and ghost towns to create the above piece, "Getting Your Bearings." This kinetic wind sculpture features three steel paddle wheels that turn in the wind and create an overhead kaleidoscope of light and shadow.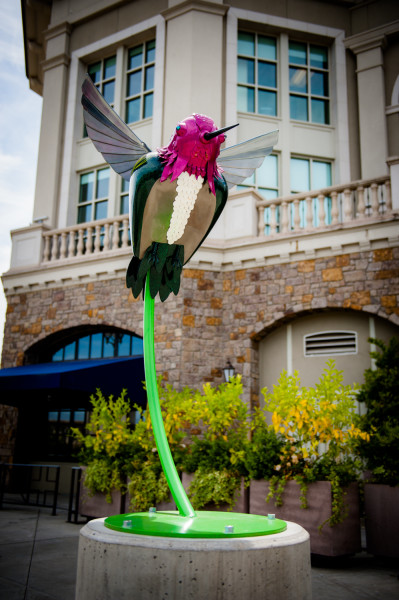 Timeless Joy – Lieutenant Mustardseed
Image Credit: Israel Valencia
Lieutenant Mustardseed– a Desert Storm Veteran and metal artist based out of Los Angeles – works to "honor the traditions of our past generations, as well as create unique works of art that represent our own time and place." Her pieces, including the one pictured above, are frequently made by upcycling everyday objects.
---
Learn more about the entire collection of this latest ARTwalk exhibition at www.napaartwalk.org. Then take a stroll through Downtown Napa to see these beautiful and impressive pieces in person as they offer the perfect complement to the breathtaking scenery. Presented by the City of Napa and the Arts Council Napa Valley, this collaborative project is free to the public.
After visiting the ARTwalk, be sure to upload your pictures on Instagram and tag @DowntownNapa! Hashtag #napaartwalk between now and May 2017 to be entered to win a dinner for two in Downtown Napa and a yearlong membership to Art Council Napa Valley. In addition, be sure to vote for your favorite sculpture for the 2015-2017 People's Choice Award at napaartwalk.org.
Downtown Napa truly has it all. With endless attractions, appealing food and public art displays, there is something for the entire family to enjoy.  After enjoying the incredible Napa ARTwalk, check in to a local hotel or B&B before exploring some of the city's other incredible offerings!
YOUR TRIP WILL BE MEASURED BY THE MEASURES WE TAKE
Your safety is our top priority — come here to get away and restore yourself. We have put measures in place to ensure businesses and lodging properties are ready to make your stay and entire Downtown Napa experience extraordinary.
COVID 19 INFO
Safety Videos