Downtown Napa may have been shaken up a bit, but from Sept. 25 through 28, it will be shaking for a different reason: the Napa Valley Rocks! Fundraising weekend! A coalition of community members, chefs, vintners and business owners from across the valley have come together to plan four fun-filled days to "sip, savor, shop, shake and support" the Napa Valley residents and businesses who have been rocked by Mother Nature.
Image source: http://bit.ly/1r6i1eK
The kick-off will be on Thursday, Sept. 25 with a Nourish Napa event at the Napa Valley Marriott Hotel & Spa. This multi-course dinner will feature many of Napa Valley's top vintners and chefs, including Michelin Star Ken Frank of La Toque, Tyler Rodde of Oenotri, Brian Whitmer of VinEleven, Todd Humphries of Kitchen Door, Michael Gyetvan of Norman Rose Tavern, plus Iron Chef Masaharu Morimoto's eponymous Morimoto Napa, ZuZu, Angéle and Sweetie Pies bakery. The one-of-a-kind night will feature live music, a silent and live auction and more fun surprises to guarantee an evening to remember. Tickets are limited and are available for $200 per person, and 100 percent of the proceeds will go to the Napa Valley Community Relief Fund.
Image source: http://on.fb.me/YQn48r
On Friday evening, Sept. 26, grab your friends and head out to the Napa Night Out. Shop, Stroll, Savor and Sip your way through Downtown Napa, enjoying the vibrant nightlife and all Napa has to offer. A free community concert will be held at Veterans Park beginning at 6:30 p.m. The park is located between 2nd and 3rd Streets so you will be central to all the excitement Downtown. Show your support for the Napa community with some of the best local talent before hitting the town!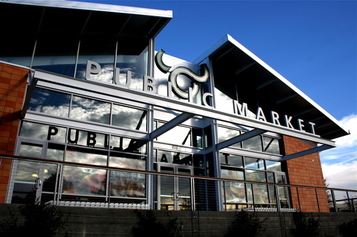 Image source: http://bit.ly/ZoHKV8
The support continues on Saturday, Sept. 27 with a community meet up at the Napa Farmers Market. What better way to find out what's really going on in a community than at the farmers market? The farmers market takes place every Tuesday and Saturday from 8 a.m. to 12:30 p.m. at Oxbow Public Market's south parking lot at 610 First Street. You can get yourself some of the best fruits and veggies and locally made food products. A donation table will be at the market, and 100 percent of the proceeds will be going to the Napa Valley Community Fund.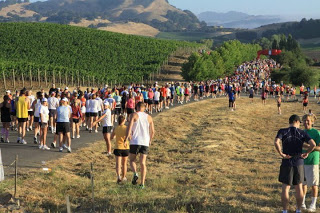 The biggest day of the four day, fun-filled event will begin Sunday morning, Sept. 28 at 7 a.m. with the Napa Half Marathon. The Napa Half starts and ends at Skyline Wilderness Park and winds through scenic Napa County with beautiful vineyards and spectacular vistas throughout the entire course. The event is limited to only 525 runners, so sign up early! There will be prizes and fun for all. Tickets are $80 before the event and $90 on the day of.
Image source: http://bit.ly/1sjQL8I
Finally, the culmination of a weekend-long celebration of Napa will be a Sunday afternoon concert in Downtown Napa headlining Michael Franti and Spearhead. Other amazing performers to get you grooving include Afrolicious and Grass Child. Wine from Napa Valley Vintners, beer from local breweries and bites from area restaurants and food trucks will be available for purchase. Tickets are only $20 per person and are available online. Keep in mind, 100 percent of tickets, beer and wine sales will go directly to the Napa Valley Community relief fun, so party on and feel good!
Napa Valley Rocks! Weekend was organized specifically to help out the Napa community in the wake of recent events. So come on out to Downtown Napa and enjoy the good times and support the businesses. For more information and to purchase your tickets please visit www.napavalleyrocksweekend.com.
YOUR TRIP WILL BE MEASURED BY THE MEASURES WE TAKE
Your safety is our top priority — come here to get away and restore yourself. We have put measures in place to ensure businesses and lodging properties are ready to make your stay and entire Downtown Napa experience extraordinary.
COVID 19 INFO
Safety Videos