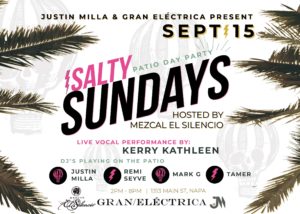 Napa Valley's Best Sunday Day Party!
Music fans and day party enthusiasts, we're up to something really special this Summer. Get ready for a sunday day party at Gran Electrica, located in downtown Napa. The event hosted by Justin Milla and El Silencio Mezcal, will run from 2pm to 8pm Sunday, September 15 and will feature house music and disco from top bay area DJ's.
The restaurant will be serving amazing food all day plus mezcal cocktails by El Silencio Mezcal with music on an open air patio with bubbles, mezcal and dancing!
Live vocal performance by Kerry Kathleen in support of her new EP Reverie
DJ's
Justin Milla
Remi Seyve
Mark G
Tamer (Gran Electrica)
Drink Specials and Tasting by El Silencio Mezcal
Round trip bus available from SF to Napa! Tickets available in event page.
EVENT DETAILS
September 15
2:00 pm 8:00 pm
WEBSITE
https://www.eventbrite.com/e/salty-sundays-at-gran-electrica-tickets-71586913385