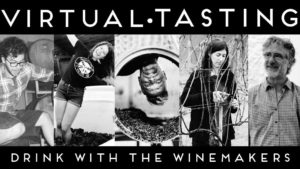 Our winemakers Tom Farella + Ryan Pass (Farella), Samantha Sheehan (Poe), and Matthew Rorick + Danielle Shehab (Forlorn Hope) will be hosting virtual tastings via Zoom. Each of these 3-packs of wine come with a tasting session with the makers themselves. Learn about winemaking techniques and vineyard sites, and ask any burning questions you may have.
Second Tasting:
Poe 2017 'Ferrington Vineyard' Chardonnay
Forlorn Hope 2018 'O.D.B.' Trousseau Noir
Farella 2015 Merlot
Click this link to join in the tasting!
Meeting ID: 181 315 184
Password: Outland24
EVENT DETAILS
April 24
4:00 pm 5:00 pm
WEBSITE
https://outlandwines.vinespring.com/purchase/detail?item=virtual-tasting-3-pack-4-24