Join the whole Napa community for this annual parade, where floats are decorated over the top with lights and so much more. Meet Santa after the parade a the Archer Hotel for pictures!This year's parade theme is The Twelve Days of Christmas. The 2019 Grand Marshals will include Police Chief Robert and Richene Plummer.
Where: Second and Third  Streets in Downtown Napa
Interested in being featured in the parade? Sign this application and mail to the Downtown Napa Association by November 22nd at 5:00pm.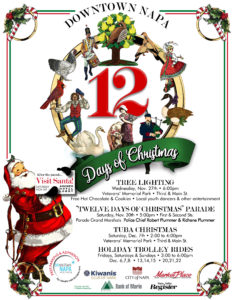 EVENT DETAILS
November 30
5:00 pm 8:00 pm