Opening Celebration
Saturday February 19th & Sunday February 20th, 2022
10 am to 5 pm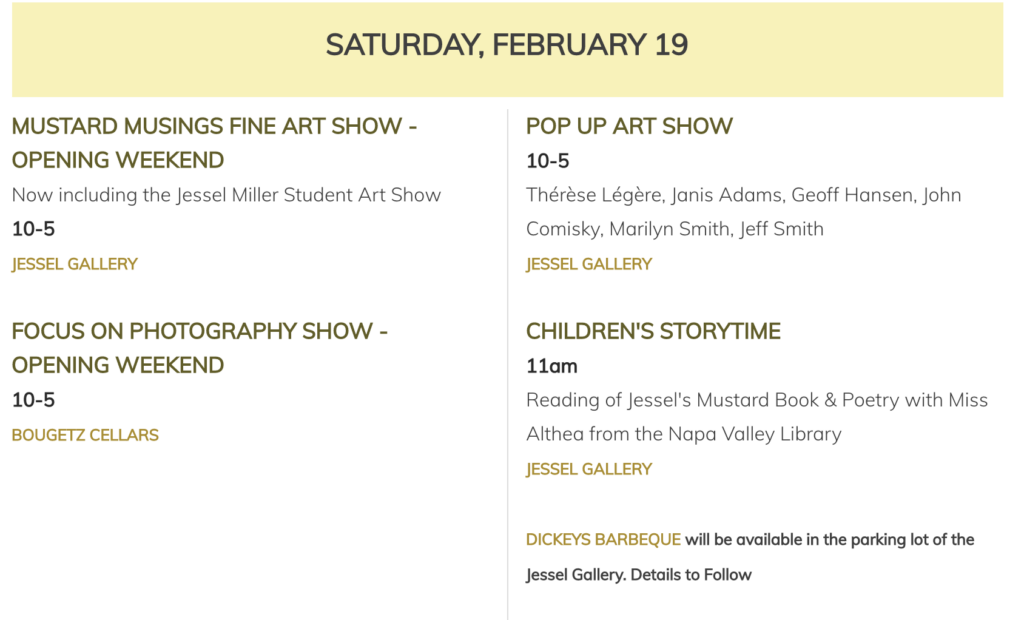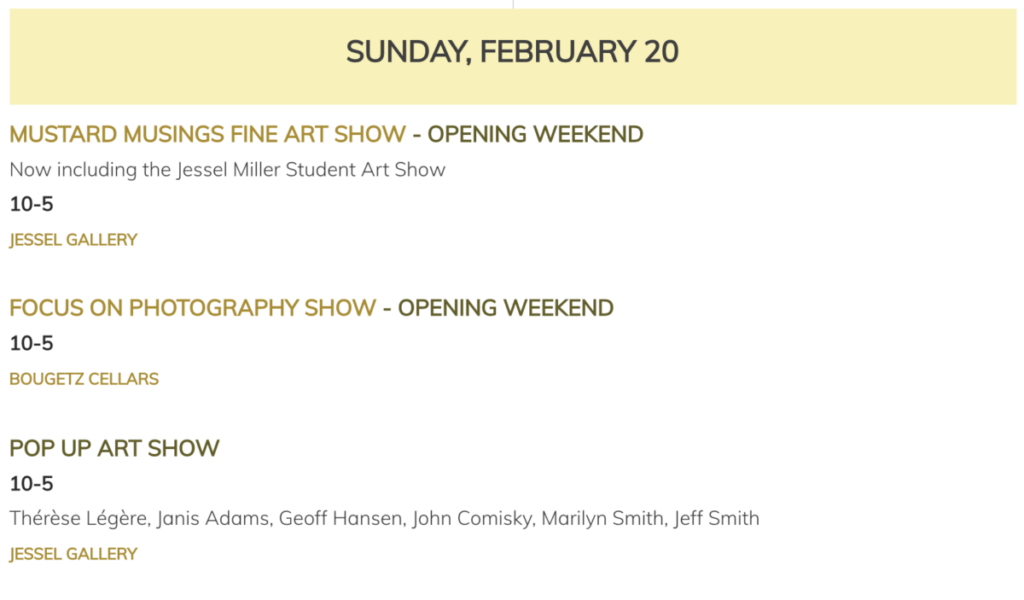 The Kick Off Event will be held at the Jessel Gallery and Bougetz Cellars. The show of Fine Artwork in the Jessel Gallery and Photographs in Bouguetz Cellars will be up from February 1, 2022 to March 31,2022
Jessel Miller was fortunate enough to be the face of the past Napa Valley Mustard Festival in 1998, 1990, 2000 and 2008. This opportunity and the alignment of her books gave her an inside look at how powerful the teamwork of so many enriched the commerce in the valley during a normally slow and quiet season. Honoring this historic event, Jessel has gathered together some of the most talented artists and photographers to begin revitalizing and supporting a new vision showcasing this magical season.
"Focus on Fine Art"
Mustard Muse
Jessel Gallery will host a Fine Art Show and Sale of works by 25 notable creators including Beverly Wilson, Gordon Huether, Marta Collings, Diane Pope, Olaf Schneider, and Jessel Miller. In the past this event gathered together artists and one person would create an image used to brand this event. The idea Jessel has developed is to choose one piece from the 2022 show to be the image for 2023. Growing from the new seed planted in the rich soil of the history of the past event we are fortunate to have our memories of the way it was and now the way it will be!
"Focus on Photography"
The Bougetz Cellars, directly behind the Jessel Gallery will be the second location featuring the Official Wine Label with Jessel Miller's image. The tasting room will host a Photographic Show of images honoring the mustard season. 6 powerful photographers including Elizabeth Bush, John Comisky, Marissa Carlisle, Geoff Hansen, Quinn Saine and Michael Schaer.
In the past one of the most spectacular endings to the NVMF was what they called the Photo Finish. It was held at Mumm's Winery and featured hundreds of photographs and artistic concepts using photography. The goal of the Jessel Gallery Bougetz Cellars Event is to in some small way include all the arts. This is a tiny recreation of a beloved concept and the hope is that it grows into a much larger event celebrating many more photographers in the years to come.
"Other Happenings"
Children's Story Time
Reading of Jessel Miller's Mustard Books by Librarian.
Saturday 11pm Feb. 19th, 2022 by Miss Althea.
Food Truck
(Weather Permitting)
Napa – Dickey's Barbecue Pit | BBQ Restaurant | Barbecue …
Popup Artists
(Weather Permitting)
Therese Legere, Frank Trozzo, Janis Adams
More to be announced