Another Sunday on the Green! Join us at the Oxbow Riverstage to see the Illeagles  & The Purple Ones + Midnight Crush on Sunday, October 27th!
Doors open at 3:30pm; Show begins at 4:00pm
General Admission, no tickets required.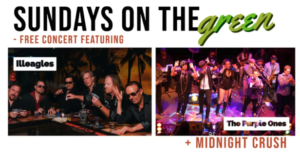 About the Illeagles
ILLEAGLES was founded in late 2016 when 6 friends came together who all had 2 things in common: 1) they loved the music of the Eagles, and 2) each member was an amazing musician in their own right. This common vision led to hours and hours of studying, rehearsing, and mastering each of the Eagles classic hits.
From rockers Life in the Fast Lane and Heartache Tonight, to swooning ballads Desperado and Best of My Love, ILLEAGLES not only reproduce the soaring guitars, multi-part harmonies and tightness of the original band, but also add their own brand of swagger and energy that keeps fans coming back over and over. It's commonplace for a majority of the audience to start singing along on the first song, and continuing to sing until the show is over (or they lose their voices).
About the Purple Ones
Oakland California's The Purple Ones treat the music and patented vibe of Prince with the utmost respect.  The musical dexterity of The Purple Ones – with 12 pieces on stage including a full horn section – completely turns the concept of a Prince tribute band on its head, delivering Prince's material live onstage in a way that has to be experienced to be believed.
Not a typical tribute band with a Prince lookalike or impersonator, The Purple Ones bring audiences to their feet, night after night, by speaking Prince's musical language. energy, rhythm, creativity and of course…a serious dose of unadulterated funk. The Purple Ones tap into that soulful artistry like none other.
About Midnight Crush
The original members of Midnight Crush started together as a garage band at the Napa School of Music in the Fall of 2016.  Their enjoyment of playing together led them to establish their own independent band where they played at Lucky Penny and at several private venues.
As happens in many bands, Midnight Crush went through some changes in the Spring of 2018, maintaining three of the original members – Mike Chin (lead guitar and vocals), Vince DeGuilio (drums) and Andy Waechter (guitar and vocals) and adding three others – Carrie Johanson (lead vocals), Rob Monaghan (bass) and Linda Waechter (keyboard).
We come from a varied and lengthy background of musical experience which allows us to share with you our love for several genres of music (rock, blues, country, pop and funk), but as a cover band our main goal is to see you tapping your feet and get you up and dancing!
EVENT DETAILS
October 27
3:30 pm 7:00 pm
WEBSITE
https://www.oxbowriverstage.com/october27