Vineyard 29's, CRU Tasting Lounge is proud to present the first ever Pumpkin Patch at the Oxbow! Open 7 days a week from 10-6pm, the CTL Pumpkin Patch + Tastingroom is featuring a limited edition Pinot Noir tasting with pumpkin spiced bites for $15! Sundays are family day at the CTL, we have baskets of crafts and pumpkins for kids to choose from while parents can enjoy a nice afternoon outside with bites and wine! Don't forget to get your harvest photos with the kids as well. A one stop shop!
All the proceeds from the pumpkin patch (pumpkins range from $5-$20) go to the Napa Valley Vine Trail to promote healthy living in Napa Valley.
We look forward to seeing you and celebrating another beautiful harvest in Napa Valley.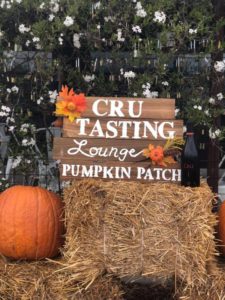 EVENT DETAILS
September 21 - Oct 05
WEBSITE
https://www.facebook.com/events/460126671256674/