The CIA at Copia, The Culinary Institute of America's newest venture in downtown Napa, will present Innovation: Technology and Taste, as the third event in their series Conversations at Copia, March 3-4, 2018.
Through live panels, film, art, dialogue, and tasting food and beverage, the monthly Conversations at Copia series aims to teach attendees about our food system, how to get involved, and how it affects us.
During Innovation: Technology and Taste, distinguished chefs, authors, and food pioneers will explore the nexus of technology and taste and how it influences the way we purchase, prepare, and enjoy food and beverages. The highlight of the weekend will take place Saturday evening during the Technology and Taste conversation and walk-around reception, where guests will have the opportunity to mingle with the presenters and chefs while sampling the difference between grass-fed beef and plant-based protein burgers.
Saturday evening presenters include Impossible Foods Principal Scientist, Celeste Holz-Schietinger; Executive Chef of Public Programs at CIA, Sandy Sauter; owner and Executive Chef of KronnerBurger, Chris Kronner; Culinary Director of Gott's Roadside, Jennifer Rebman; Founder and President of Imagine Food IG, Maxime Bilet; Co-founder and Culinary Director of Hestan Smart Cooking, Philip Tessier; Executive Chef and Founder of FirstChop, Marc Rasic; and Owner of Markegard Family Grass-Fed, Doniga Markegard; with Ingredient author, Ali Bouzari as moderator.
Additional activities throughout the weekend include a free screening of Michael Pollans's In Defense of Food, a course on "Time, Temperature, and Technology" with famed Chef Philip Tessier, a class on "Exploring Sous Vide" with Chef Marc Rasic, and a family-friendly class on ramen at home, and more.
Classes range from $10 – $30 each.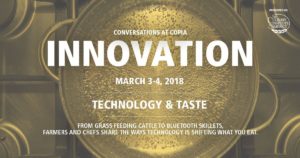 EVENT DETAILS
March 03 - Mar 04