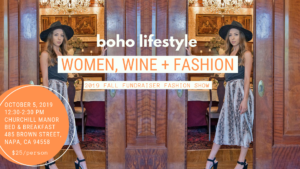 History with a modern twist! Boho Lifestyle invites you to an afternoon Fashion Show at one of Napa's most prestigious estate homes, Churchill Manor. It will be a beautiful day on the rose-lined lawn.
From casual day to sophisticated night looks, members of Napa's community will strut their stuff, showcasing the latest trends. This is a chance to play dress up. Guests may want to sport a hat, shades and maybe, a parasol for this afternoon of high society, sipping wine on the veranda.
Boho Lifestyle loves to support the wonderful community in which they live. This year, they're raising funds for NEWS, an organization centered around healing and empowering survivors of domestic abuse.
Bring your daughters, bring your husbands, this is a time of Wine, Women, and Fashion!
EVENT DETAILS
October 05
12:30 pm 2:30 pm
WEBSITE
https://www.eventbrite.com/e/fall-fundraiser-fashion-show-by-boho-lifestyle-tickets-65377896047