Goodman Library, 1219 First Street
Free, suggested $5 donation
We are pleased to announce the start of a monthly music series: Bach Cello Suites. Jeffrey McFarland-Johnson, cellist, has deep ties to the Napa area, where he settled in 1988 and began teaching middle-school students while delighting audiences in appearances with the Napa Valley Symphony and chamber music ensembles throughout the Napa Valley.  Since retiring from public school instruction in 2010, he has devoted himself to performing the six solo cello suites by J.S. Bach, which he has recently recorded.
Having studied the cello for more than 50 years, he wrote Tonic to Chromatic, a four-volume series illustrating the harmonic blueprint of string instruments tuned in fourths and fifths.  McFarland-Johnson also authored The Perfect ABC Songbook, a collection of 26 one-minute songs for children, ages four through eight.  Jeffrey lives in Napa with Cynthia, his wife.
For questions please contact info@napahistory.org or 707.224.1739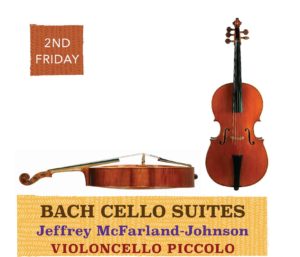 EVENT DETAILS
February 14
5:00 pm 6:30 pm
WEBSITE
http://wordpress.napahistory.org/wordpress/programs/