Join Acumen for the Premiere of Artist Marc Foster's Perception
March 11th, 5 – 7 PM and March 12th, 11 – 1 PM
Acumen invites guests to attend in all Black Attire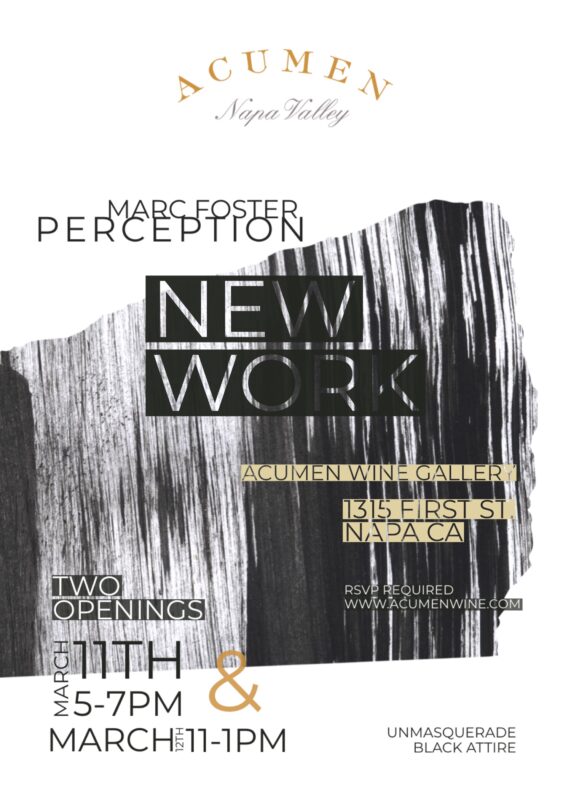 Acumen invites you to join them for the unveiling of Perception, a very special exhibition at Acumen Wine Gallery featuring new contemporary sculptural works by award-winning artist Marc Foster. Acclaimed for his use of shape, color, illusion and immersive dimensionality, Marc was named the "2018 Visual Artist of the Year" by the Sacramento Arts Council, and his renowned sculptures have appeared in numerous galleries and exhibitions. To preview his work, visit www.marcfoster.com.
To transport guests into reflection, we have transformed the Acumen Wine Gallery into an enveloping experience for the senses. We invite guests to engage, reflect and attend in black attire. Please join them for this complimentary event, RSVP is required. As you meet Marc and delve into his immersive installation, they'll be pouring a selection of exciting new-release wines paired with delectable bites to evoke your palate.
To ensure that everyone has an opportunity to attend this exciting unveiling, they'll be hosting two openings: Premiere, on Friday, March 11th from 5-7 PM and Encore, on Saturday, March 12th from 11-1 PM  We hope to see you there!
RSVP REQUIRED
RSVP March 11 https://www.cellarpass.com/events/friday-premiere-perception-new-works-by-marc-foster-8648
RSVP March 12 https://www.cellarpass.com/events/saturday-encore-perception-new-works-by-marc-foster-8649
For those seriously interested in acquiring pieces for their collection, we invite you to join us for a VIP preview on Friday, March 11 from 4-5 PM.
CTA Button: RSVP https://www.cellarpass.com/events/vipmedia-friday-champagne-preview-perception-new-works-by-marc-foster-8650