Any time of year, you'll find plenty to do in Downtown Napa. When mid-January rolls around, however, the excitement rises as the Napa Lighted Art Festival kicks off.
The 2023 event, a celebration of the creative arts, technology and lights, will be held throughout the Downtown Napa area January 21 through February 19 from 6 to 9 p.m., Monday through Thursday, and from 6 to 10 p.m., Friday through Sunday.
This amazing free festival, ideal for the whole family, is a walkable outdoor experience that showcases 10 lighted art sculptures with works by top artists in the growing light art medium. In addition, there will be incredible projection artworks displayed on three iconic downtown buildings for the first nine nights of the festival (January 21-29). Several of the artists will be visiting the festival, providing a closer look at their process, the creative thinking behind their project and other background information.
Enjoy this brief description of some of the exhibits, then read on to see what other activities there are to do when you visit Downtown Napa during this year's highly-anticipated Lighted Art Festival.
Check out our handy mobile-friendly Lighted Art Festival Map to start planning your illuminating adventure.
Curious to see years past? Check out the installations from last year in the video below:
And from 2020 here:
PROJECTION ARTWORK (JAN. 21-29)
Artist: Luciana Abait
Projection: "Aqua"
Location: Native Sons of the Golden West Napa Parlor Hall (937 Coombs St.)
Waterfalls draw sightseers around the world, but some of these natural wonders are drying up or have already done so as drought conditions worsen. The intent of this outdoor video projection by the L.A. artist is to create a discussion about water and a call to action since something the world has taken for granted is disappearing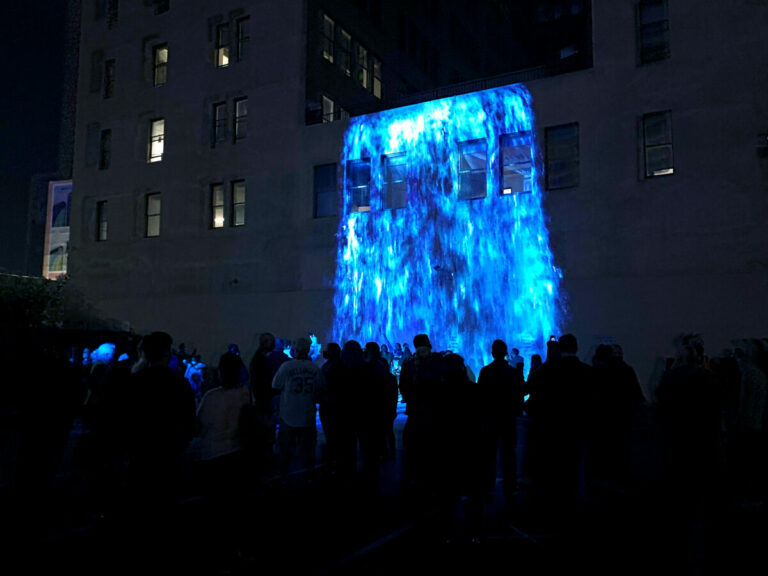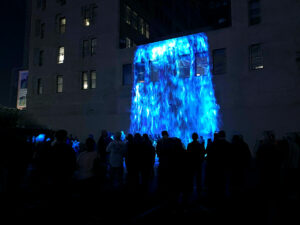 Artist: Noémi Prud'homme
Projection: "Jewellery's Voices"
Location: Napa Historic Courthouse (825 Brown St.)
Born in Baton Rouge and raised in Calvados, France, Prud'homme is a 2016 graduate of the highly recognized Aix en Provence Higher School or Art. Her video mapping work offers spectacular optical illusions while highlighting the architecture they are projected on. Her work received a special mention from the jury at the 2017 Video Mapping Contest in Porte de Paris, Lille, France.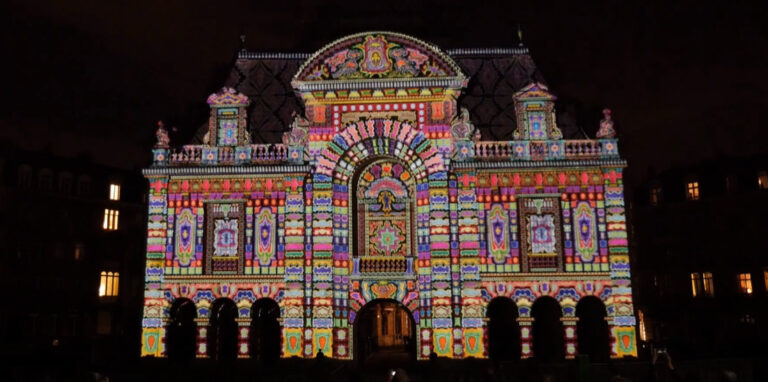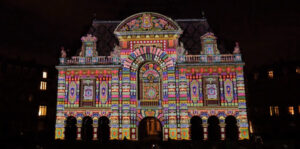 Artist: mammasONica
Projection: "Hands of Time"
Location: First Presbyterian Church of Napa (1333 3rd St.)
The Third Street church built in 1874 is an ideal backdrop for this fascinating and emotional video projection. The Neo-Gothic style building, which was added to the National Register of Historic Places in 1975, has been the canvas for displays in previous Napa Lighted Art Festival celebrations.
LIGHTED ART SCULPTURES (JAN. 21-FEB. 19)
Artist: Martin Taylor/Chromaforms
Installation: "Seed of Dreams" (2022)
Location: Dwight Murray Plaza (1st Street)
Martin Taylor, a graduate of The University of California at Berkeley, initially designs his sculptures on the computer, and then hand makes them in his Oakland studio. The metal origami techniques developed by Martin allow intricate contemporary forms to be rendered from metal with the same efficient elegance as paper.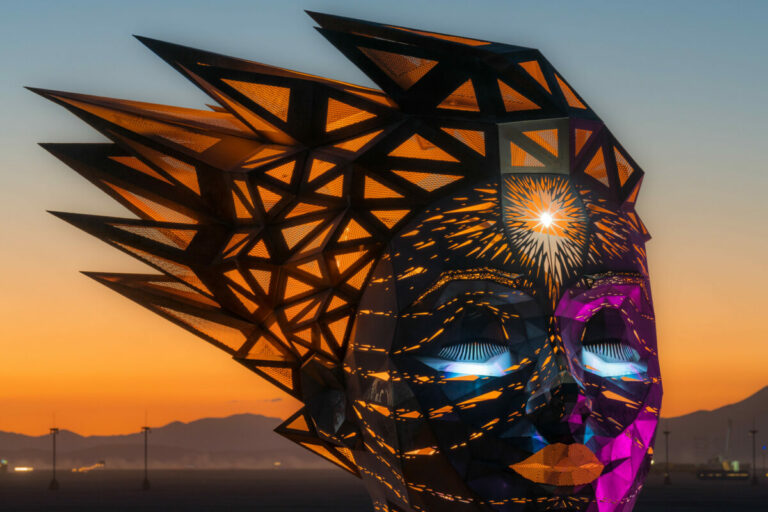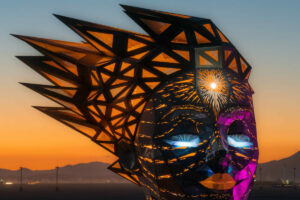 Artist: OGE Design Group
Installation: "Jellies of the Sky"
Location: Napa Riverfront (4th Street)
You'll be amazed at the colorful, animated jellyfish in the sky, meant to highlight the impact of climate change and the unique way these marine animals will benefit. As temperatures rise and oceans absorb much of that heat, the jellyfish species – unlike many other creatures – will actually grow as they thrive on warmer water with less oxygen.
Artists: Victoria Heilweil and Phil Spitler
Installation: "Luminous Waveforms"
Location: Oxbow Public Market (610 1st St.)
This three-dimensional collaboration is both a physical experience and a light-enhanced sculpture, creating a place for rest, conversation and contemplation. The illuminated, sculpted wood benches feature curves inspired by nature and sound waves, and the mood and color of the LED lighting helps create the mood of the piece.
Artist: Jason Myers
Installation: "Visible Noise"
Location: Goodman Library, (1219 1st St.)
This chrome sculpture is paired with a video wall of six LED panels. As the figure emerges from the darkness, it is quickly overcome in a loop of handwriting. The piece shows how communication and most forms of interaction are processed in our lives through digital technology.
Artist: Taylor Dean Harrison
Installation: "Polymery"
Location: Veterans Memorial Park, 800 Main St.
The Oakland-based artist of mixed-media sculptures and installations uses "generative forms and color theory to play with the physical boundaries of the eye and the expectation of the brain." His works have been displayed at festivals, fairs, galleries and museums in numerous countries.
Artist: Cory Barr
Installation: "Split Sight"
Location: Opera House Plaza (Napa Creek)
A new-media artist, designer and engineer, Cory Barr creates pieces that respond to visitor presence and motion. Viewers' interactions with the content are key as they can create moments of exchange by themselves or with others. Cameras, motion sensors and other tools are used to create the collaborative and responsive piece.
Artist: Bill Kennedy
Installation: "Petalous"
Location: Napa River Inn (500 Main St.)
Based in the San Francisco Bay area, the artist/designer can also add skydiver, bungee jumper, parachute rigger and more to his list of accomplishments. Serving as a parachute rigger is where he learned his sewing skills, which he uses to design his own cold-air inflatables and install them at a variety of venues.
Artist: Leandro Mendes
Installation: "Light Falls"
Location: First Street Napa (1300 1st St.)
Standing more than 16 feet tall, this artwork by Brazilian multimedia artist Leandro Mendes aka Vigas consists of illuminated tubes that cascade downward and intertwine on the ground, creating an effect of water hitting rocks. The light and sound installation is meant to remind the public of the importance of preserving water.
Artist: New Technology High School
Installation: "You Do You"
Location: Brown Street Corridor
This secondary school in Napa, part of the Napa Valley Unified School District, returns to the festival with a new installation. The school, which focuses on 21st-century skills, and digital design instructor, Lisa Gottfried, was honored with the Best in Network Award in 2019 for its lighted art project.
LIFE IS A PARADE!
If you always wanted to march in a parade, you'll have a chance at 6:30 p.m. on Saturday, Feb. 11. Participants at the Napa Lantern Parade, which starts and finishes at Veterans Memorial Park, are encouraged to create paper lanterns and join the procession. Spectators will also be able to craft their lanterns at the park on the night of the parade.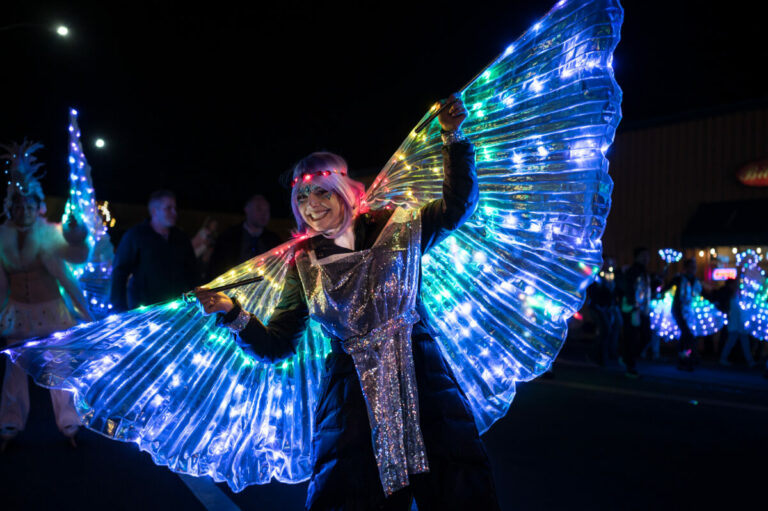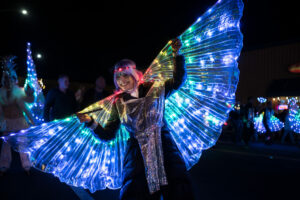 YEAR-ROUND FUN
Along with the incredible displays you'll find during the Lighted Art Festival, there are plenty of other attractions that make spending a few extra days in Downtown Napa an excellent idea. Enjoy some of the wonderful restaurants and world-class wine establishments, art galleries and venues, outdoor activities, spas and salons and so much more. There are a range of lodging choices – from cozy bed-and-breakfasts to top resorts – and some offer special packages. Plan to spend some quality time here in Downtown Napa, where the best of Napa Valley is all in one walkable place!
YOUR TRIP WILL BE MEASURED BY THE MEASURES WE TAKE
Your safety is our top priority — come here to get away and restore yourself. We have put measures in place to ensure businesses and lodging properties are ready to make your stay and entire Downtown Napa experience extraordinary.
COVID 19 INFO
Safety Videos