Believe it or not, the December gift-giving holidays are right around the corner. For those who are already trying to come up with the perfect gifts for loved ones, let Downtown Napa provide some inspiration.
Shopping in Downtown Napa is nothing like going to your local mall or selecting items from a website. It is truly an immersive experience. In addition to finding a wide variety of eclectic shopping spots, you'll enjoy a journey filled with exciting activities such as wine tastings, art explorations, outdoor adventures and more.
FIRST STREET NAPA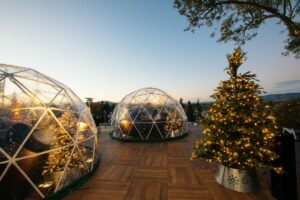 Photo: @downtownnapa
The marvel that is Napa Valley was already a good reason to visit Northern California, but First Street Napa is the cherry on top. Like the rest of Downtown Napa, First Street Napa is a walkable wonder. The collection of merchants – featuring some international brands but focusing more on smaller, independent specialty businesses – is the perfect place to find innovative gifts while relaxing at an outdoor gathering patio, stopping for a bite to eat and tasting some amazing Napa Valley wines. The beautifully designed spaces are also highlighted with works by local artists and – if you're lucky – craft fairs and live music concerts. You can even stay at First Street Napa, as the award-winning Archer Hotel is just steps away.
OXBOW PUBLIC MARKET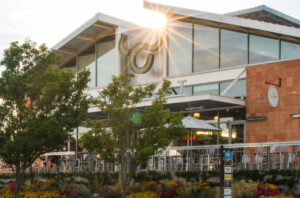 If there's a foodie or wine lover on your holiday list, it's imperative you spend a day at the Oxbow Public Market, located in the Oxbow District of Downtown Napa. The 40,000-square-foot marketplace features a diverse mix of local food and wine vendors, artisan cafes and an organic produce outlet, offering local businesses and farms an ideal place to display and sell their local harvest.
Oxbow has a scenic outdoor deck with seating along the Napa River, so you can grab a bagel or nosh at Loveski Deli, enjoy sustainably caught seafood from Hog Island Oyster Co., feast on gourmet Argentinian delicacies from El Porteño or eat at one of the other fine establishments. Enjoy light bites and a glass of wine at Bar Lucia or a delicious beer at Fieldwork Brewing's taproom and then top off your day with some scrumptious artisan desserts and more at locally owned Anette's Chocolates or sweets from Kara's Cupcakes. Want to walk off some of that goodness? Oxbow is also home to Napa Bookmine, featuring new books and an expanded gift section, as well as Whole Spice, showcasing natural food enhancers and an assortment of gift sets.
TAKE A WALK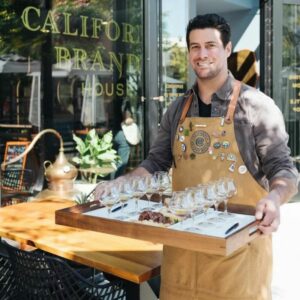 Photo: @californiabrandyhouse
Downtown Napa is known for many things, including the ability for visitors and residents alike to see so much by just taking a walk around. You'll find plenty of national brands along your stroll, but the shops that feature locally manufactured products definitely stand out. California is known for its creative types, and Downtown Napa has its share of artists and craftspersons that will gladly discuss their creations with you.
During your gift-hunting time, make sure to stop at one (or more) of the many restaurants, from snacks to gourmet multiple-course dinners. Save time for a few of the 50-plus wine tasting rooms. After all, Downtown Napa is known as "The Wine Tasting Room Capital of the World," so you won't want to miss this golden opportunity to experience some of the region's finest wines, not to mention the rich taste of brandy at the California Brandy House and locally produced beer at the area's craft breweries.
The art scene in Downtown Napa is both fun and eye opening. Whether you visit a locally owned gallery or an internationally known museum, there are plenty of options for you to find just the right gift. Art Gallery Napa Valley – where you can purchase originals, prints and more – showcases the work of more than 50 local artists in a variety of media. Quent Cordair Fine Art – named for artist Quent Cordair – provides a look at amazing paintings, sculptures and drawings from the Romantic Realism era. The recently opened Vonsaal Design Build gallery spotlights architectural, interior and industrial design from Richard Von Saal and his staff of creative craftsmen.
A GIFT TO REMEMBER
YOUR TRIP WILL BE MEASURED BY THE MEASURES WE TAKE
Your safety is our top priority — come here to get away and restore yourself. We have put measures in place to ensure businesses and lodging properties are ready to make your stay and entire Downtown Napa experience extraordinary.
COVID 19 INFO
Safety Videos