The grape thing about wine is you don't need to be a sommelier to enjoy it. The unique tasting notes, pairing potential and social aspect it brings are loved by all. Whether it's your first time visiting Downtown Napa or your hundredth, there's always something new to learn about wine.
And you've come to the right place to do so. With more than 55 tasting rooms all within a walkable distance, the Wine Tasting Room Capital of the World has one perfect for your palate.    
Right place, right time: Cabernet Season® is here, a promising period for venturing out and taking your tastebuds on a treat. From mid-fall to spring, wine enthusiasts from all over come right here, to Downtown Napa, for an experience like no other.
So, as we head into this relaxing, cozy period, please enjoy our guide to help you make the most of your tasting trip. From room recommendations to the ins and outs of tasting, you'll leave the city feeling confident and comfortable—fully prepared for future visits.
CHOOSE A ROOM, ANY ROOM
With more tasting rooms than anywhere else in the world, there's bound to be one that has you coming back for years to come. From affordable, wallet-friendly options to pairing experiences and live music, Downtown Napa is sure to please any palate. Here are a few places to start your sipping.
This spot was not only California's first premium winery, it's super affordable, too. Make a reservation for their "Taste of Buena Vista" experience for just $40 a guest. And if you hit up their Thursday Happy Hours from 4 to 7, you'll get a 25% discount on featured bottles and wines.
Just as we thought wine tasting couldn't get much better, live music certainly ups the ante. On Friday and Saturday nights, Bazán Cellars hosts live tunes from 6 to 9. Grab your group, pour a glass and pull up a seat for a relaxing evening. This family-owned room is run by Mario Bazán, who started as a farmworker at some of Napa Valley's most prestigious wineries and has since used that experience and passion for wine to create his own spot.
Keep the bass thumping and the good times playing at JaM Cellars. The eclectic, lively scene pairs perfectly with Napa's Cabernet Season. Explore a selection of reds and whites, and pair with shareables like grilled cheese, Greek fries, butter, jam, toast and more. They also host a complimentary toast with sparkling wine every day at 5:15 on the dot.
THE STUDIO BY FEAST IT FORWARD
For a truly holistic, 360-degree tasting experience, you'll want to head here. The Studio's experiential showroom features a live film studio, multi-winery tasting room and concert venue. Scroll through their carousel of photos or take a virtual tour to get a taste of this lively experience. Furry friends are welcome, too!
For a great vibe, head over to Gamling & McDuck, a room that doesn't take itself too seriously—but does carry some serious wines. Frequently referred to as a "must-see" and "hidden gem," their beautiful portfolio of Cabernet Franc and Chenin Blanc can't be passed up.
Downtown Napa isn't called the Wine Tasting Room Capital of the World for nothing. There's so much more to discover. So, find a good one, make it a favorite and be sure to come back. If you hit them all, let us know—we'll specially raise a glass to you!
Still not sure where to start? Take our wine tasting quiz.
MAKE A RESERVATION
You've booked travel. Maybe have a place in mind of where you'll stay. Pinpointed a few things you want to hit on the agenda. But have you secured your spot? Most tasting rooms in Downtown Napa require you to book ahead. Some even fill up weeks in advance, and others have tastings that start and end at specific times. Trust us, you'll want to get this part out of the way so you can wine down with a nice glass—or a whole flight!—as soon as you get here.
LEARN THE TASTING INS AND OUTS
While there's no right or wrong way to taste wine, there is a way that helps you get the most out of what's in your glass. Before you start sipping, take these steps for a swirl and engage your senses. Don't wine blind!
Step 1, Look: Pay close attention to the color, opacity and wine legs (see our final section for what that means). The color can be affected by age, grape varietal and cultivation process. Shades range from the rubiest of reds to golden yellow, light pink and beyond. Tip: Look at the wine against a white background if there's one available.
Step 2, Swirl: By holding the stem of the glass, give it a light twirl. You'll be able to see the legs, oxygen will head its way into the wine and the aromas will open, getting your glass primed for the next step.
Step 3, Sniff: There's a technique to this one, and we promise you won't look silly—the most experienced wine drinkers will be doing it, too. Hold the glass a few inches from your nose, then let your nose drop into the glass. Think big to small: Start with what category the wine smells like—fruits, oak or nuts, for example—then you can narrow in on specific notes. Sniff, swirl, sniff, repeat.
Step 4, Taste: Take a sip and let it linger in your mouth. Roll it around, letting all your taste buds take part. Flavors will range from salty, sour, sweet and bitter.
Step 5, Reflect: Most tasting rooms have a card where you can take notes on each varietal. Write down what you loved, didn't love, specific notes, or, if you did a food pairing, what went well together. Which brings us to our next glass of advice…
PAIR WISELY
Wine tasting can work up a real appetite. (Not to mention, it's important to have something of sustenance when consuming alcohol!) A fun way to get a meal in is to pair various food flavors with wine.
Sweet Wines: Pair best with cheese, cured meats and sweets.
Red Wines: Try with bold-flavored meats—like red meat—chocolate and pasta with red sauce.
White Wines: Order a light appetizer like sushi, vegetable kebabs or seafood.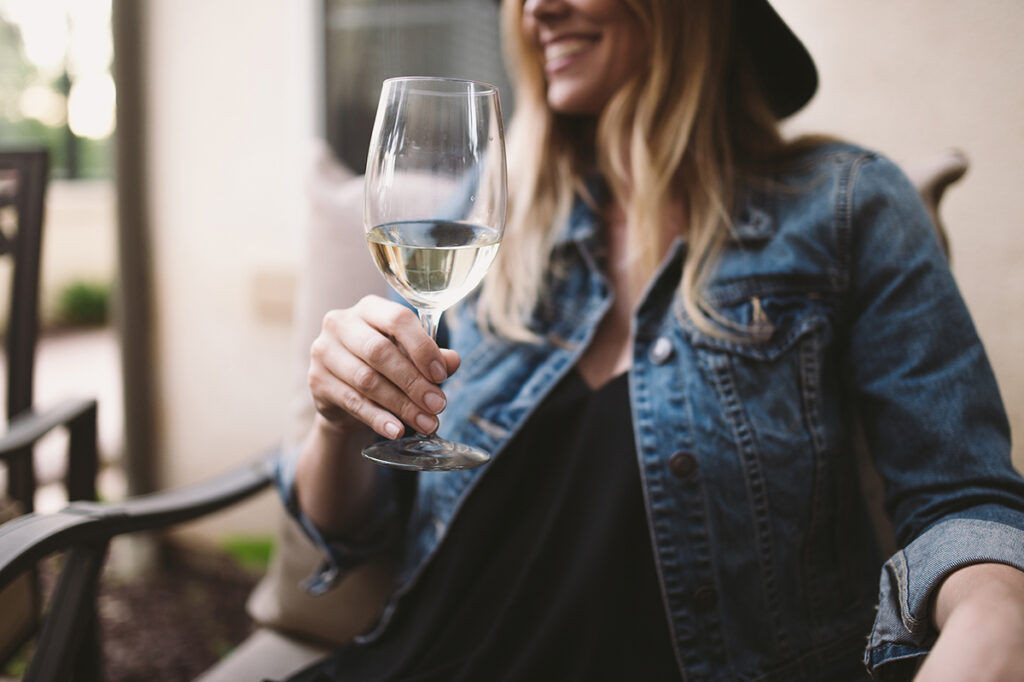 (DEFINITELY!) TRY THIS AT HOME
Like anything, practice makes perfect. Create your tasting room at home, so that when it comes time for your next visit to Downtown Napa, you'll impress everyone in the room with your sommelier skills.
Start buying varietals of wine and really pay attention to the differences between them. Just run to your local market, buy four bottles and lay out your own tasting. This'll help you start homing in on the specifics of each type, getting better by the sip. Take notes of what stood out to you.
Invite friends or go at it alone. Sometimes the most fruitful of efforts is when our undivided attention is on the task at hand. If you want to go Sommelier status solo, turn off the music, TV and rid of any distractions. You'll pinpoint the intricacies you may not be able to while with a group.
After all, no one was born with a nose for wine tasting; they got good at it by experiencing more flavors, various grapes, regions and pairings. And they had fun doing it, too!
ADDITIONAL TIPS, TRICKS AND TERMS
We always recommend tipping your tasting room server, just as you would at a bar or restaurant. Their time spent describing varietals is valuable; consider tipping 20%
The average cost of a basic wine tasting here is about $40; however, fees vary and it's always wise to call ahead or check online
Shop local! If you loved the wine you tried, show your support by purchasing a bottle or subscribing to the room's wine club. Most offer perks like complimentary tastings, discounts and exclusive events. Insider tip: often times your tasting fees will be waived with a bottle purchase or club member sign up
Avoid wearing heavy scents like perfume, cologne or hair products. Smell is a crucial piece of the tasting experience; you don't want anything to get in the way
As we mentioned earlier in the blog, make a reservation—we can't stress that enough
Hold the glass by the stem so that the heat from your hands doesn't warm your wine, because who likes warm wine?
Want to sound like a connoisseur before your visit? Impress your friends by throwing in one—or several—of these terms during the tasting:
Body: Alcohol gives wine weight. If it feels heavy, it likely has a higher alcohol content
Full-bodied: Wine that's high in alcohol and flavors
Youthful red wines have a purple hue, aged red wines contain a ruby-brick shade
Youthful white wines are a pale yellow-green, aged wines are a deep lemon gold (think Chardonnay color)
Legs: Also called the tears, these are the remnants of wine that cling to and drip down the inside of the glass
Breathe: The process of letting a wine open via air
Balanced: When all components of the wine work in harmony: the alcohol, acidity, sugars and tannin
Tannins: Taste chalky, add body and structure to the wine
Dry: The absence of sugar in wine
A busy day of wine tasting calls for a relaxing night. From intimate B&Bs to charming inns and hip hotels, Downtown Napa features plenty of lodging to wine down at. Check out our full list, here.
YOUR TRIP WILL BE MEASURED BY THE MEASURES WE TAKE
Your safety is our top priority — come here to get away and restore yourself. We have put measures in place to ensure businesses and lodging properties are ready to make your stay and entire Downtown Napa experience extraordinary.
COVID 19 INFO
Safety Videos