While Napa's most famous product – wine – is a true delight for the senses of smell and taste, there's something else going on in Downtown Napa this winter that is quickly becoming a popular sensation for the eyes.
The 2022 Napa Lighted Art Festival, a free celebration of creative arts, technology and lights, is a walkable experience featuring nine art sculptures and installations that amaze and amuse, while sparking creative thinking and inspiration.
This year, the outdoor festival has been extended to eight weeks – from Jan. 15 to March 13 – providing plentiful opportunities for visitors and locals, young and old, to enjoy this truly unique celebration. Viewing hours are from 6 to 9 p.m., Monday through Thursday, and from 6 to 10 p.m., Friday through Sunday.
Take a look at this year's festival entries below including information on the artists and installations. For more information, including sculpture locations and maps (both for print and interactive Google Map), visit donapa.com/lights
1. Lindsay Glatz & Curious Form, "Cloud Swings"
Where: CIA Copia (500 First Street)
Activate your inner child and sit on these playful cloud swings. As you propel forward and enjoy the sights of CIA Copia,  the clouds above you will change colors.
2. Hybycozo, "Lightforms"
Where: Veterans Park (800 Main Street)
Created by Serge Beulieu and Yelena Filipchuck of Hybycozo, this installation consists of five large sculptures, all illuminated from within with colored LED lights that produce intricate patterns on the ground surrounding the works.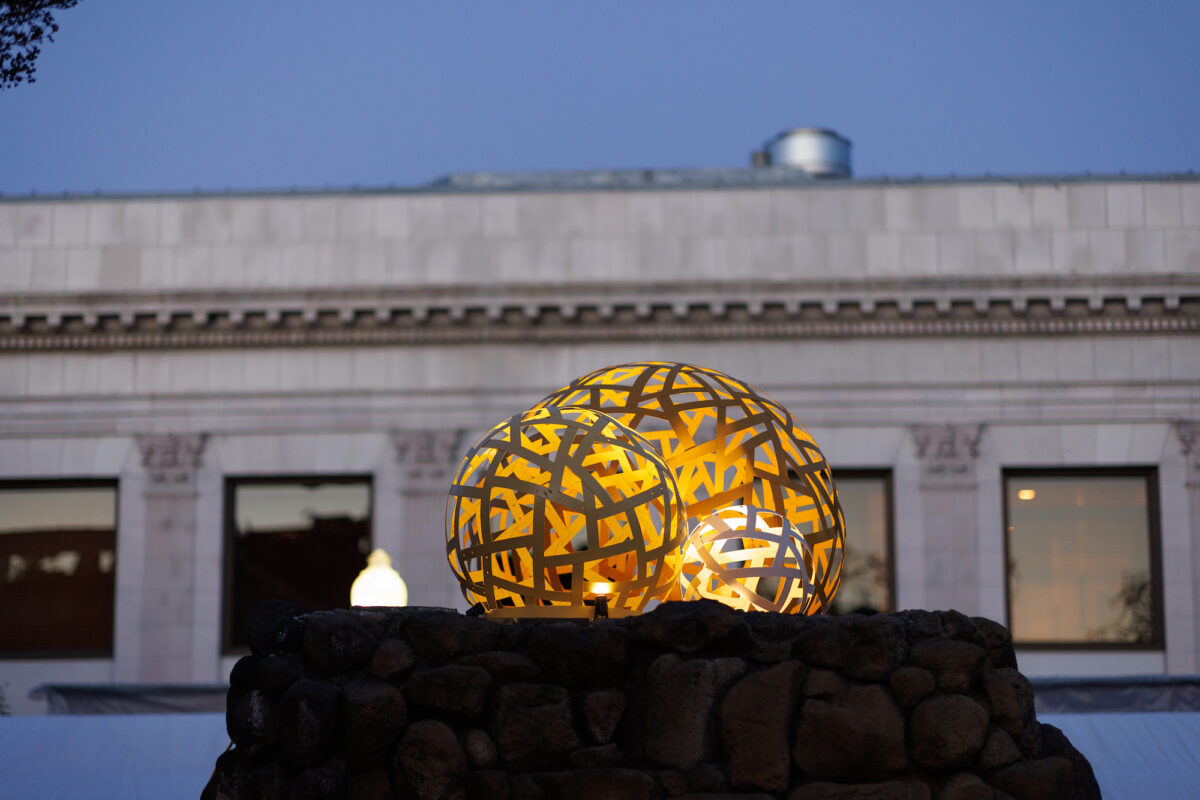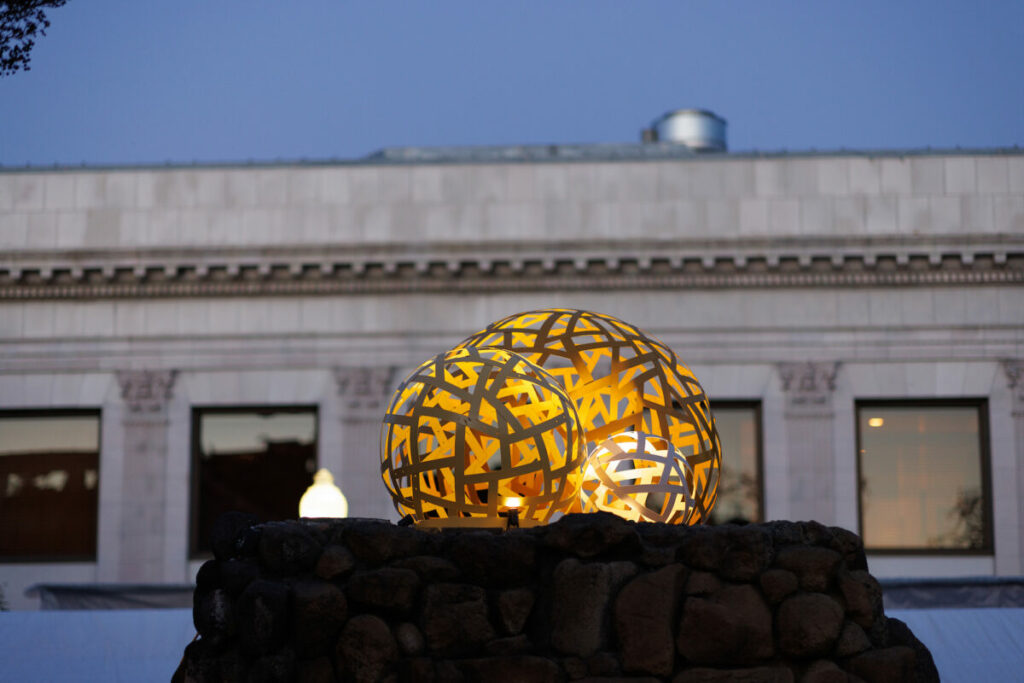 3. Vincent Connors, "Spherules"
Where: Dwight Murray Plaza (1100 First Street)
This Napa artist used wine barrel hoops to create forms that are illuminated from within. The result is creative drama between the interior color and the abrupt shadow, which is developed by the irregular grid of the sculpted form.
4. Scott Haycock, "D'ome"
Where: Brown Street Corridor (Between First Street & Second Street)
Formally trained as a mechanical engineer, Scott Haycock uses available materials and known techniques as his inspiration. "D'ome" was created by deconstructing five wine barrels to house lights and a reflective mobile.
5. Liquid PXL, "Electric Dandelions"
Where: Napa Riverfront (500 Main Street)
"Electric Dandelions" features 28-foot-tall steel and acrylic sculptures that appear as elegantly designed flowers during the day, but at night, LED animations come to life, creating a bright and exciting firework display.
 6. OGE Group, "Angels of Freedom"
Where: First Street Napa (1300 First Street)
This beautiful interactive light art installation turns everyone visually into angels. Visitors are encouraged to photograph themselves  with brightly lit wings and a halo, thenpost the photo to social media, reminding viewers that everybody is in need of love and care.
7. Vincent Connors, "Suspensions"
Where: First Street Napa (1300 First Street)
Artist Vincent Connors, who works in a variety of mediums, including paint, sculpture and print, created this work using wine barrel hoops cut and welded into three-dimensional spherical shapes. The shapes are designed to evoke images of nests and natural lanterns.
8. Jacques Lesec, "Full Metal Poppy"
Where: Goodman Library (1219 First Street)
Specializing in custom design and kinetic art sculpture, Napa Valley-based artist Jacques Lesec created this 25-plus-foot tall work, using programmable LED lights along the outlines of the vase and flower petals.
9. Children's Museum Napa Valley, "Creating in Place Art Book"
Where: Napa County Building (1127 First Street)
Enjoy this community-based art project highlighting the voices of Napa County's youth (ages K-12). Visual and written elements are published in one amazing book.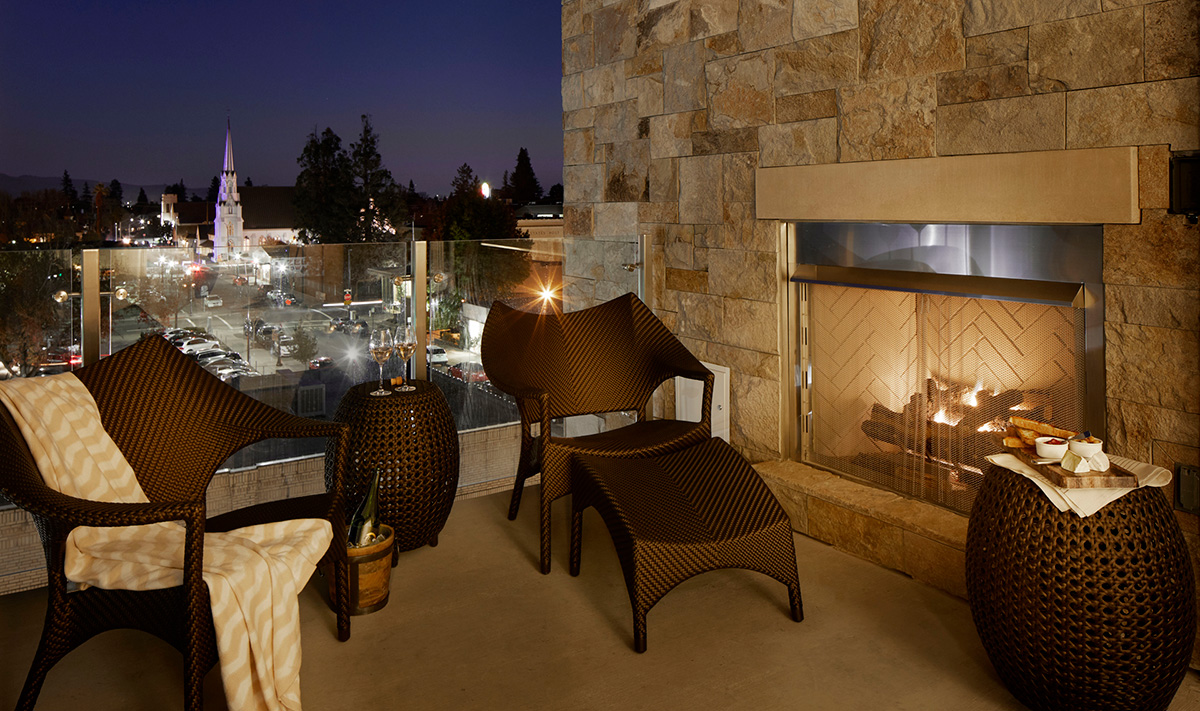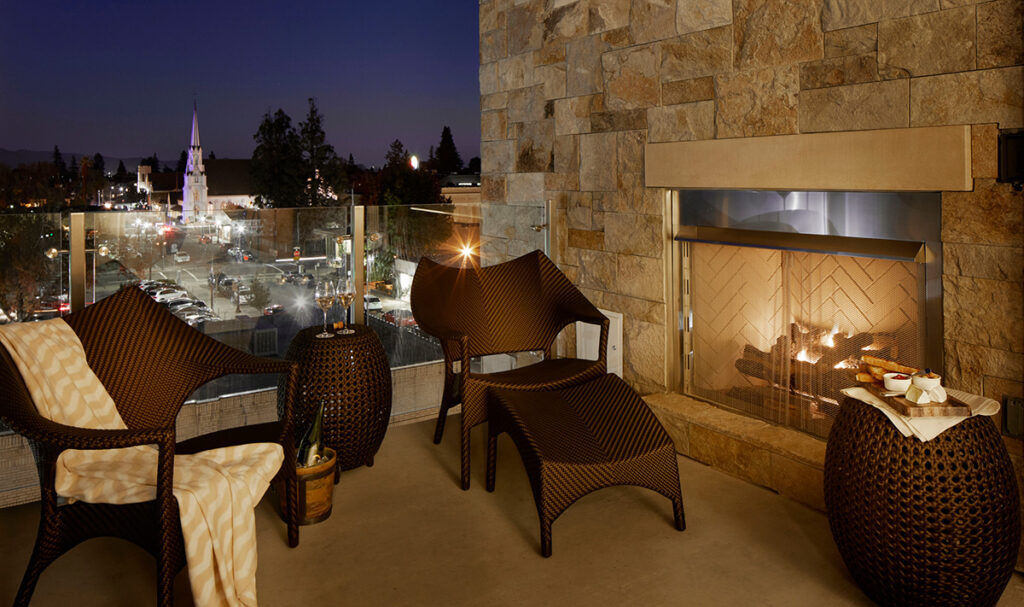 SEE ART AFTER DARK
Downtown Napa also features numerous lodging options, from bed-and-breakfasts to luxury hotels, as well as an abundance of nightlife options, so feel free to take your time, spend a few nights and enjoy the food, wine, fun, tours and art on display. Book your accommodations today and make plans to attend the 2022 Napa Lighted Art Festival!
YOUR TRIP WILL BE MEASURED BY THE MEASURES WE TAKE
Your safety is our top priority — come here to get away and restore yourself. We have put measures in place to ensure businesses and lodging properties are ready to make your stay and entire Downtown Napa experience extraordinary.
COVID 19 INFO
Safety Videos