Get ready for some happy romping and roaming in Napa. You can count on great hiking, pet-friendly lodging and great places to chow down and shop. Downtown Napa is the place to let your dog personality out to play. Here's our essential tips on how you and your BFF (Best Furry Friend) can spend your getaway. What's your dog personality?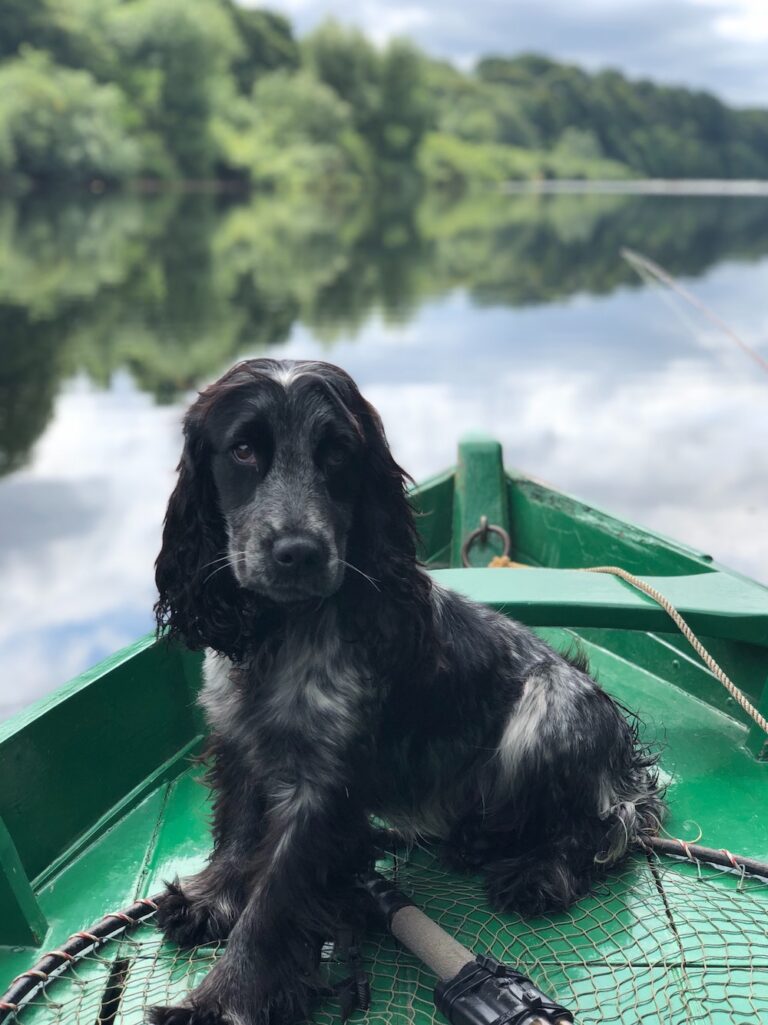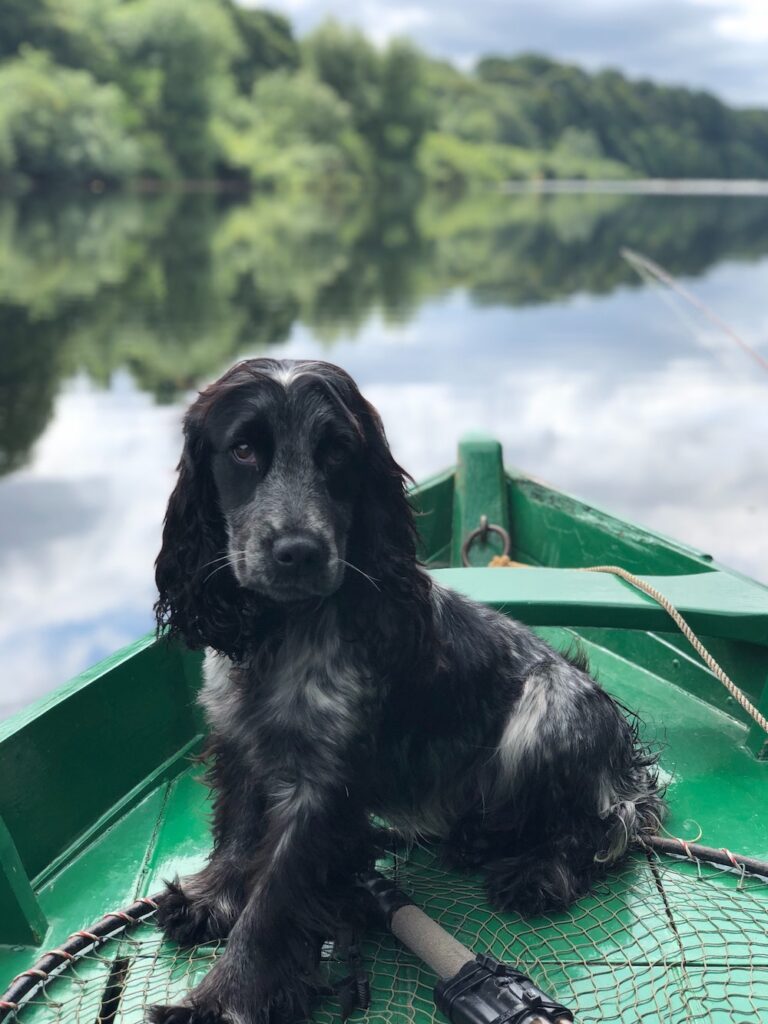 For Playful Dogs
It's easy to be adventurous in Downtown Napa, especially with the Napa River close by. While we don't recommend doggie paddling, we do encourage kayaking down this easy waterway. It makes for a good workout and good time.  
If you're itching to roll around and play, then take your energetic self to Skyline Wilderness Park where there are 25 miles of multi-use fire road and single-track trails. The trails are rated from beginner to advanced, so you can pick the trail that fits your energy levels. They all offer a fantastic view of the city. 
For the more adventurous, head to Mt. George Waterfall. You can soak up all that waterfall beauty at the top, then hike along a creek to a Silver Mine where the creek cascades over the top of the cave. It's a bit strenuous, but well worth the views.  
If your version of roaming works better with wine, then consider a Paper Napan Walkabout. This walking tour in Downtown Napa will have you hanging like a local. Ranging from one to three hours, stops include historic homes, public art, world-class wineries and hip micro-breweries. It's a fun way to get a good walk in and visit some great Napa sites.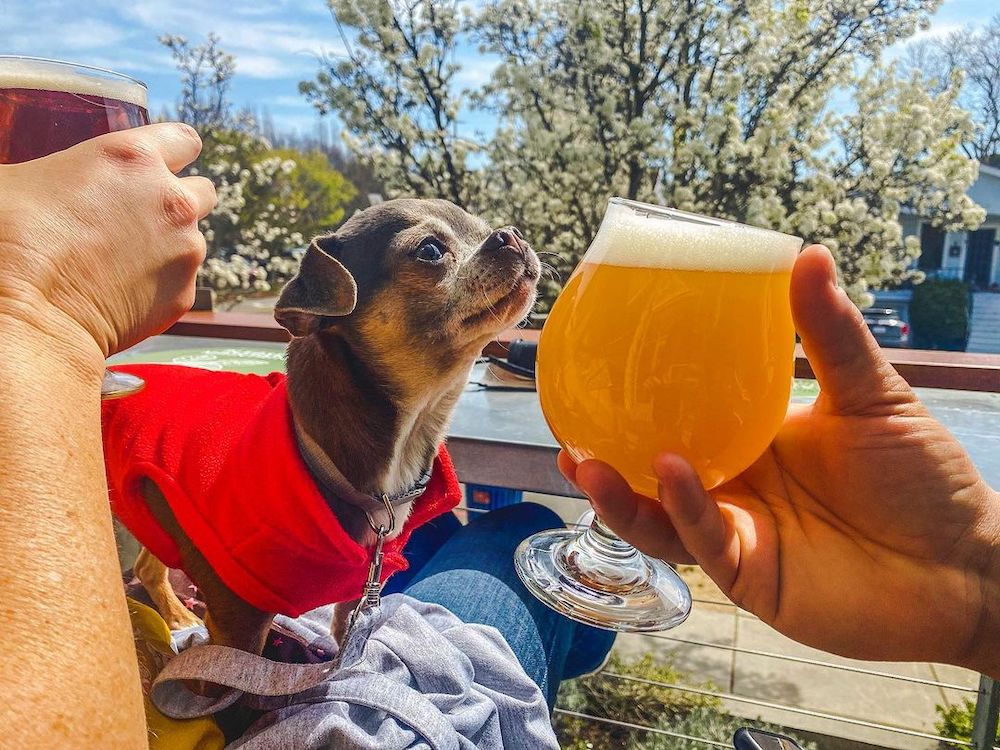 For Hungry Dogs
If great food brings out the happy side of your dog personality, then consider these restaurants that cater to canines. Voted "Best Wine Bar in Napa Valley" for five years running, Bounty Hunter Wine Bar & Smokin' BBQ serves local favorites like BH Beer Can Chicken and Prime Rib along with suggestions for wine pairings on each menu item. We understand that these menu items might be too good to share with your furry friend, but they can still come along for lunch and dinner – Bounty Hunter is pet-friendly.  
Boasting the only pet-friendly, rooftop oasis in Downtown Napa, Sky & Vine Rooftop Bar offers shareable plates, craft cocktails, draft beers and a wide variety of spirits. Another place to grab a great view is LiveFire Pizza. Along with artisan pizzas, salads, sandwiches and wine-country-inspired small plates on their pet-friendly patio with views of the Alta Heights Hills. 
If you're happy side would also enjoy some creative eats, then hit up Tarla Mediterranean Bar + Grill for their nourishing and culturally exciting dishes in a pet-friendly atmosphere. Hog Island Oyster Company is a great haven for dogs as well. They serve an assortment of raw oysters on the half-shell, a traditional oyster stew, steamed clams and clam chowder with beer, wine and cocktails all on a pet-friendly patio.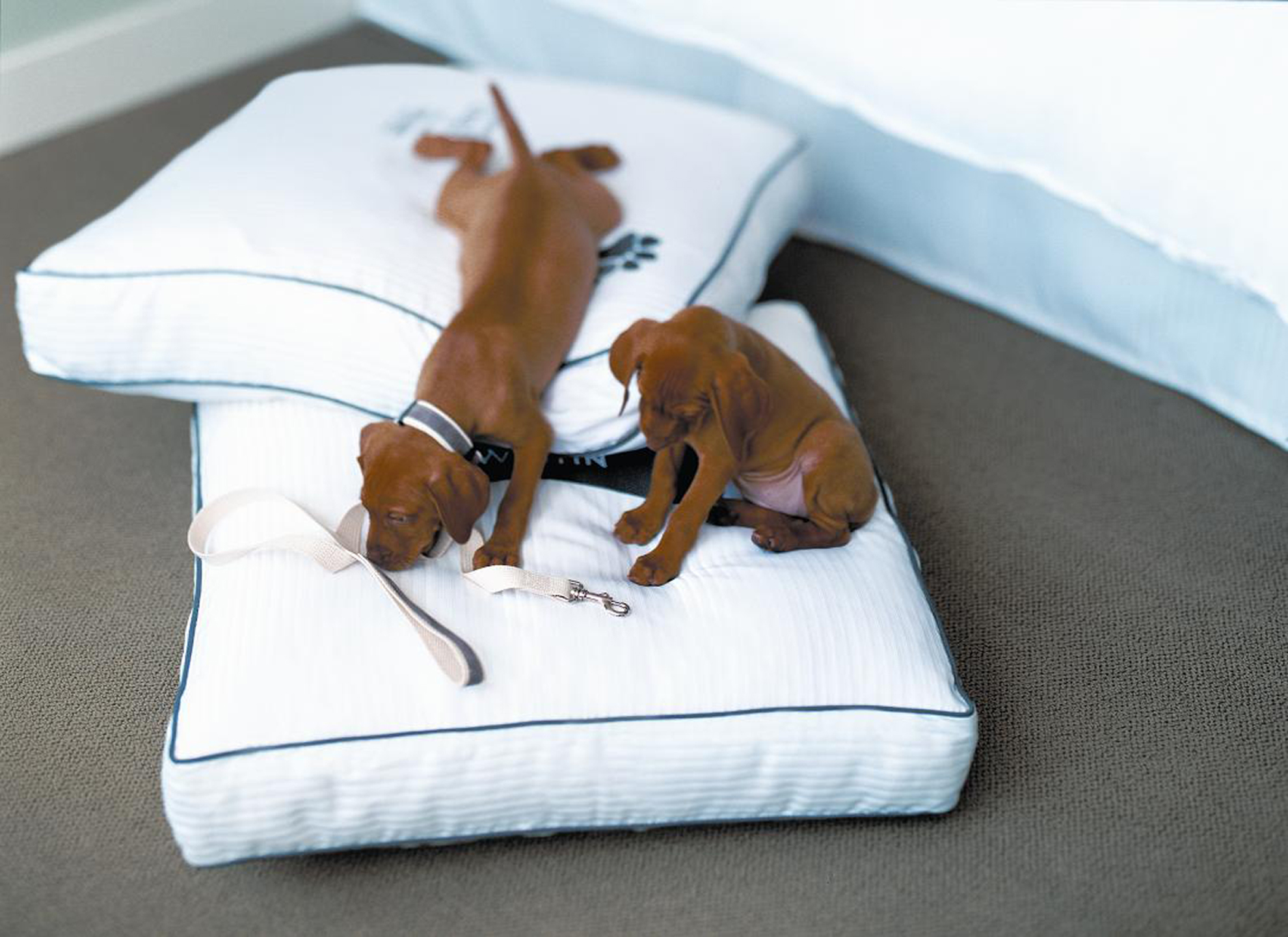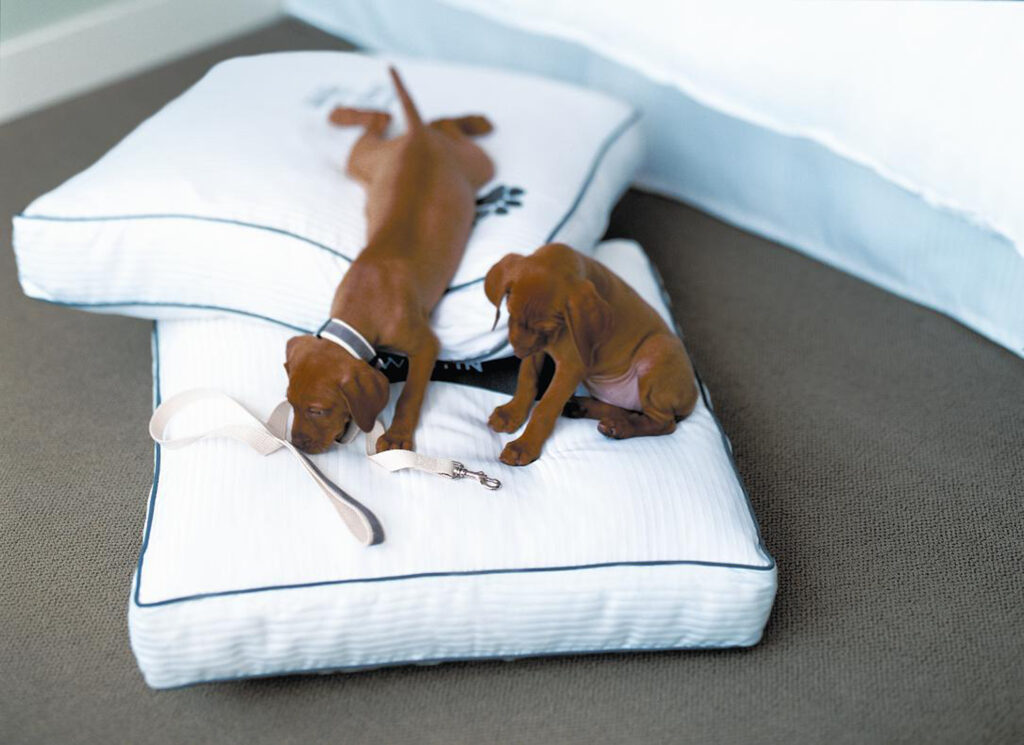 For Sleepy Dogs
If your idea of a good time is a solid nap, then rest a few days at these pet-friendly, rest-worthy hotels. Pets are VIPs at the Napa River Inn and Spa. Their "Very Important Pet" Program includes gourmet bones and biscuits made by Napa Valley Wines and pet sitters at the ready. They also provide each pet visitor with a blanket, placemat and stainless-steel food and water bowls. 
You and your fur baby can also relax in one of three Garden Suite Rooms at The Inn on First. This spacious B&B offers a custom pet bed, food and water bowls and a floor mat. They also offer an outdoor dog shower, gated off-leash dog area, grooming services, pet sitting accommodations and more. 
If boutique hotels are more your vibe, then consider the Hotel Indigo Napa Valley. Their pet-friendly rooms can accommodate you both, plus the hotel is near some excellent walking trails. You'll find that the Westin Verasa Napa is also refreshingly caring to canines. Plus they're just down the road from the Oxbow Public Market, a restaurant and market, and right across the street from the famous Napa Valley Wine Train.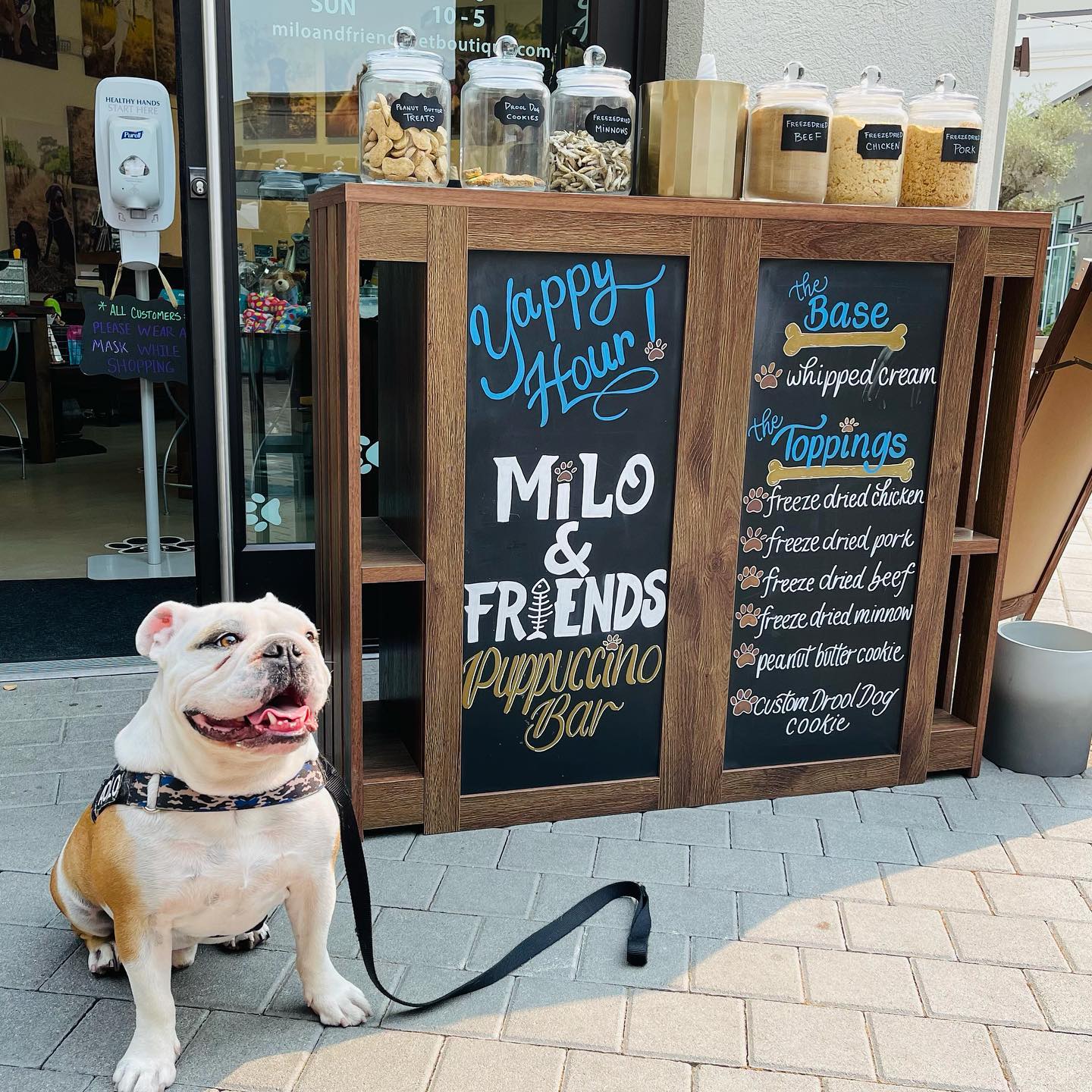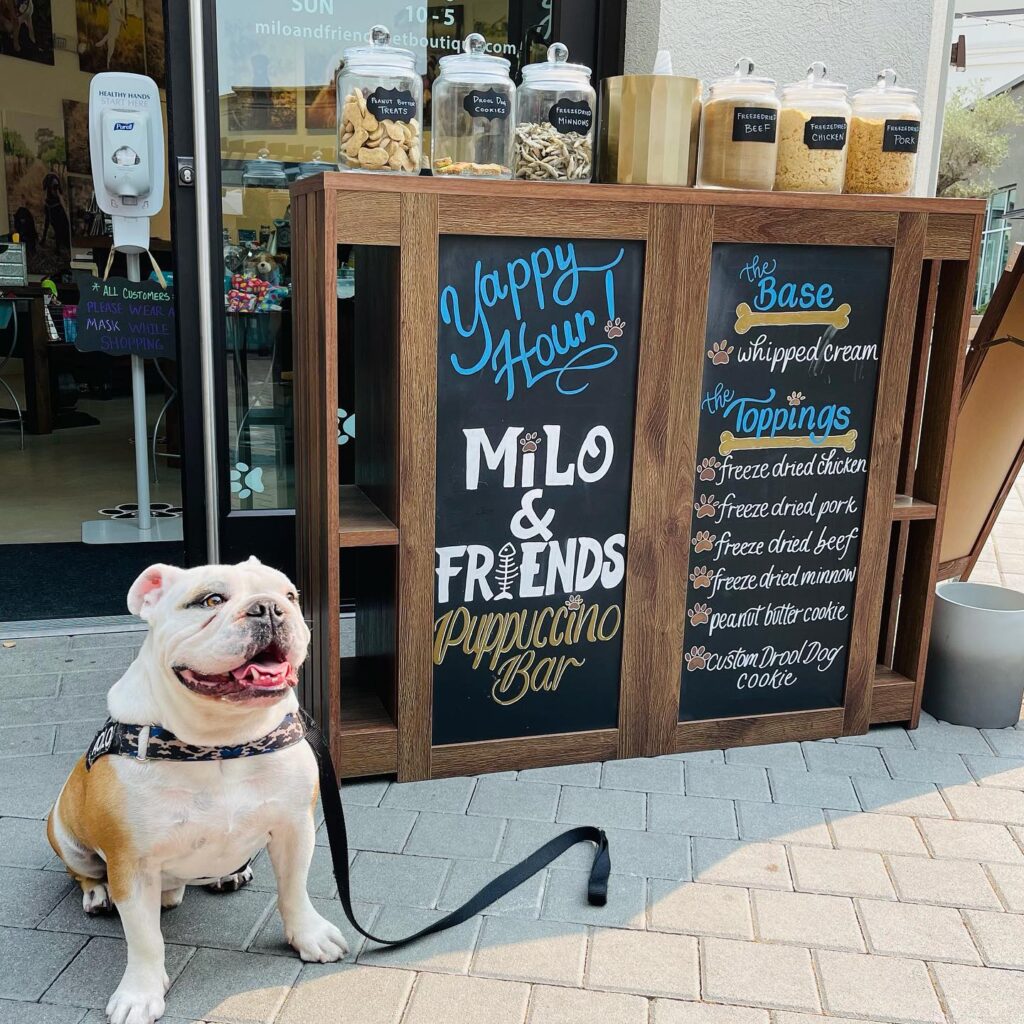 For Trendy Dogs
It's just as important for your pooch to be up to date on the latest fashion and trends. Luckily, Downtown Napa has many shopping options for a leashed and well-mannered pet.  
Milo and Friends Pet Boutique in First Street Napa is the stop for pets in Downtown Napa. The store offers gourmet pet food, stylish pet bowls, fun leashes and even spa grooming products. 
Clothing stores like Honey Whiskey, Simplicity by I-ELLE and Boho Lifestyle allow pets to come along as you find the perfect piece for your wardrobe.  
Also check out stops like Jeffries General Store, where you can find high quality essential daily needs. They provide water outside and "loves and kisses" inside. 
Trendy dogs also can't miss events! Alba's Yappy Hour series is the perfect place for your pet to enjoy some snacks and prizes. Plus, the events themes of Woof Wednesday, Howl O'Ween and Santa Paws are definitely something to bark about!
Downtown Napa is definitely down with dogs. You'll find that nearly the entire community is friendly to our furry friends. It's a way of life here and one that you can enjoy on your next getaway.  
YOUR TRIP WILL BE MEASURED BY THE MEASURES WE TAKE
Your safety is our top priority — come here to get away and restore yourself. We have put measures in place to ensure businesses and lodging properties are ready to make your stay and entire Downtown Napa experience extraordinary.
COVID 19 INFO
Safety Videos