Traveling with your four-legged family member can make planning a vacation stressful, even if it's just a day trip. You worry about where to book your stay, you research local restaurants that have dog-friendly patios, and you might even stake out a place to exercise your pooch. In Downtown Napa, we believe that small towns and dogs go together like wine and cheese, so we've drawn up a great itinerary for those of you wanting to hit the town with your furry sidekick this summer.
Where to Sit, Stay, & Lay Down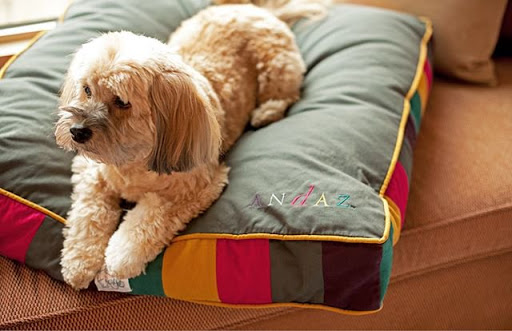 Comfort is a top priority for you and your dog, and our hotels totally get it. The Andaz is a fantastic choice for your Downtown Napa stay. The interiors are decked with sparkling hardwood and marble floors, comfy linens, beds, and balconies for your pup to enjoy Napa Valley's evening breeze. But the most dog-friendly feature of the Andaz is their Paws Out Package. This special includes a dog-walk customized to your pet's preferences, a bath, and pet fee discounts. From pooches to people, they really know how to pamper at the Andaz. Book your stay today!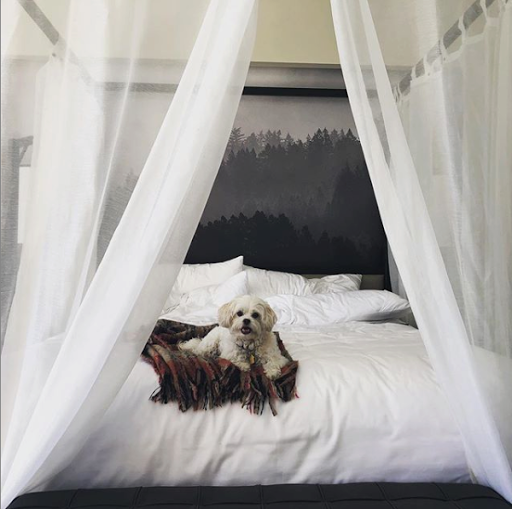 Another luxurious option that welcomes your pooch is the Archer. Their staff makes sure your dog is treated like family and offers a fully-stocked pet program including toys, biscuits, a special dog privacy sign, Archer bandanas, and more. Not to mention the amazing human amenities like their stunning Water Deck and rooftop bar, Sky & Vine. Check out all the Archer has to offer and reserve your room!
Eats & Treats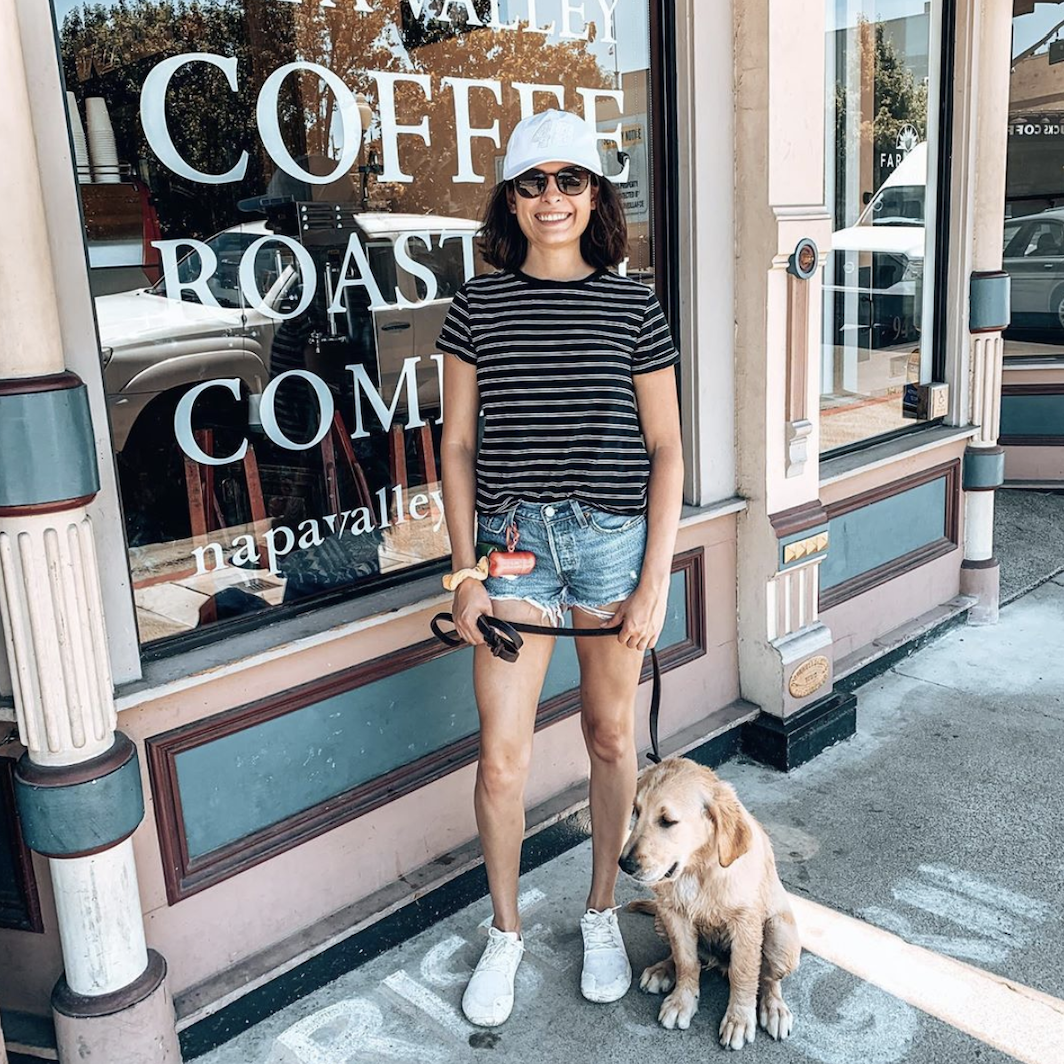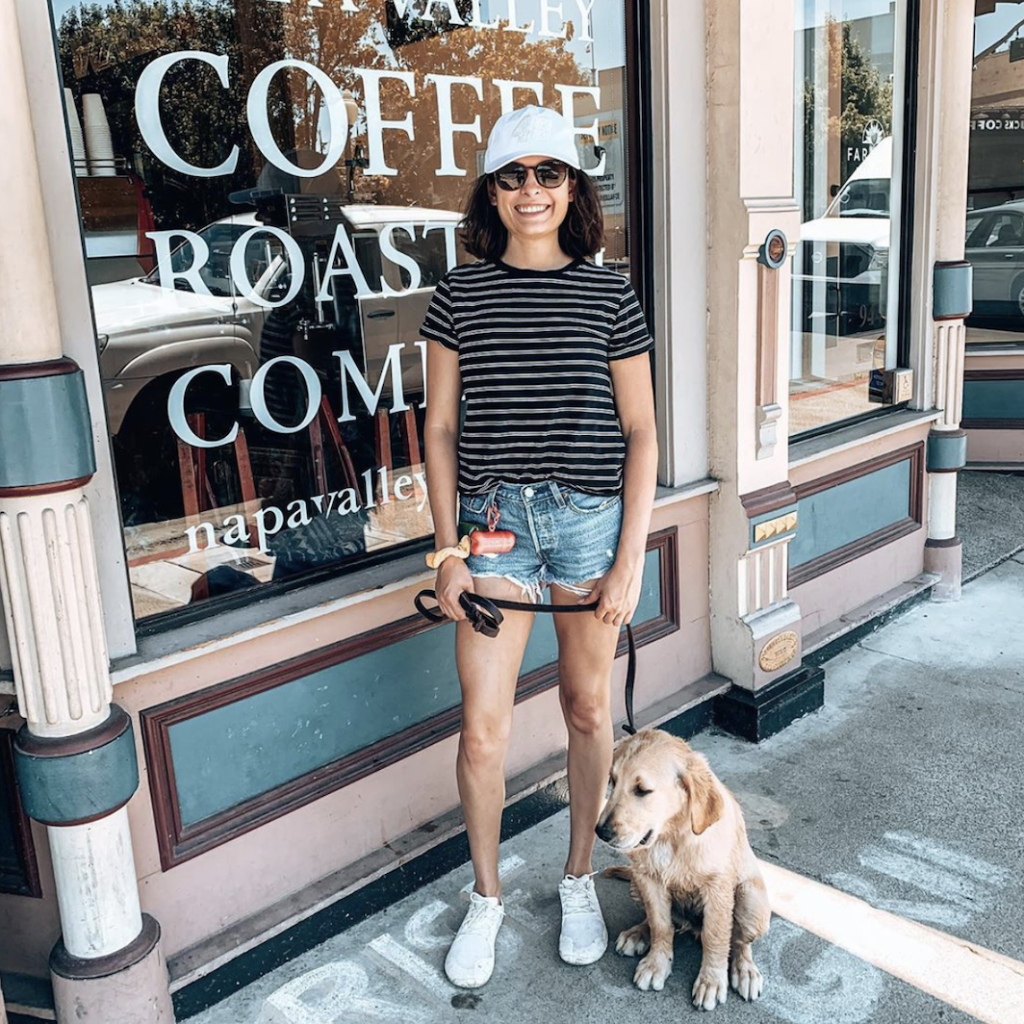 Now that you and your pup have a room to relax in, you can explore the streets and shops of Downtown. Start your day at Napa Valley Coffee Roasting Co. for your morning pick-me-up, and they'll be sure to supply you with some dog treats.
For lunch, you can enjoy some fresh air with a glass of wine and the local-favorite Duck Fat Fries at Compline, or a mouth-watering sandwich and dog treats from Dutch Door. They both have great patio spots so you and the pooch can relax and take in the Downtown Napa atmosphere. Angele is a crown jewel restaurant in the historic area of Downtown, and their outdoor seating welcomes well-mannered pups with an appreciation for French cuisine. Their picturesque mural is also a hot spot for your dog to strike a pose or two.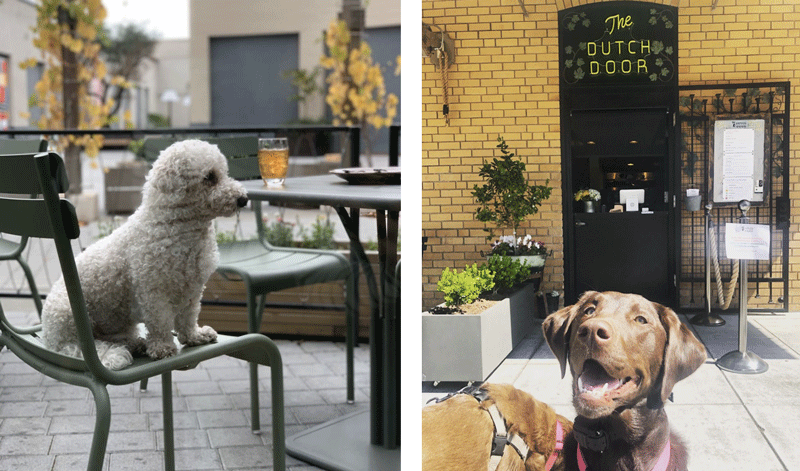 You're visiting Napa, you own a dog — it goes without saying that you'd love to bring your dog along for a wine tasting, and our Downtown Napa tasting rooms have got you covered! The Grand Reserve at the Meritage boasts nine tasting rooms with a grand outdoor area that's both luxurious and laid-back. Or, pop over to Feast it Forward's new and improved outdoor tasting space for some fun in the heart of Downtown. Beat the heat with a few glasses of wine, watch Downtown's streets buzz, and let your dog enjoy some down-time. However, we can't guarantee that everyone won't want to take pictures of your wine-tasting pup! Make sure to call ahead to ensure the tasting room is open, pet-friendly, and to make a reservation. 

Stretch Your Legs
In between all that wining and dining, you'll want to go out and about in Downtown Napa. Kalifornia Jean Bar's door is always open for you and your little best friend. Their store-dogs might even be there to greet you and help you pick out some new duds. Brand new to Downtown Napa is Milo and Friends, a boutique pet shop right on First Street. Take your dog on their own shopping spree and visit our new favorite pet store!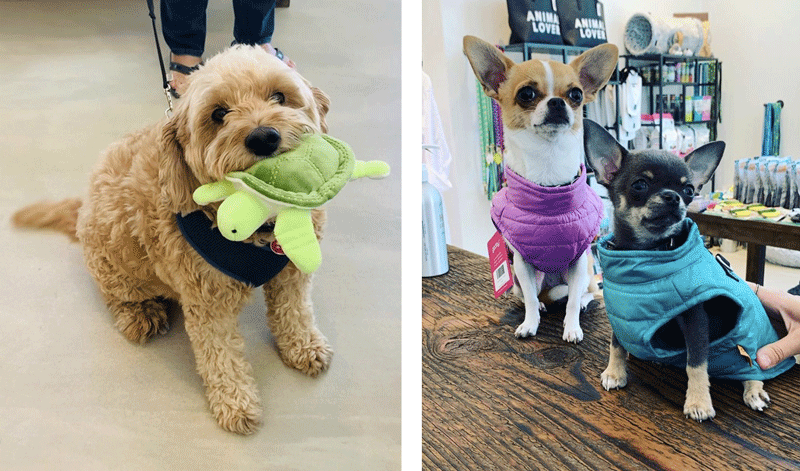 If you need to walk off some frosé and treats, both the Oxbow Commons and Veteran's Park are grassy river overlooks, just right for a round of fetch and some sun-basking. The Napa River Walk is a nice, paved path along the river storefronts so you can get in a scenic, breezy stroll, your pup can take a dip, and you can have a photo-op at the Riverfront Chair!
We hope you and your loyal pup will plan a trip to Downtown Napa soon and enjoy the summer season. We can't wait to host you!
YOUR TRIP WILL BE MEASURED BY THE MEASURES WE TAKE
Your safety is our top priority — come here to get away and restore yourself. We have put measures in place to ensure businesses and lodging properties are ready to make your stay and entire Downtown Napa experience extraordinary.
COVID 19 INFO
Safety Videos