If you've been to Downtown Napa lately, you've probably seen a few new pieces of art lining the streets. Every two years, the Napa ARTwalk brings in new pieces of art from artists in the Western United States. The theme for the fifth Napa ARTwalk exhibition is "Shifting Perspective" with each piece demonstrate the power of perspective. Let's take a look at some of the new pieces of art to this free collaborative project for the 2017 – 2019 exhibition.
Strength Together
This unique piece really exhibits the Napa Valley Spirit as we are all stronger together. Artist Gabe Babcock from Corvallis, Oregon, created this balanced tension piece. It really makes you stop and think about which piece of the art is supporting the other and makes the viewer understand that everything really is a matter of perspective. Check out this piece located outside of City Hall on First Street.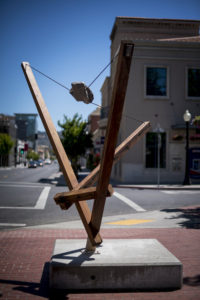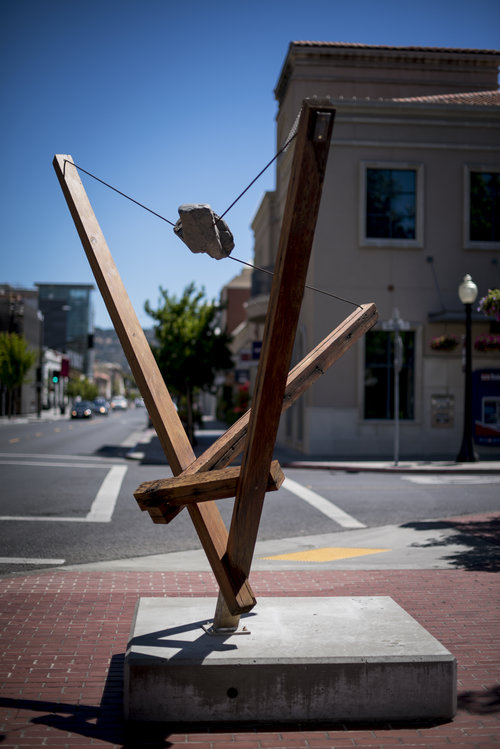 Treasures From the Sea
At first glance, you may see that this particular art piece is a fish. But look a little closer and you will see this fish is created from various fused bicycle parts. The artist behind this piece of art is Lt. Mustardseed from Los Angeles, California. This piece can be seen on Main Street, near the Opera House.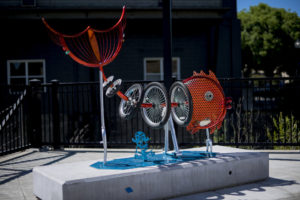 Wisdom of Decay
Produced by James Burnes of Santa Fe, New Mexico, this piece mixes materials including natural and man-made. James work is about taking a deeper look at the natural world to recognize a deeper connection to it. See this piece located outside of Gott's Roadside.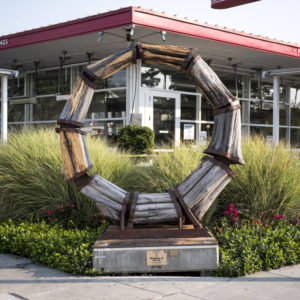 Take a stroll through Downtown Napa to see these beautiful and impressive pieces in person as they offer the perfect complement to the breathtaking scenery. Take the self-guided tour by downloading our free smartphone app – Otocast – available through the Apple Store or Google Play. Search for "Napa ARTwalk" and select which sculpture you would like to hear about.
Downtown Napa truly has it all. With endless attractions, appealing food and public art displays, there is something for the entire family to enjoy. After enjoying the incredible Napa ARTwalk, check in to a local hotel or B&B before exploring some of the city's other incredible offerings!
YOUR TRIP WILL BE MEASURED BY THE MEASURES WE TAKE
Your safety is our top priority — come here to get away and restore yourself. We have put measures in place to ensure businesses and lodging properties are ready to make your stay and entire Downtown Napa experience extraordinary.
COVID 19 INFO
Safety Videos