Napa is now a burgeoning city for the arts, thanks to the launch of the Rail Arts District (RAD) Napa. The new arts district encompasses almost two miles of the Napa Valley Vine Trail, running parallel to the Napa Valley Wine Train tracks, and will feature a number of distinct public works of art.
RAD Napa is intended to revitalize the commuter corridor of Napa so that it will become a place where locals and visitors can observe and appreciate world-class art as part of Napa's growing arts and culture scene.
Recently, RAD Napa saw the completion of its first three murals, created by world-renowned artists. These murals are the first of dozens of works of art that the city hopes to commission in the coming years from both local and international artists.
The first mural, "Knocking on Heaven's Door," was created by Polish artists Bezt and Natalia Rak – known worldwide for their street art. This fanciful mural, portraying a girl reaching toward a glowing butterfly, is an awe-striking 210 feet long. This was the first mural completed for RAD Napa.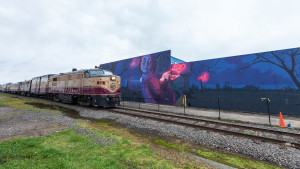 Argentinian-Spanish graffiti artist Felipe Pantone completed the second mural called "Chromadynamica." This 100-foot mural is a colorful abstract, with pixelated colors contrasting black and white elements. Pantone is a constant traveler, and his art can be seen in other places in the U.S. as well as Europe, Asia, and Australia.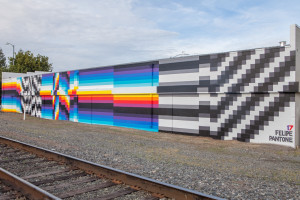 The third mural in the current installation was done by Barcelona muralist Cinta Vidal. Titled "Floating Napa," this mural was completed in April and reflects what Vidal refers to as "ungravitied constructions." Her work includes scenography, backdrops and murals and can be found worldwide.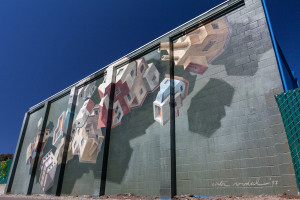 There is an abundance of public space designated for RAD Napa – including up to 50 walls for murals and 15 locations for sculptures. The project will be continuous for many years to come, and the local arts community hopes the area will act as an outdoor museum offering a rich cultural experience.
YOUR TRIP WILL BE MEASURED BY THE MEASURES WE TAKE
Your safety is our top priority — come here to get away and restore yourself. We have put measures in place to ensure businesses and lodging properties are ready to make your stay and entire Downtown Napa experience extraordinary.
COVID 19 INFO
Safety Videos