With summer 2016 over and fall officially here, Downtown Napa is the perfect place to welcome the new season. In Downtown Napa, you'll find the perfect blend of music, food and, of course, the best wines from across the valley. With so many amazing tasting rooms to sample the best and finest local wines, here are a few to help get you started:
The Napa Valley Wine Train is a great way to experience the sights and flavors of Napa. Step back in time to see the rolling hills of Napa Valley from aboard the polished and preserved antique railcars. Much like wine, this 100-year-old train gets better with time. Journey along the historic Napa Valley rail line in between tastings. This month, the Wine Train has something new to offer: the Quattro Vino tour! It's a four-stop journey to some of Napa Valley's finest wineries including Robert Mondavi, Charles Krug, Merryvale and V. Sattui, and it includes a four-course Napa-style meal. Book your tickets and hop aboard the Wine Train for a romantic and scenic tour through wine country.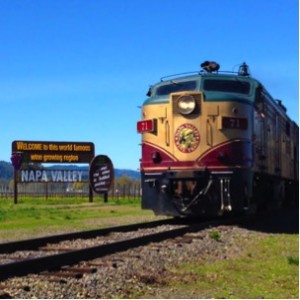 Bounty Hunter Wine Bar & Smokin' BBQ is sure to hit the right notes with its incredible wine and dinner selection. Peruse their 18-page wine menu and select your vintage and varietal or blend from more than 400 wines. With your glass in hand, enjoy a pairing with slow-cooked ribs or beer can chicken.
You'll need your zzzz's between tastings and we recommend curling into bed at one of our partner hotels or cozy bed and breakfasts. Book your lodging today to establish your basecamp for exploring all the incredible wines of Napa Valley.
Wine is a growing part of California's economy, contributing $57.6 billion to the state's economy each year, and nearly double that amount to the country's economy. Be a part of our state and country's heritage this year, and support California wines.
YOUR TRIP WILL BE MEASURED BY THE MEASURES WE TAKE
Your safety is our top priority — come here to get away and restore yourself. We have put measures in place to ensure businesses and lodging properties are ready to make your stay and entire Downtown Napa experience extraordinary.
COVID 19 INFO
Safety Videos