Looking for a new way to enjoy Napa Valley's scenic landscapes and breathtaking views? Enjoy the valley's natural beauty from a bird's eye view with a unique hot air balloon ride adventure during your next stay! Napa offers many options for hot air balloon packages that will be sure to elevate your upcoming adventure itinerary. Don't miss out on these one-of-a-kind experiences from businesses located in the City of Napa.
Enjoy your next adventure with Napa Valley Aloft Balloon Rides for one of the most intimate hot air balloon ride excursions of the valley! Napa Valley Aloft Balloon Rides provides smaller balloon baskets for its guests encouraging a cozy sky-high adventure. They also have some of the most experienced pilots in the country, ensuring safety and some of the best vantage points on each ride.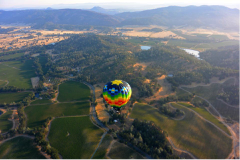 Photo Credit: Napa Valley Aloft Balloon Rides
If being catered to while you enjoy Napa's majestic panoramic views, Balloons Above the Valley is the hot air balloon service for you. Offering ride package options which include pre-flight and post-flight extras, a ride with Balloons Above the Valley is sure to satisfy your need for adventure and your appetite! Choose from one of their luxury packages including fresh pastries and coffee before you board, followed by a champagne brunch celebration.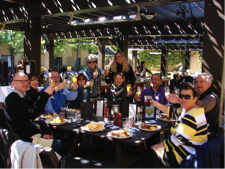 Photo Credit: Balloons Above the Valley
Soar above wine country with Napa Valley Balloons, Inc. and enjoy the scenic mountain views and endless miles of beautiful vineyards that freckle the hillsides. Napa Valley Balloons, Inc. incorporates the newest and most stunning hot air balloons making them a must-do activity for all guests visiting the area. Whether you have a party of two or twenty, they can accommodate all of your unique needs!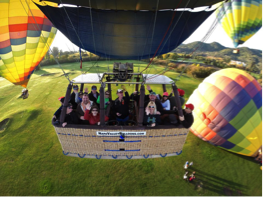 Photo Credit: Napa Valley Balloons, Inc.
Whether traveling to Napa on a romantic getaway or group excursion, a hot air balloon ride is sure to impress. With breathtaking views and luxury packages this activity is one you won't want to leave off of your itinerary. For more information on hot air balloon ride packages and lodging visit DoNapa.com.
YOUR TRIP WILL BE MEASURED BY THE MEASURES WE TAKE
Your safety is our top priority — come here to get away and restore yourself. We have put measures in place to ensure businesses and lodging properties are ready to make your stay and entire Downtown Napa experience extraordinary.
COVID 19 INFO
Safety Videos