By Jenna Francisco
I love to travel and feel fortunate to live just over one hour away from beautiful Napa Valley. I had the chance to spend some time in Downtown Napa last May and returned three more times in 2012 because I just love it! In fact, it has become one of my family's favorite getaways in Northern California. There are many things that we enjoy about this lovely town, but here are my top five reasons why I love Downtown Napa:
1. The Wine Tasting Rooms
The tasting rooms in Napa are a fantastic way to taste Napa Valley wine. I can park my car (parking in Napa is ample and free!) or walk from a hotel and stop at various wine tasting rooms. They are all within walking distance of one another, and each one is different. Unlike most of the nearby wineries, the tasting rooms are new and feel chic, with modern décor and unique details. A couple of my favorites are Taste at Oxbow for its friendly staff and John Anthony for its excellent cabs.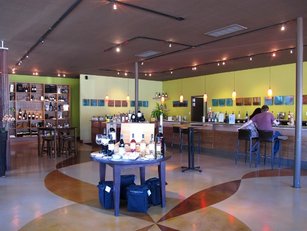 (Taste at Oxbow, Photo Credit: Jenna Francisco)
One of the best-kept secrets in Napa Valley is the Downtown Napa Wine Tasting Card. It allows convenient and inexpensive wine tasting in one central location. Available at the Visitors Centers or wine tasting rooms, the card costs $25 and allows you to taste wine at 12 different locations. It is valid for one year. A great deal!
2. The Focus on Sustainable, Local Food
Napa is a haven for foodies—the restaurant scene there is thriving, and new restaurants are still opening. No matter what your taste and budget is, Downtown Napa has plenty of dining options, many of them focusing on serving what is in season locally and from a sustainable source. Oxbow Public Market is a must for the variety of fresh food (oysters, Neapolitan pizza, crepes, and much more) and fine food products, like local olive oil and organic ice cream.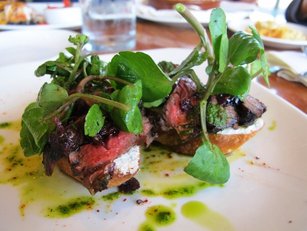 (Grace's Table, Photo Credit: Jenna Francisco)
A few of my favorite places are Oenotri for its delicious and fresh Italian food, ZuZu for its fun tapas with seasonal ingredients, and Grace's Table for its innovative menu using only the freshest possible ingredients. Grace's Table also serves a fantastic breakfast.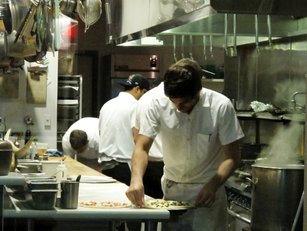 (Oenotri, Photo Credit: Jenna Francisco)
3. The Riverfront
One of the ways in which Downtown Napa has changed in recent years is the restructuring of the riverfront area and the extensive flood control project. Luckily, the city had the innovative foresight to construct flood barriers that also serve as great public spaces.
(Napa's Riverfront, Photo Credit: Jenna Francisco)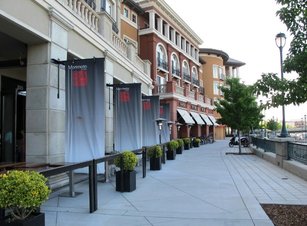 (Morimoto in Napa's Riverfront, Photo Credit: Jenna Francisco)
We love to come to the riverfront. We buy picnic supplies at Oxbow and then head to Veterans Memorial Park and have a picnic by the river. We then walk down the riverfront, a pleasant and safe outdoor space for families. Along the way, we stop to watch the ducks in the river, admire the flowers, and peruse the shops and galleries. One of these days we will rent kayaks and spend a lazy afternoon kayaking down the river.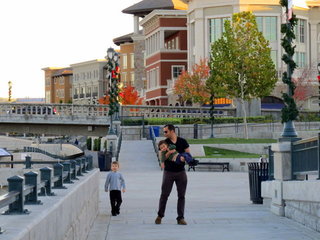 (Veterans Memorial Park, Photo Credit: Jenna Francisco)
4. The Shops
I love to support local businesses when I travel, and Napa has plenty of great small shops. One of my favorites is Anette's Chocolates, a family-run business that has been there for almost 20 years. I love the shop on First Street because of its old-style look and the aromas of the products being made right there in the candy kitchen. The chocolates are fantastic and make a great gift to take home to friends and family. Homemade ice cream with chocolate wine sauce is also available.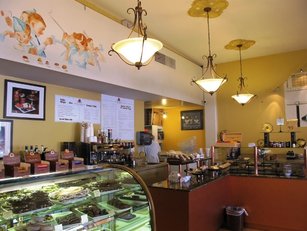 (Anette's Chocolate, Photo Credit: Jenna Francisco)
Another favorite is the Olive Press inside Oxbow Public Market. Olive oils and vinegars are available to taste, and an array of products are for sale. I love the olive oil and vinegar gift sets, the fig balsamic vinegar, and the olive spreads. If you have not tried local, fresh olive oils, I think you will be impressed by just how good these products taste!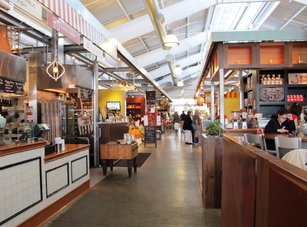 (Oxbow Public Market, Photo Credit: Jenna Francisco)
5. The Sense of Community
Napa is a city that I would love to live in because of the strong sense of community. There are many free festivals and community events throughout the year, including Shakespeare in the Park and Movie Nights in the summers. Chef's Market is a weekly event from in the summer, bringing local residents and visitors together for an evening of chef demonstrations, music, and more.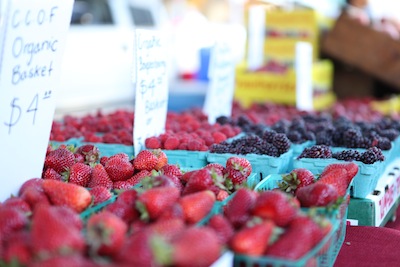 (Chef's Market, Photo Credit: DoNapa)
The atmosphere of Napa is fun, friendly, and casual. Whenever I am there, I feel welcome, and I think you will, too. There is always something new to love about Downtown Napa!
About Jenna: Jenna is a freelance writer who runs This Is My Happiness, a blog about culture, art, and quality travel. She writes for the new website Travel Mindset and is an ambassador for AFAR magazine. She enjoys writing about what makes places unique in an effort to provide a deeper look at travel destinations. You can follow her on Facebook and Twitter.
YOUR TRIP WILL BE MEASURED BY THE MEASURES WE TAKE
Your safety is our top priority — come here to get away and restore yourself. We have put measures in place to ensure businesses and lodging properties are ready to make your stay and entire Downtown Napa experience extraordinary.
COVID 19 INFO
Safety Videos