Working for a local arts agency has its definite perks. I'm a lucky girl that's in-the-know about a lot of top secret projects before anyone else. I try to brag about this often to my family, but they usually fail to be impressed. I tell them that I get to hang out with the mayor and present students with art awards and meet and speak with artists across the country; last week, I even got to spend half of my day researching the art that's in Napa's 400-plus wineries, and yet, when I relay this information to the masses- Nothing. I may get a shrug, and a consolation smile. There is one particular subject that I deal with often at work, however, that gets a lot of "oohs" and "aahs," no matter my audience—that crazy steel fish on the corner of Third & Main St. This whole town is gaga for it.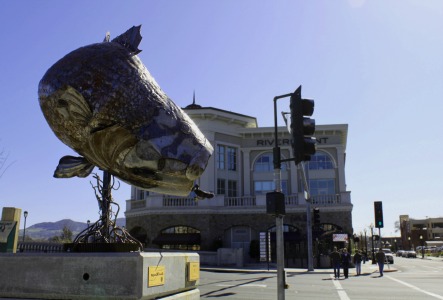 I never knew my claim to fame would be based on a fish- let alone one that's made from scrap metal. Alas, the Napa ARTwalk is by far Napa's favorite Arts Council Napa Valley program, and the one that everyone loves to talk about with me. For good reason: ARTwalk is Napa's first-ever public art program, and has given our downtown streets a whimsical and creative attitude. Sculptor Terrence Martin's "Go Fish" sculpture is by far one of the most recognized pieces of the outdoor exhibition—what usually causes an eyebrow raise and an excited dance from those rabid fish fans is my explanation that there are twelve more sculptures where that came from on this year's tour- and they're accessible 24/7. If you bring your smart phone along with you, you can even scan a QR code and hear audio about them at your own leisure. Just swing by the Napa Valley Welcome Center to get a copy of this year's ARTwalk map, and be on your way!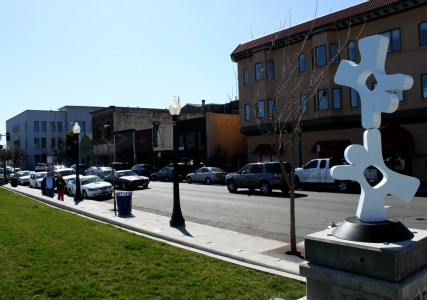 The next time you decide to shop in Downtown Napa, or get a latte at a nearby café, why not add a couple steps to your stroll and take a look at some of the sculptural gems on this year's tour? You never know the next time you'll be able to see a sunflower made out of bike spokes, or wires that shape-shift into World-War II planes. As an added bonus, once you take the tour and become a well-informed art aficionado, you can brag to all of your friends that you know all about that favorite little fish and then some, and your cool factor will jump ten points, too.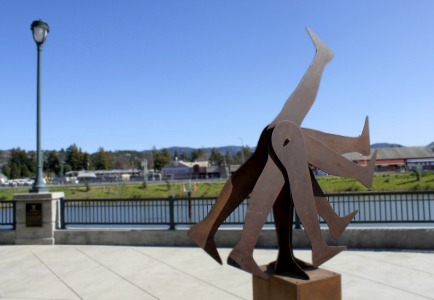 The Napa ARTwalk is an 18-month public sculpture exhibition produced by the City of Napa Redevelopment Agency and Arts Council Napa Valley. The 2011-13 tour, "Momentum: Art That Moves (Us), features the work of twelve regional artists including: Andrew Ferrales, C.J. Rench, Eric Furman, James Haire, Jeff Zischke, Loren Madsen, Marissa Carlisle, Matt Gil, Patricia Vader, Terrence Martin, Ulises Meza and Robin Murez. A map of all of the ARTwalk sculptures is available at no cost to the public by way of the Napa Valley Welcome Center on 600 Main Street, Napa. For more information about the tour, visit www.NapaArtWalk.org.
YOUR TRIP WILL BE MEASURED BY THE MEASURES WE TAKE
Your safety is our top priority — come here to get away and restore yourself. We have put measures in place to ensure businesses and lodging properties are ready to make your stay and entire Downtown Napa experience extraordinary.
COVID 19 INFO
Safety Videos